Best 2 TB External Hard Disks in India (November 2019)
External hard disks of higher storage capacity is a necessity more than a convenience for people dealing with large data and files as it frees them from multiple smaller capacity storage devices.
Similarly, these large capacity hard disks also free up valuable space on your laptop or desktop that will result in significantly improved system performance.
With these factors in mind, we bring you the best six 2TB portable hard disks available in India that are curated according to various features such as build quality, data speed, transfer rate and other miscellaneous add-ons.
With this said, let's dive straight into the article and choose the best for your use!
Best 2 TB Hard Disk In India
Overall Best Pick
USB 3.1

Backwards and universal compatibility

3-year warranty
The ADATA HV620S is a wired 2TB external hard drive offering a dependable, go-anywhere storage medium with superfast USB3.1 data transfer protocol.
This ultra-portable hard disk packs in an impressive 2TB of storage space inside the drive that is only a mere 11.5mm thick.
Design and build quality
The ADATA HV620S has a unique design strategy that is in stark contrast with other similar external hard disks available in the market.
This hard disk features a glass embodied chassis that looks premium with the slim form factor. The slightly raised peripheral hip above the glass prevents it from having direct contact with the surface and protects from scratches and dents.
However, extra care should be taken while handling this product as a minor slip from the hand might result in broken glass or at the worst a broken device itself.
There is a status LED indicator in the front of this hard drive that glows blue while in operation. Overall the design looks fresh and the quality of construction is prime for the asking price.
Storage
As we've mentioned above, the ADATA H620VS comes with 2TB of storage capacity for effortlessly handling your files and other media content on a slim and portable form factor.
With the super speed USB3.1 support, this device can achieve read and write speeds up to 150MB/s on compatible laptops and other devices.
This hard drive is also backwards compatible meaning you can hook it up with your old device with the regular USB2.0 port for unrestricted usage across different devices.
Miscellaneous
The bright blue LED indicator not only indicates the connection status but also the data transfer window during which you shouldn't pull the plug.
This is very much helpful for preventing incomplete read/write operations in a hurry to unplug the device.
ADATA provides a three-year warranty with this product so that if anything unfortunate happens in between, you can get it repaired free of cost at the nearest service centre.
Verdict
ADATA V620S is a high-speed USB 3.1 portable hard disk for those who are looking for a large capacity external storage medium under an affordable budget.
Read/write indication status LED
The glass body is prone to scratches and breakage
Specifications
| | |
| --- | --- |
| Capacity | 2 TB |
| Interface | USB 3.1 |
| Encryption | 256-bit AES |
| Wi-Fi | No |
| Additional Notes | Suited for rough use |
Best Rugged Portable Hard Disk
Military-grade shock resistance

One-touch auto-backup button

Rugged yet lightweight design
Transcend is a familiar brand for Indian customers with its low-cost USB pen drives in the market.
The Storejet H3P is the company's take on a large-scale data storage medium with a 2TB capacity supplemented with high-speed USB3.0 technology.
Design and Build Quality
The Transcend Storejet H3P has a rugged yet lightweight design, offering the best of both worlds.
The two-tone colour finish is aesthetically pleasing to look at and makes the device stand out from the bunch.
The outer chassis of this portable hard drive has a soft silicone material coating which offers great grip while holding it in hand.
This layer over the plastic made hard casing provides some sort of cushion for the impending shocks during an accidental fall.
There is also an internal suspension damper to minimize shocks to the drive that might result in data loss or corruption.
Storage
The Transcend Storejet H3P comes with a 2TB storage capacity with support for USB3.0 protocol for high-speed data transfer rates.
The improved bandwidth of USB3.0 enables this portable hard drive to achieve impressive real-life read and write speeds up to 90MB/s consistently.
This is almost three times faster than USB2.0 counterparts.
Also, this hard disc being backwards compatible with legacy ports can be connected with older devices and can deliver impressive results.
Miscellaneous
The Transcend Storejet H3P has a dedicated button on the chassis that enables one-touch backup when used along with the Transcend Elite software.
This is a much useful feature as it will save you a lot of time from manually configuring backups with third-party backup software.
Verdict
The Transcend Storejet H3P is a capable data storage device with 2TB of capacity and support for USB3.0 high-speed data transfer.
The advanced features like shockproof operation and one-touch backup make this device a compelling product for purchase under a budget of Rs.10,000.
 Specifications
| | |
| --- | --- |
| Capacity | 2 TB |
| Interface | USB 3.0 |
| Encryption | 256-bit AES |
| Wi-Fi | No |
| Additional Notes | Advanced 3-stage shock protection system |
3. Seagate Backup Plus Slim
Best Value for Money Hard Disk
Plug n play hard disk

Easy to carry around

3-years limited warranty
Seagate has been making hard drives from those times when the 90's kids were starting to know about assembling computers.
Since then the company became one of the most respected and sought-after brands in the hard disk market in India.
The Seagate backup plus slim is a 2TB external hard disk that has a small and compact form factor which makes it one of the lightest hard disks to carry around in your pocket or backpack.
Design and Build Quality
The Seagate Backup Plus Slim has a minimal non-textured chassis that is made of tough and durable plastic. The only thing that adorns the outer shell is the Seagate logo.
A white LED is tucked on the shell that lights up when you connect the hard disk to a computer or any other device.
This device is only 12.1mm thick, so you can easily carry it around your pocket with no hassles. Weighing only 141g, this is one of the lightest hard disks available in the market.
Features
This external hard disk features a USB 3.0 port for high-speed data transfers. Do note that only if you connect it with a USB 3.0 port, you can enjoy those higher speeds.
Backward compatible with USB 2.0, you can also use this product with old USB 2.0 devices that don't feature a USB 3.0 port.
There is no need for any software or drivers to be installed for using this device. Just plug it into the USB port and start copying files. That's it!
Miscellaneous
The 2TB storage lets you save your favourite moments and other sensitive documents.
The 128-bit AES encryption with password protection will make sure that your data remains confident and free from spying eyes.
The two-month free Adobe Creative Cloud subscription lets you store your photos in its full glory to the cloud and keep this hard disk free space to save more.
Verdict
The Seagate Backup Plus Slim is the best external hard disk for you if you're a frequent traveller and love to carry a lot of media with you for enjoyment during the trips.
This hard disk also lets you store your favourite moments captured from your digital camera and smartphone. The 2TB storage will ensure that you won't run out of space anytime soon.
Priced just under Rs.6,000, this device, we feel is the top contender for the best value for money external hard disk in the market.
Limited 2 months Adobe cloud subscription is useless
Specifications
| | |
| --- | --- |
| Capacity | 2 TB |
| Interface | USB 3.0 |
| Encryption | 128-bit AES |
| Wi-Fi | No |
| Additional Notes | 2 Months Free Adobe Creative Cloud Photography Plan |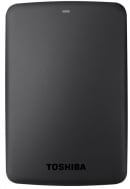 Lightweight and Portable Hard Disk
Plug n play operation

USB 3.1 technology

3 years warranty
Toshiba Canvio lineup has some excellent storage devices in their lineup ranging from traditional hard disks to internal SSD.
The Canvio Basics is a portable hard disk with 2TB of storage capacity priced competitively under a budget of just around Rs.5,300.
Design and Build Quality
The Toshiba Canvio Basics follows a minimalistic design with plain plastic body construction and the company logo embossed on the surface.
The rounded corners of this external hard drive are very appealing to the eyes. There is a status LED on the top part indicating the mode of operation. This LED will automatically turn off when not in active use.
The Toshiba Canvio Basics weighs about 240g which is one among the lightest portable hard disks out there in the Indian market.
Storage Capacity
The Toshiba Canvio Basics comes with a 2TB storage out of which nearly 1.8TB is available for users to save and store their files.
This external hard disk follows the USB3.0 standard for high-speed data transfer between the source and host device.
It is backwards compatible with the legacy USB2.0 ports albeit having significant speed drops when compared with a USB 3.0 port.
This portable hard disk delivers about 30-40MB/s of reading and write speeds when used with USB2.0 ports and up to 100MB/s read and write speeds when used with high speed USB3.0 ports.
Miscellaneous
The Toshiba Canvio Advance is a plug and play device that doesn't require any drivers to install for you to use this hard disk.
When plugged into the laptop or any other device, it automatically detects the device and mounts as a storage device.
The 5400 RPM motor inside this hard disk is relatively silent and works well even while using it in transit, for eg: while inside a vehicle on a bumpy road.
This portable hard disk is compatible out of the box with Windows, Linux and macOS machines, thanks to the integrated NTFS drivers which come preinstalled with the device.
Verdict
The Toshiba Basics is an excellent budget 2TB portable hard drive that offers very good read and write speeds, especially when used with compatible devices through USB3.0.
The elegant design and the sleek form factor makes it one of the best looking portable storage mediums available in the market.
Specifications
| | |
| --- | --- |
| Capacity | 2 TB |
| Interface | USB 3.0 |
| Encryption | 256-bit AES |
| Wi-Fi | No |
| Additional notes | Robust design |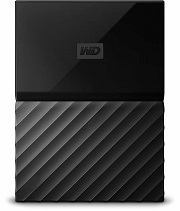 Honorable Mention
Secure and safe external hard disk
Available in attractive colours
Consistent read/write speeds
Western Digital is an American Data Storage company that has been the pioneers of portable storage since time immemorial.
My Passport series from Western Digital was one of the first entrants to the Indian external hard disk market and they have been one of the people's favourite since then.
Design and build quality
There is no necessity for an external hard disk to look good. But in the case of WD My passport hard disks, the company has done some serious homework on its design and the result is evident.
The two-tone texture of the chassis will turn some heads on the first glimpse of this product.
The upper half is a normal non-textured plastic casing and the lower half has this attractive lines that add looks as well as a comfortable grip to the product in hand.
Not only that, this external hard disk from WD comes in a variety of different colours such as dark blue, red and black.
Storage capacity
As the title says, this hard disk comes with a 2TB storage capacity. In our opinion, if you are an average person, the 2TB worth of space will be more than enough for your immediate use such as storing photos, occasional movies and TV series and even some documents as well.
With a host of extra features that the company provides with this product, this is a product worth having your attention.
This hard disk has a USB3.0 interface that will fasten up your data transfers across devices supporting the same. It does work with USB2.0 devices as well, albeit with a drop in transfer speed.
Miscellaneous
Western Digital has a host of software utilities to enhance the usability of their products. One such software that comes with this external hard disk is the WD backup.
This software will allow you to make backups of local files on your computer such as photos, videos, and documents to this external hard disk at the click of a button.
The process is simple, straightforward and saves you a lot of time in searching for a backup tool on your own.
Unlike other hard disk manufacturers, WD emphasises a lot on security. This WD My Passport comes with a 256-bit AES hardware encryption that is very tough to break into and will keep your files and folders safe.
This product comes with a three-year limited warranty that will cover unforeseen issues with the device such as any hardware failure resulting on its own.
Verdict
WD My Passport is a stylish and sleek little external hard disk that performs well in terms of data storage and retrieval.
The read/write speeds are consistent and will give you a pleasant experience with time.
The hardware encryption feature and WD backup software will make you feel comfortable knowing that the security of the data stored inside is of high priority.
External casing is prone to scratches
Specifications
| | |
| --- | --- |
| Capacity | 2 TB |
| Interface | USB 3.0 |
| Encryption | 256-bit AES |
| Wi-Fi | No |
| Additional Notes | Available in diff. capacities |
That concludes our discussion on the six best 2TB external hard drives available in the Indian market.
We have tried our best to list the ones that we feel is a great value for your hard-earned money. If you feel that we have left something out, do let us know in the comments below.
Thanks for your time, and hey, consider subscribing t