Air fryers are relatively new kitchen appliances in the Indian home appliance market. These devices can be classified as miniature versions of microwave ovens but with less power consumption and less capacity.
Air dryers are very useful for small families or bachelors who need an affordable food reheater and drier at a fraction of the cost and size of a full-sized oven.
In this article, we bring you the curated list of the seven best air fryers in the market, listed according to the capacity, features and power consumption.
We hope this will greatly simplify your purchase experience and have a quality product in hand for your hard-earned money.
Without any further introduction, let's begin the search for the best air fryer for you!
Note: The price shown are the once when we reviewed the products. However, as the promotional offers changes on the given E-commerce sites, the price may vary. Bettershark is supported by it's readers and when you buy through links on our site, we may earn an affiliate commission.
Overall Best Pick
Fast and healthy cooking
Easy to clean form factor
Auto shut off feature
BUY FROM AMAZON
Pros
Premium build quality
Easy to release cooking pan
Adjustable temperature control
Inalsa is a European company based in Spain famous for its kitchen appliances.
The Inalsa air fryer is a 2.3L capacity appliance priced under Rs.2,500 which helps you experiment with the food, delivering healthy dishes to your family and friends.
Design and Build Quality
The Inalsa air fryer has a familiar pot style design with a handle in the middle. The cooking compartment can be easily detached with the click of a button.
The glossy polycarbonate exterior looks futuristic and feels durable in hand. There are two jog dials for temperature control and setting the timer for cooking.
There are two LED light indicators to keep you informed about the power and the cooking status.
Cooking Modes
The Inalsa air fryer not only can do frying but also bake, grill and roast. This almost covers the entire use case scenario of a microwave oven.
This air fryer uses little to no oil for frying. This means the food is healthier than ever.
The control knob lets you manually set the temperature according to the dish you wish to cook.
Miscellaneous
The Inalsa Air fryer has an auto shut off feature which will stop cooking after a set period. It can also alert the user with an alarm for the same.
This is very useful when you are busy with other house chores and can't stand by the fryer at all times.
This air fryer from Inalsa consumes about 1200W of electricity which is a bit over the top of a 2.3L air fryer but with the 2 minutes cooking time, it's not anymore a big deal.
Specifications
| | |
| --- | --- |
| Capacity | 2.3L |
| Removable Pot | Yes |
| Power Consumption | 1200W |
| Warranty | 2 Year |
Runner-up Pick
Digital LED display
Best for baking, frying and grilling
Non-stick coated food basket
BUY FROM AMAZON
Pros
Free recipe booklet
Digital controls
7 preset cooking modes
Cons
The touch buttons are a bit finicky
Kenstar needs no introduction among the Indian households as the company has been in the home appliance market much longer than most other brands mentioned here.
Particularly popular for its mixer grinders, Kenstar has now introduced the Aster Digi air fryer to its product lineup priced under Rs.6,000.
Design and Build Quality
The Kenstar Aster Digi is made from tough plastic material with stainless steel inner lining for the jar.
The fit and finish of this air fryer are on par with other products in the same segment. This air fryer comes with an invisible handle that can be retracted after use.
The 1.2m power cord is long enough to comfortably plug this device into the power outlet anywhere in the house.
To keep the foul smell out of the frying jar, Kenstar has also given an air vent in the rear which helps in disposing of odour effectively.
There is an LED display on top indicating the timer and the cooking modes.
Cooking Modes
The Kenstar Aster Digi has an inbuilt temperature control that will let you customize the cooking for a variety of dishes as needed.
The food basket inside is capable of frying foods for up to 30 minutes in a single stretch.
The auto power cut off will stop frying once the desired set time is reached. This makes sure that the food is not unnecessarily overcooked.
Verdict
The Kenstar Aster Digi is a 3.5L electronic air fryer priced very affordable. This feature-rich fryer is one of the best in the segment when it comes to the overall build quality and frying performance.
Specifications
| | |
| --- | --- |
| Capacity | 3.5L |
| Removable Pot | Yes |
| Power Consumption | 1500W |
| Warranty | 1 Year |
Value for Money Air Fryer
Digital LED display
Suitable for a family of 3-5 members
Solid build quality
BUY FROM AMAZON
Pros
Unique, attractive design
Easy cleaning
Eight preset cooking modes
Cons
Limited service centre network
Stok is an Indian company that recently entered the highly competitive kitchen and related home appliance segment.
The Stok AFD110 is a feature-rich 4L air fryer loaded with premium features for a very competitive price tag of just Rs.4,749.
Design and Build Quality
The design of the Stok AFD110 is pretty unique and interesting compared to the conventional rounded plastic case form factor of air fryers in the market.
The Stok AFD110 features a rounded rectangular shaped design with brushed metal finish inserts in the front and the top portion, giving it an overall premium feel.
There is a small yet sizable control panel in the front with touch-sensitive buttons and above all, an intuitive LED digital display.
The inner basket is made from stainless steel and in the box you'll also get a steel grill for frying/grilling meat dishes.
Cooking Modes
With this premium air fryer from Stok, you can perform almost all common types of cooking including grilling, roasting and steaming.
The large 4L non-stick panel along with the 3.5L basket size will let you comfortably cook food for about 2-3 persons at a time.
This air fryer comes with eight different preset cooking modes that can be easily selected from the control panel for an effortless cooking experience.
With temperature controls varying from 80-200 degrees, there won't be any problem regarding undercooked dishes. And the timer function will make sure that the food isn't overcooked as well.
Miscellaneous
The Stok AFD110 features a dishwashing friendly non-stick basket that can be easily removed and cleaned.
This ensures that the air fryer remains clean and hygienic even after multiple cooking cycles.
Verdict
The Stok AFD110 is a budget, feature-rich 4L air fryer suitable for a family of 2-3 members.
The quick heating efficiency and the intuitive features such as the LED digital display and dishwashing friendly basket make it a good choice for a budget well under Rs.5,000.
Specifications
| | |
| --- | --- |
| Capacity | 4L |
| Removable Pot | Yes |
| Power Consumption | 1500W |
| Warranty | 1 Year |
4. Havells Prolife Grande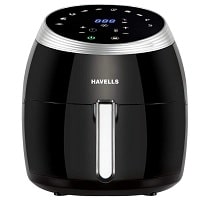 Feature-rich Air Fryer
Feature-rich air fryer
Digital touch control panel
10 different preset cooking modes
BUY FROM AMAZON
Pros
Temperature control up to 200 degrees
360 degrees of heat circulation
Easy to operate
Havells is one of the popular electrical equipment companies in India having a product lineup ranging from kitchen accessories to domestic lighting systems.
The Pro-life Grande from Havells is a feature-rich air fryer capable of cooking operations such as frying, baking and grilling.
Design and Build Quality
We've already mentioned that air fryers are comparatively smaller in size than microwave ovens.
This 6.5-litre air fryer has a polycarbonate plastic exterior chassis with stainless steel interior cabinet.
The glossy paint finish on the outside gives this air fryer a premium fit and finish.
The cooking pot is easily removable, thanks to the handle and can be replaced with similarly sized vessels if needed.
There is a digital touch button control panel up top with a LED display to indicate the timer.
It also has temperature, timer control alongside 10 different presets for one-touch cooking.
Cooking Modes
The Havells Pro-life grande is capable of frying, baking and grilling.
You can easily set the desired preset mode on the control panel and let the machine do the rest.
Even though these operations may not be as mature as in the case of a microwave oven, the food prepared does taste better and more crispy.
The patented rapid-fire technology from Havells cooks the food inside very fast, without making you wait forever.
Miscellaneous Features
The Havells Pro-life grande comes equipped with an integrated air filter for eliminating the odour inside the cooking compartment.
The removable pot mechanism also ensures easy cleaning of this air fryer.
With the built-in timer system, you don't have to worry about overcooking or undercooking your favourite dish. The fryer will automatically switch off the system when the timer elapses.
Speaking about power consumption, the Havells Pro-life grande consumes about 1700W of electricity during its operation, which for a 6.5 L device is very economical.
Verdict
The Havells Pro-life Grande is a feature-rich microwave oven replacement for a family of 4-5 members.
With excellent built quality and features such as rapid-fire technology, owning this air fryer for a budget under Rs.9,000 is certainly a good deal.
Specifications
| | |
| --- | --- |
| Capacity | 6.5L |
| Removable Pot | Yes |
| Power Consumption | 1700 W |
| Warranty | 2 Year |
Pros
Non-stick bowl
Easy to clean basket
Aesthetically pleasing design
Cons
Limited service centres
Glen is an international consumer electrical goods manufacturer based in Ireland.
The Glen SA-3044 is a 2.8L stainless steel air fryer available for purchase to Indian consumers under a very affordable budget of around Rs.5,500.
Design and Build Quality
What makes this air fryer stand apart from other appliances in this list is its build quality. This budget air fryer is made using stainless steel, both on the exterior and the interior.
The construction of this air fryer feels extremely robust and long-lasting.
There are two rotary knobs on this air fryer to set the temperature and timer along with a few soft-touch buttons to set the type of cooking you wish to have.
Cooking Modes
The 2.8L Glen SA-3044 air fryer is capable of drying and roasting operations effortlessly with its high-quality stainless steel heating coil.
The rate of heating of the coil is very fast which aids in achieving super-fast cooking times.
When compared with other conventional air fryers, the company claims that the food prepared using the Glen AS-3044 air fryer has 80% less fat.
Glen uses a technology known as vapour steam reheating to make the food taste crispier at the expense of minimal energy consumption.
Miscellaneous
This 2.8L air fryer from Glen is suitable for use by bachelors as well as a family of four comfortably.
The high-quality heating element inside this fryer will considerably reduce your cooking times for sure.
Since the cooking pot is removable, this device can be easily cleaned after use.
In terms of electricity consumption, the Glen SA-3044 uses up to 1350W of power for its cooking operation.
Verdict
The Glen SA-3044 is the only stainless steel air fryer in our list of curated air fryers.
If you wish to have a budget air fryer that lasts well without any compromise in the quality of food, this is one of the best choices available.
Specifications
| | |
| --- | --- |
| Capacity | 2.8L |
| Removable Pot | Yes |
| Power Consumption | 1350W |
| Warranty | 2 Year |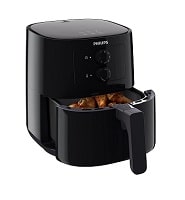 Compact Air Fryer
Intuitive jog dial
Less fat diet
Up to 200 degrees maximum temperature
BUY FROM AMAZON
Pros
Ample cord length
Timer auto-off function
Decent build quality
Philips is a Dutch multinational company headquartered in Amsterdam, famous for its electronic home appliances ranging from televisions to facial trimmers.
The Philips HD9218 is an 800mL air fryer from Philips targeted primarily at bachelors and small families.
Design and Build Quality
The Philips HD9218 is made from high-quality ABS plastic material which looks and feels solid.
The interior stainless steel compartment is coated with special food-grade non-stick material to avoid sticky stains.
One thing to note about the Philips HD9218 is the lack of an LED display. The controls are rotary knobs, for the timer as well as the temperature.
There is a convenient handle on the front side of this fryer which can be pressed close when not in use.
The cooking pot on the Philips HD9218 can be completely removed from the air fryer for cleaning purposes.
Cooking Modes
The Philips HD9218 is a multi-purpose air fryer that can be used for a wide range of cooking operations.
The company certifies that this device can be used for baking, roasting, grilling and frying your favourite dishes.
The maximum temperature that can be achieved by this air fryer is 200 degrees which are more than enough to cook a wide range of recipes.
The rotating knob timer will automatically stop the cooking operation when the set time limit is reached, avoiding any instance of over or under-cooking.
Miscellaneous Features
The Philips HD9218 comes with non-slip feet that will keep the air fryer firmly on a flat surface.
The removable non-stick coated drawer is easy to clean with the detergents you have in your home and needs no extra equipment for the same.
The unique design of this air fryer facilitates crispy food without the use of oil.
In terms of power consumption, the HD9218 consumes 1425W of power during its operation.
Verdict
The Philips HD9218 is a smaller capacity air fryer that has a fast heating element that helps you prepare crispy and healthy dishes in no time.
Specifications
| | |
| --- | --- |
| Capacity | 800mL |
| Removable Pot | Yes |
| Power Consumption | 1425W |
| Warranty | 1 Year |
Honourable Mention
Eight preset cooking modes
Digital LED display
Dishwasher friendly basket
BUY FROM AMAZON
Pros
Attractive design
Decent build quality
Up to 200 degrees maximum temperature
Cons
Takes a bit to get used to the controls
Koryo electronics is an Indian brand owned and operated by Future investment group and is popular in India for its smart LED TVs, refrigerators and air conditioners.
The Koryo KHF4420 is a budget air fryer priced under Rs.5,000 with 2.6L capacity, ideal for a family of 2-3 members.
Design and Build Quality
The outer chassis of this entry-level air fryer is made entirely from hard plastics. The quality of the construction is up to the mark with no noticeable cost-cutting measures whatsoever.
The copper colour cladding on the chassis and the basket handle gives this air fryer an aesthetically pleasing look and feel.
The front section of this fryer houses a single line digital LED display and beneath it is the control panel with soft-touch buttons.
The cooking basket is dishwasher friendly and can be separated and cleaned without any issues.
Cooking Modes
This versatile budget air fryer from Koryo can grill, bake, fry and roast food depending on your preference.
The Koryo KHF4420 features a preset menu with eight different cooking modes that can be easily cycled through from the front control panel.
Miscellaneous
Koryo claims that this budget air fryer can cook food with about 86% less oil, which is a good thing for those with cholesterol-related problems.
Verdict
The Koryo KHF 4420 is a budget air fryer with good cooking performance and useful features for a pleasing kitchen experience.
Specifications
| | |
| --- | --- |
| Capacity | 2.6L |
| Removable Pot | Yes |
| Power Consumption | 1350W |
| Warranty | 1 Year |
The curated buying guide for the best seven air fryers in the Indian market concludes here.
As you know, including every air fryer in the market in this article is impossible and we have left out a few in that regard. However, we guarantee you that the products included in this list are well worth your hard-earned money.
If you've any questions regarding any of the products mentioned in this topic, do let us know in the comments section below. As always, thanks for your time and have a great day!
Buying Guide for Air Fryers
Air Fryers are not so common among the Indian households but are fast becoming a favourite choice for bachelors, small families and those who love experimenting with cooking.
Since this is a relatively unknown kitchen appliance, most among us won't have a basic outline of the important factors that one must consider while purchasing an air fryer.
In this short yet concise article, we will list a few points that will help you make up your mind on purchasing an air fryer suited to your budget.
Without any further ado, let's start!
What are Air Fryers?
Air Fryers, in general, can be considered as mini microwave ovens that can perform some of the functions such as grilling, roasting, heating foods on a much smaller quantity.
Even though the working principles of both these kitchen appliances are entirely different, some of their functions overlap.
Who needs Air Fryers?
As we mentioned above, Air Fryers have considerably less cooking volume when compared with Microwave ovens.
If you are a bachelor living in an apartment or if you have a small family of 2-3 members, buying an Air Fryer makes sense.
However, those who already own a Microwave oven need not require an Air Fryer.
Important Factors to consider while purchasing an Air Fryer
Capacity
Air Fryers are available in different capacities (Litres) available in the Indian market. You may have already guessed, the capacity of an Air Fryer generally means the size of the cooking space inside.
Larger the capacity, more the quantity of food you can cook at once. For a bachelor, anything ranging from 2.2-3.5L is adequate. If you are a family of 2-3, 3-3.5L is quite sufficient.
Build Material
Most of the Air fryers in the market either have a plastic outer body construction or steel construction.
This is not much of a deal since kitchen appliances are indoor devices meant to be used in a safe environment. Also, the quality of the outer chassis in no way affects the food cooked inside
Controls
Some of the entry-level Air Fryers still ship with mechanical jog dials for temperature adjustment and timer set up.
Newer model air fryers feature digital LED displays and soft-touch buttons, of which the advantage is that you can see the temperature and the cooking time in a glance.
Removable Basket
The food is cooked inside the basket and the provision for removing it out of the chassis is almost guaranteed in all air fryers.
The removable basket makes it easy to clean once cooking is complete. While most of the baskets are dishwasher friendly, you should specifically look for the mention, in case.
Frequently Asked Questions (FAQ)
Q: Can Air fryers substitute Microwave ovens?
A: No. Air fryers have a rudimentary set of cooking operations when compared with Microwave ovens. If you are someone with a limited budget and a knack for experimenting with cooking, you can start with an Air fryer at first.
Q: Are Air fryers safe?
A: Yes. The food basket and the internal cooking compartment of the AIr fryers are made from certified food-grade materials and are perfectly okay for cooking purposes.
Q: What's the maximum temperature that I can cook with an Air Fryer?
A: Most of the budget Air Fryers available in the market can cook the food anywhere between 80-200 degree celsius.