Digital cameras come in different sizes, shapes and price. The pricier a camera is, the better will be the image quality under normal conditions.
However, there are different cameras for different purposes and the prices between them vary drastically.
For a budget of around Rs.30,000, you can expect to get hold of a professional digital camera with a reasonably decent performance, ideal for both hobby and amateur photography.
In this short blog post, we bring you the five best digital cameras that you can buy in India for a budget of Rs.30,000.
Without any further ado, let's begin the article!
Best Camera Under Rs.30,000 (DSLRs, Mirrorless & Point and Shoot )
Note: The price shown are the once when we reviewed the products. However, as the promotional offers changes on the given E-commerce sites, the price may vary. Bettershark is supported by it's readers and when you buy through links on our site, we may earn an affiliate commission.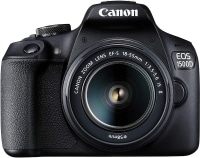 Overall Best Pick
Wi-Fi, NFC and Bluetooth
Excellent battery life
Robust build quality
BUY FROM AMAZON
Pros
High-resolution picture output
APS-C sensor
Digic 4+ image processor
Cons
Average video quality
The Canon EOS series has been a photographer's holy grail since its inception. The EOS 1500D from Canon is a much more affordable successor to its expensive, high-priced siblings with a decent set of features agreeable for its price tag.
Design and Build Quality
The design and form factor of most EOS devices from Canon looks similar but differs only in functionality. Even though made from tough ABS plastic material, the camera is lightweight. The cleverly designed contours of this camera make it easy to hold in hand without slipping down.
Along with the built-in flash, there is an external flash holder to integrate third-party lighting solutions to make your photos look more professional and stylish.
The 3-inch LCD at the rear is reasonably bright and displays the images and videos with decent details.
Sensor Details
The 24.1MP APS-C CMOS sensor in this DSLR camera has a size of 22.3 x 14.9mm which makes it suitable for doing some serious professional photography.
This APS – C sensor is very lightweight and has a narrow field of view which aids in better zooming capabilities.
The lens kit that comes with this camera is the popular 18-55mm Canon zoom lens which delivers an excellent daylight landscape photography experience.
This camera comes with a Digic 4+ image processor with 9 focus points and a single cross point focus, altogether 10 in total.
With the maximum ISO range of 12800, this camera works decently in low light conditions as well.
Image Quality
The Canon EOS 1500D can capture still photos with a maximum resolution of 6000 x 4000 pixels both in .jpg and RAW formats.
The photos that come out of the sensor look true to the actual subject with well-detailed curves and contrast levels.
The 'lens shift-type image stabilizer works well to reduce the blur in the picture while capturing zoomed-in shots with your hand.
This camera is capable of recording full HD videos with a resolution of 1920 x 1080 pixels in .mov format. The video seems a bit jittery and washed out compared to the Nikon cameras but OK for the asking price.
Miscellaneous
The Canon EOS 1500D has a whole suite of connectivity options to share and sync with other devices either by wired or wireless means.
This device has Wi-Fi connectivity onboard and will let you pair the camera with compatible devices such as laptops and smartphones just with a tap to sync the content.
With the HDMI port on this camera, it can be hooked up to a large monitor to preview the photos and videos directly.
Battery Life
The Canon EOS 1500D uses the same LP-E10 battery pack that powers most of the budget EOS lineup.
This battery is rated for an average of 600 clicks per charge. However, using features like Wi-Fi may significantly affect battery life.
Verdict
The Canon EOS 1500D is one of the best entry-level DSLR cameras that lets you master the art of professional photography in the best possible way.
High-quality dual lens kit and sensor coupled with the powerful Digic 4+ image processor make this camera one of the best in the business under Rs.30,000.
Specifications
| | |
| --- | --- |
| Megapixel | 24.1 MP |
| Optical Zoom | – |
| Screen Type | LCD |
Runner-up Pick
DIGIC 8 image-processing engine
40x optical zoom capability
4K video recording
BUY FROM AMAZON
Pros
Decent build quality
Flip LCD screen
Wi-Fi and Bluetooth support
Cons
Weak low light performance
Canon is a Japanese company popular around the globe for its imaging-related products such as printers and cameras.
The PowerShot line-up is a series of consumer-grade digital cameras manufactured by Canon. The Canon PowerShot SX740 is a budget digital camera that currently retails for Rs.27,990 in the Indian market.
Build and Design
The Canon PowerShot SX740 uses a combination of polycarbonate and metal for its construction which does give it a premium feel.
For a superior grip, this camera has a rubberized grip and thumb rest which makes it comfortable to hold in one hand.
Despite the compact size, this digital camera features buttons that are large enough to operate without taking your eyes off the subject.
The rear section of this camera features a 180-degree flip LCD screen. This 3-inch LCD screen makes this camera a suitable option for vlogging as well. Besides the LCD, there are the control and navigation buttons including menu, delete, info etc.
The top section of the camera is where the power button, record button, shutter button, and mode dial can be found. The shutter button also features a lever for zooming like most other digital cameras. This camera also has a pop flash which is tucked into the top and can be released by sliding a small switch on its side.
The right side of the camera features a micro USB and micro HDMI port for charging and connecting to a TV or any other device to view the photos and videos that you have captured.
The front section of the camera houses the lens and at the bottom of the camera, you have the SD card and battery compartment. Next to the battery compartment, there is a tripod thread that can be used to mount the camera on a tripod.
Camera Features
The Canon PowerShot SX740 features a 1/2.3-inch 20.3MP backside-illuminated sensor with the new DIGIC 8 image-processing engine.
The main attraction of this camera is its Canon-branded 40x optical zoom lens which covers a wide range of 24-960mm in 35mm terms. The camera is not limited only to optical zoom and also features 80x digital zoom albeit the image quality does suffer in this mode.
If you are a beginner then the Canon PowerShot SX740 is without a doubt a good camera for you since it features an auto mode that automatically adjusts the settings of the camera based on the subject you are focusing on.
Moreover, for experienced photographers, this camera also features a manual mode.
Regarding video capture, this camera supports resolutions of 4K and 1080p which is quite a nice feature to have. This camera also features intelligent image stabilization which is a fancy name for optical image stabilization that functions similarly to other cameras in this price segment.
The image quality of the camera as expected is excellent. The pictures taken appear sharp, detailed and colour accurate but the camera does falter in low light conditions. The flash of the camera does help in low light conditions to some extent.
Zoom capabilities of the camera is another outstanding feature. This camera lets you capture subjects that are far away from the camera.
The flip LCD screen also makes the Canon PowerShot SX740 a suitable companion for vlogging.
This camera has Wi-Fi and Bluetooth support for seamless wireless connectivity with your companion devices.
Battery Life
In a single full charge, the Canon PowerShot SX740 will let you capture up to 265 shots at once.
The charging is done via the bundled micro USB cable which is a bit of a letdown as we expect camera manufacturers to adopt the latest USB Type-C standard.
Verdict
The Canon PowerShot SX740 is a decent digital camera for beginners or intermediate users. It is also a suitable camera for vloggers thanks to its ability to record in 4K and the flip LCD screen.
Specifications
| | |
| --- | --- |
| Megapixel | 20.3 MP |
| Optical Zoom | 40x |
| Screen Type | Tilting LCD |
Pros
Ergonomic design
Lightweight
9-point autofocus system
Cons
The screen is not bright enough
Canon is one of the few brands that cater to all photography enthusiasts with the likes of its IXUS and PowerShot compact digital cameras and also its entry-level and high-end cameras.
This here is the Canon EOS 3000D which is an entry-level DSLR camera that retails for Rs.27,999 in the Indian market.
Build and Design
The Canon EOS 3000D is made completely out of plastic and it does not boast the best build quality out there. However, it does manage to provide a solid feel when held in hand.
The rubberized handgrip on the camera makes it quite ergonomic and easy to hold. Thanks to the plastic material used for construction this camera is quite lightweight at around 436g.
About the controls, they are located throughout the top and rear of the camera. The top portion features the shutter button, power button, and dials to change the shutter speed and mode.
At its rear, this camera features a 2.7-inch TFT display with a resolution of 230,000 dots. It is not the brightest and sharpest of displays on a camera but it does get the job done. The screen is not articulating. This camera also features an optical viewfinder that lets you click pictures much faster.
Next to the screen are a host of buttons used to navigate through the menus.
At the front, like any DSLR camera this also comes with a lens mount and at its side is the lens release button. Any of the EF-S lenses are compatible with this camera. An 18-55mm lens is bundled with this camera.
The right side of the camera holds the HDMI mini and digital port. At the base of the camera is the tripod mount and a slot to insert the battery and memory card.
Camera Features
The Canon EOS 3000D features an 18 MP APS-C CMOS Sensor with the DIGIC 4+ image processor that gives out decent images.
The zoom of the camera depends on the lens that is attached to the camera. Based on the various lenses you can take different shots like portraits, landscapes, and many more.
Although the EOS 3000D is an entry-level DSLR it does not miss on the various shooting modes like Intelligent Auto, Creative Auto, Sports, Food, etc.
This camera also features a manual mode with options like manual exposure, aperture priority AE, shutter priority AE, etc.
The Canon EOS 3000D features a 9-point autofocus system which is pretty decent for an entry-level DSLR.
Image and Video Quality
For an entry-level DSLR, the EOS 3000D offers pleasing results over various shooting conditions.
Images captured by this camera offer a good level of detail. Colour reproduction is natural and quite accurate.
But landscape images when viewed in their original resolution seem to lack some sharpness.
Close-up shots on this camera are excellent with a good depth of field. Images taken in low light by the camera do look good but it does have some noise.
Video quality on this camera is not the best, this camera can record videos at a maximum of 1080p resolution at 25 fps. The quality of videos is okay at best.
Battery Life
The Canon EOS 3000D is powered by the LP-E10 battery pack. The battery of this camera is rated to last for approximately 500 shots using the viewfinder and around 180 shots with the TFT screen.
Verdict
If you are a beginner at photography then this entry-level DSLR photography is an excellent choice, to begin with. This camera should get you well versed with the workings of a DSLR and give you an idea about what to expect.
Specifications
| | |
| --- | --- |
| Megapixel | 18.0 MP |
| Optical Zoom | – |
| Screen Type | TFT |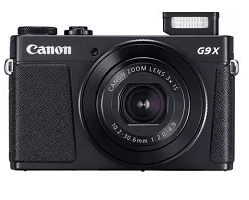 Value for Money Camera
DIGIC 7 image processor
Touchscreen LCD
Wi-Fi and NFC support
BUY FROM FLIPKART
Pros
Miniature size
Control ring
Decent image quality
Cons
No 4k video recording
Poor battery life
The Canon G9 X Mark II serves as an entry-level digital camera. It is the successor to the original G9 X.
This digital camera is currently available in the Indian market for around Rs.26,000.
Build and Design
What will grab your attention first is the miniature size of the camera. It is extremely compact and weighs about 206g making it a good alternative to a smartphone.
The build quality of the camera is robust, it has rubber inserts in the front and pack for grip. But the grip it provides is not the best and it is recommended to use a wrist strap along with the camera.
In its rear is the 3-inch LCD touchscreen, yes you read that right. This camera features a touchscreen to navigate through the various menus. Due to the compact size, there aren't many buttons next to the LCD screen.
The LCD touchscreen also acts as a viewfinder because of the lack thereof.
The front of the camera houses the lens and around the lens is the control ring which can be used to zoom in and out.
At its top are the shutter button and power button. You also have the mode dial that lets you choose between manual and semi-automatic modes.
Like all cameras, the bottom of the G9 X Mark II features the battery and memory card compartment.
Camera Features
The Canon G9 X Mark II is powered by the DIGIC 7 image processor and has a 20.1 MP 1-inch type BSI CMOS sensor.
The Canon Zoom lens on the camera is capable of 3x optical zoom. It does not have a long reach compared to some other cameras.
This camera has Wi-Fi and NFC which makes it easy to pair it with your smartphone. Installing the companion app on your smartphone lets you remotely control the camera as well.
Image and Video Quality
The G9 X II does a good job when it comes to image quality.
This camera's exposure metering does a good job of balancing highlight and shadow detail for overall bright exposure.
This camera is suitable for social gathering, the lens of the camera is fast enough to capture decent low light pictures. However the zooming capabilities of the camera are not the best, so if you are looking for a camera that can take snaps of subjects that are quite far then this might not be the one for you.
One of the drawbacks of this camera is that it cannot record videos at 4k resolution instead we get 1080p 60 fps. The dynamic range stabilization does a great job of reducing shakes without reducing the quality of the video.
Battery Life
The battery life of the Canon G9 X Mark II is a bit disappointing. It is rated to last around 235 shots which is quite less compared to the competition. It is recommended to carry a spare with you at all times.
Verdict
The Canon G9 X Mark II is a compact digital camera with a 1-inch sensor that is suitable for travelling and clicking pictures in low light conditions. If you don't have a phone with a good camera then this can be a good choice for you.
Specifications
| | |
| --- | --- |
| Megapixel | 20.1 MP |
| Optical Zoom | 3x |
| Screen Type | LCD |
5. Sony CyberShot DSC-WX500
Pros
Compact size
Full manual mode
Good battery life
The Sony CyberShot DSC-WX500 is another one of the many cameras that is manufactured by the Japanese company.
This is one of the smallest digital cameras with excellent zooming capabilities.
The Sony CyberShot DSC-WX500 currently retails for around Rs.22,000 in the Indian market.
Build and Design
Sony widely claims that the CyberShot DSC-WX500 is the world's smallest compact zoom camera with a 30x optical zoom lens.
This camera can be operated single-handedly thanks to its compact size. However, there isn't a good hand grip on this camera which can be a cause of concern since it can accidentally slip from your hands.
Being so compact it is also pocketable and can fit into your jeans without a problem.
Despite the small form factor, this camera hosts a flippable LCD screen in the rear which is suitable for vlogging. Due to the small size of the camera, all the rear buttons are crammed into a small space. This can cause accidental button presses.
Like with most cameras located in the front is the lens. The top of the camera features the power button, shutter button, and mode dial. Located on the shutter button is the raised lip to zoom in or out.
The battery and memory card compartment is situated at the bottom. A pop-up flash is also concealed in the top of the camera which can be released with the press of a button.
Camera Features
The CyberShot DSC-WX500 features an 18.2MP BSI CMOS sensor coupled with the Bionz X image processor.
This digital camera is loaded with Zeiss branded lens and optical zoom up to 30x which is quite a lot for such a compact camera.
The camera features two auto modes, namely intelligent auto and superior auto mode. Intelligent auto-detects the scene and applies optimal shooting settings while superior auto mode makes use of trickery to reduce noise, minimize camera shake and increase the dynamic range.
For enthusiast photographers, this camera also features a full manual mode along with aperture and shutter priority settings.
It is also possible to choose from various scene modes in the settings of the camera and you also have the option of sweep panorama function.
The camera also has support for Wi-FI and NFC, this makes it easier to share your pictures on social media. Download the companion smartphone app to share photos seamlessly.
Image and Video Quality
The 18.2 MP sensor and the Bionz X image processor are capable combo and provide impressive image quality.
Accurate exposure metering and vibrant colour reproduction make the pictures taken by the camera immediately appealing. It also manages to get a high level of detail when taken in good lighting conditions.
In low light, this camera has low levels of grain noise and no colour speckling.
The CyberShot DSC-WX500 is capable of recording video at Full HD at 25 frames per second.
Sony's Optical SteadyShot Image Stabilization does an excellent job of ironing out any unintended shakes when taking pictures or videos.
Battery Life
The Sony CyberShot DSC-WX500 is equipped with a 1240 mAh Li-ion battery that is rated to last for approximately 400 shots on a single charge.
This is quite impressive for such a compact camera.
Verdict
If you are someone who travels often and wants a compact camera with you that is reliable then you should check out the CyberShot DSC-WX500 by Sony. This digital camera is suitable for beginners and enthusiasts. It features both automatic and fully manual modes.
Specifications
| | |
| --- | --- |
| Megapixel | 18.2 MP |
| Optical Zoom | 30x |
| Screen Type | Tilting LCD |
With this, we have reached the end of our list for the five best cameras under Rs.30,000 in India.
If you have any questions regarding the products mentioned above, then feel free to comment down below and we will get back to you.
As always, thank you for your time and have a great day ahead.