Best Camera Under Rs.40,000 (DSLRs, Mirroless & Vlogging)
We had previously discussed the various point and shoot as well as DSLR cameras in different budget categories on our website. The Rs.40,000 budget allows you to stretch your requirements by a lot and offers some of the best pocket-friendly professional cameras in the Indian market.
The feature set available within cameras are quite substantial and a mere difference of a couple of thousand rupees can fetch you a significantly better deal.
However this makes choosing the correct camera, a hell lot tougher and that's where we come to your rescue. In this article, we bring you the best five cameras available in the Indian market priced under Rs.40,000.
Without further ado, let's begin!
Best Camera Under Rs 40,000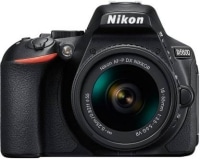 Overall Best Pick
Touch-enabled swivelling display

Decent battery life

2-year domestic warranty
Nikon cameras are well-known for their digital imaging prowess in the DSLR segment.
The company has a loyal fan following owing to the simplicity of use and constant innovations to make the visual output more appealing to the end-users.
The Nikon D5600 is a premium mid-range DSLR camera in the Indian market available for just under Rs.40,000.
Design and Build Quality
The build quality of this DSLR camera is outstanding with the use of hard polycarbonate plastic materials and rubber inserts over a metallic inner frame.
The chassis is rigid and weighs about 465 grams without the lens kit.
The carefully designed grooves on the body match the normal palm and finger resting positions, adding to the ease of use of this camera.
The buttons and dials are laid out the same as found on other Nikon DSLR models. If you've used Nikon products in the past, this will make you feel home.
The Nikon D5600 comes with strap clipping options integrated into the body to improve safety and portability.
Sensor Details
The Nikon D5600 has a 24.2MP CMOS sensor inside measuring 23.5 x 15.6mm.
This sensor capture shots with excellent dynamic range and also significantly improved frames per second count.
The kit lens which comes with this DSLR camera is a DX NIKKOR 18-55 mm AF-P VR lens.
AF-P lenses are known for its accurate focusing mechanism and being a VR lens, the jitters and blur on the captured shots are almost non-existent.
This camera sensor is capable of clicking pictures with a maximum ISO of 25,600 and this makes it a better low light photography machine.
There are 39 autofocus points to keep the subject well in the frame. Both landscape and portrait mode photos look excellent and rich in details with this sensor.
Image and Video Quality
Whatever be the lighting situation, the Nikon D5600 shines to provide the best possible image quality.
The pictures taken by this camera has a lot of details and the wider colour gamut results in vivid and punchy images.
The CMOS sensor has got it covered when it comes to the dynamic range. The deep blacks and brightest brights are well preserved, making the image look as close to reality.
Speaking of the video quality, the Nikon D5600 is capable of recording full HD 1920 x 1080 pixel resolution videos at 30 fps.
Although this is not the ideal video camera for vloggers, it can come in handy at times if the need arises so.
Miscellaneous
The large 3.2-inch retractable touch-enabled display is ideal for shooting pictures at odd angles without having to guess about the frame you're about to capture.
This device comes with Wi-Fi connectivity which can be used for sharing photos and videos wirelessly to your smartphones or laptops without any fuzz.
The wide range of Nikkor accessories such as lens kits makes this camera a versatile addition to any travellers backpack.
Battery Life
The Nikon D5600 comes with a rechargeable Li-ion battery pack for powering its functions.
This battery pack can roughly last for 1000 shots and about 2 hours of intermittent video recording at full HD, 60 fps.
Verdict
If you want a cross-over between a high-end DSLR but under an affordable budget, the Nikon D5600 is a great piece of hardware, to begin with.
This camera ticks almost all right boxes for its price and then some, making it a value for money deal under Rs.40,000.
 Specifications
| | |
| --- | --- |
| Sensor Size | 23.2mm x 15.6mm |
| Lens | 18-55mm kit lens |
| Megapixel Count | 24.2MP |
| Optical Zoom | – |
| Display Screen | 3-inch TFT LCD |
| Warranty | 2 Years |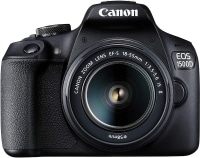 Best Value for Money DSLR Camera
The dual kit lens in the box

Wi-Fi and NFC wireless connectivity

Excellent battery life
Canon EOS series has been a photographer's holy grail since its inception. The EOS 1500D from Canon is a much more affordable successor to its expensive, high-priced siblings with a decent set of features agreeable for its price tag.
Design and Build Quality
The design and form factor of most EOS devices from Canon looks similar but differs only in functionality. Even though made from tough ABS plastic material, the camera is lightweight. The cleverly designed contours of this camera make it easy to hold in hand without slipping down.
Along with the built-in flash, there is an external flash holder to integrate third-party lighting solutions to make your photos look more professional and stylish.
The 3-inch LCD at the back is reasonably bright and displays the images and videos with decent details.
Sensor Details
The 24.1MP CMOS sensor in this DSLR camera has a size of 22.3 x 14.9mm which makes it suitable for doing some serious professional photography.
This APS – C sensor is very lightweight and has a narrow field of view which aids in better zooming capabilities.
You get two lens kit with this package, which makes it one of the best deals currently going on in the market.
The first lens kit that comes with this camera is the popular 18-55mm Canon zoom lens which delivers excellent daylight landscape photography experience.
Built-in with 3x optical zoom, this lens can be used to capture occasional close-up shots as well.
The second one is the 55-250 IS lens. This is a small and compact telephoto lens that can be used to film long-distance subject with adequate lossless zoom.
This camera comes with a Digic 4+ sensor with 9 focus points and a single cross point focus, altogether 10 in total.
With the maximum ISO range of 12800, this camera works decently in low light conditions as well.
Image Quality
The Canon EOS 1500D can capture still photos with a maximum resolution of 6000 x 4000 pixels both in .jpg and RAW formats.
The photos that come out of the sensor looks true to the actual subject with well-detailed curves and contrast levels.
The 'lens shift-type image stabilizer' works well to reduce the blur in the picture while capturing zoomed-in shots with hand.
This camera is capable of recording full HD videos with a resolution of 1920 x 1080 pixels in .mov format. The video seems a bit jittery and washed out compared to the Nikon cameras but OK for the asking price.
Miscellaneous
The Canon EOS 1500D has a whole suite of connectivity options to share and sync with other devices either by wired or wireless means.
This device has Wi-Fi and NFC that will let you connect compatible devices such as laptops and smartphones just with a tap to sync the content.
With the HDMI port on this camera, it can be hooked up to a large monitor to preview the photos and videos directly.
Battery Life
The Canon EOS 1500D uses the same LP-E10 battery pack that powers most of the budget EOS lineup.
This battery is rated for an average of 600 clicks per charge. However, using features like Wi-Fi may significantly affect battery life.
Verdict
The Canon EOS 1500D is one of the best entry-level DSLR cameras that lets you master the art of professional photography in the best possible way.
High-quality lens and sensor coupled with the powerful Digic 4+ image processor make this camera, one of the best in the business under Rs.40,000.
Specifications
| | |
| --- | --- |
| Sensor Size | 23.2mm x 15.4mm |
| Lens | 18-55 kit lens + 55-250 IS II lens |
| Megapixel Count | 24.1MP |
| Optical Zoom | – |
| Display Screen | 3-inch TFT LCD |
| Warranty | 1 year |
Best Mirrorless Camera
Built-in Wi-Fi and NFC connectivity

Full HD video recording at 60fps

Built-in pop-up flash
The Sony ILCE-5100L is a compact mirrorless camera featuring a full-sized APS-C sensor and a flip-out display.
Best suited for vlogging, this digital camera from Sony has one of the best continuous autofocus systems we have seen while recording a video in the sub Rs.40,000 price segment.
Design and build quality
The body of this camera is made of aluminium inner casing and polycarbonate outer layer.
This camera is intentionally designed to be lightweight and compact which suits vlogging and point and shoot usage.
At the back, this camera has a flip screen that can be tilted to face front side, which makes the job a hell lot easier for vloggers who would like to see what's happening during real-time recording the content.
The buttons and dials are a bit cramped, mainly because of the size constraints to make this camera as small as possible.
There is no headphone jack to plug in an external mic, which is kind of a bummer as you would have to rely on an external audio recorder to capture high-quality audio.
Weighing only about 281g, this camera can be used to vlog or shoot photos for an extended period without any strain to your hands as it is lighter than the DSLR cameras out there.
Sensor features
Sony APS-C sensors are critically acclaimed for its image and video quality and are one of the best in the business.
The sensor on this compact mirrorless camera has a size of 23.5 x 15.6mm and being a mirrorless camera, it is always open to the light coming through the lens.
This sensor has a maximum ISO range of 26,500 which makes it easy to shoot images and videos in low lighting conditions.
This camera features a Sony E-mount that has a 16-50mm kit lens. There are many other Sony lenses available for this camera and with the help of an adapter, you can use many other third-party lenses as well.
Image and video quality
This Sony ILCE-5100L can capture still photos with a maximum resolution of 6000 x 3376 pixels at 24.2MP. There is also support for various picture standards such as RAW, JPEG fine and JPG standard.
The photos from this camera come out vibrant and rich in details. The super fast focus system aides in capturing the subject as soon as you point towards it.
Talking about the video, there is no 4K recording available but with full HD 1920 x 1080 pixel video at 60fps with 50MB/s bit rate, vloggers have a compact and lightweight tool in hand for producing high-quality video content.
Miscellaneous
One of the main drawbacks of this camera is that the display in the back is of low resolution and doesn't do justice to the original image and video quality from the sensor.
There is a ton of automatic shooting modes that you can set according to the nature of the subject or time of the day to make the final output look way better than it would be if shot at normal mode.
Battery life
Mirrorless cameras usually exhibit less battery life than DSLR counterparts. This digital mirrorless camera from Sony lasts for about 420 still images or about 75 minutes of continuous video recording in a single full charge.
Verdict
If you're a blogger/content creator and want a compact and lightweight camera to shoot your stuff in style and quality, the Sony ILCE-5100L is the best for a budget under Rs.40,000.
The flip screen and the interchangeable Sony lens ecosystem to enhance the usability of this camera makes it a good choice for professionals as well as individual hobby photographers.
180-degree tiltable display
Powerful Bionz X image processing engine
Specifications
| | |
| --- | --- |
| Sensor Size | 23.5mm x 15.6mm |
| Lens | Sony E-mount Lens |
| Megapixel Count | 24.3MP |
| Optical Zoom | – |
| Display Screen | 3-inch TFT LCD |
| Warranty | 2 years |
Best Vlogging Camera
Dual sensing image stabilization

Tiltable LCD display

1-inch sensor
With vlogging being a fast catching trend among the Indian youth, this camera is one of the most sought-after devices for this purpose.
The Powershot G5X from Canon is an ultimate imaging powerhouse built into a sleek and elegant chassis that is comfortable and lightweight to handle for an extended period.
Design and build quality
The G5X is built on an aluminium frame with thoughtful curves. The steel buttons and dials exude confidence in the build quality of this device.
Everything is neatly arranged with enough spacing between the controls that won't strain your fingers to do twisting and turning to reach the buttons.
The 3-inch TFT LCD at the back can be tilted 180 degrees upwards and 45 degrees downwards that will provide you with abundant experimental shooting angles.
There are metal hooks on either side that can be utilized to connect a wrist strap to ensure that this camera won't slip away from your hand accidentally.
Sensor features
The Canon G5X comes with a large 1-inch sensor that makes bokeh mode photos possible with this camera. This sensor has a maximum ISO range of 1600.
The powerful Digic 8 image processor inside this camera performs high-speed image processing and noise reduction even in photos and videos taken at maximum ISO value.
The integrated Canon zoom lens has an optical zoom of 4.2x and works pretty well, considering its size.
The auto lighting optimizer feature found on high-end Canon EOS cameras finds its way to the G5X.
This feature adjusts the light entering the sensor and prevents the washing out of images at sudden exposure situations.
Image and video quality
The Canon G5X can capture still images at a maximum resolution of 4864 x 3648 pixels in 4:3 aspect ratio.
The photos captured by this camera come out with natural colours and excellent level of detail for a point and shoot camera. There is little to no noise in photos taken at higher ISO range with this device.
When it comes to videos, the Canon G5X can shoot 4K videos with a resolution of 3840 x 2160 pixels at a steady 25fps.
This device comes with a dual-sensing image stabilization feature that combines the data from the gyro sensor and image sensor to reduce the shake and blur when capturing images and videos.
Miscellaneous
The new Digic 8 processor is a very capable image processor and can do well beyond reducing the noise in the shots. It is capable of continuously tracking a moving subject even when a new subject is introduced into the scene.
This is great for vlogging as the creator must be in constant focus while talking with the audience even if multiple people walk by the location.
Battery life
The Canon G5X provides impressive battery life for its size. This camera can take an average of around 350-400 shots on a single charge.
Talking about video capture, the battery lasts for about 1-1:30 hours of continuous recording.
Verdict
If you're a blogger or planning to start vlogging, nothing gets better than owning a Canon G5X.
Its lightweight chassis coupled with a high-quality sensor that has dual sensing stabilization plus the tiltable screen makes it the best camera for vlogging under Rs.40,000.
Well built camera chassis
Specifications
| | |
| --- | --- |
| Sensor Size | 1-inch |
| Lens | Canon zoom lens |
| Megapixel Count | 20.2MP |
| Optical Zoom | – |
| Display screen | 3-inch TFT LCD |
| Warranty | 2 years |
 Honorable Mention
Three-way tilting LCD

Wi-Fi and Bluetooth connectivity

Excellent 24.2MP APS-C sensor
Fuji is a renowned Japanese brand which adorns a legendary status in photography and imaging business worldwide.
The Fujifilm XT100 is a budget mirrorless camera priced just under Rs.40,000 providing excellent quality photos and videos under an affordable price tag.
Design and Build Quality
The Fujifilm XT100 is one of the unique looking cameras that you can purchase under Rs.40000.
It features an interesting mix of modern design philosophy seamlessly integrated with the traditional Fuji brand identity.
The dual-tone colour scheme makes this mirrorless digital camera stand apart from its competitors.
The chassis of this camera is made from durable stainless steel. The fit and finish of the dials and knobs on this device screams premium and looks very attractive.
Sensor details
The Fujifilm XT00 features a 23.5 x 15.7mm 24.2MP CMOS sensor with a maximum ISO range of 12800.
This sensor comes with Optical Image Stabilization(OIS) support onboard which reduces the shakes and blurring of images and videos.
This sensor supports the latest Phase Detection Auto Focus (PDAF) technology for super-fast focus times and intelligent detection of eyes and faces of humans as well as other living subjects.
Image and Video Quality
The Fujifilm XT100 can shoot pictures with a maximum resolution up to 6000×4000 pixels in 16:9 aspect ratio.
This camera supports RAW mode image capture which will be beneficial for post-processing in software suites such as Adobe lightroom without any degradation in the quality.
When it comes to the video, this camera can record 4K videos in .mov format using highly efficient H.264 compression algorithm.
The pictures and videos come very detailed and colour accurate on this mirrorless camera.
Miscellaneous
The Fujifilm XT100 mirrorless camera features a 3-inch TFT LCD monitor with tilt support. This means you can adjust the screen position according to your liking for capturing the best shot.
This camera supports common wireless connectivity standards such as Wi-Fi and Bluetooth. There is an HDMI output port which can be used to mirror the screen content to a larger display effortlessly.
Battery Life
Mirrorless cameras usually provide less battery life than DSLR cameras. This is because the size of such cameras is smaller.
However, the Fujifilm XT100 can capture up to 430 frames on a single full charge which is quite acceptable for a mirrorless camera in the sub. Rs.40000 price range.
Verdict
If you're looking for a mid-range mirrorless camera from a reliable brand, the Fujifilm XT100 is the best one you can purchase under Rs.40,000 in the Indian market.
The compact form factor along with the excellent quality sensor makes this 24.2MP mirrorless camera worth purchasing.
Durable aluminium chassis
Phase detection auto focus
Specifications
| | |
| --- | --- |
| Sensor Size | 23.5mm x 15.6mm |
| Lens | Fujinon aspherical lens |
| Megapixel Count | 24.2MP |
| Optical Zoom | – |
| Display Screen | 3-inch TFT LCD |
| Warranty | 2 years |
There it is. The best five picks among the digital cameras priced under Rs.40,000 has been listed and reviewed in this article. If you feel we've missed something, do let us know in the comment section below.
Meanwhile, do consider subscribing to our weekly newsletter for the latest updates about gadgets and best buying lists with detailed reviews right in your inbox. Thanks for your time and have a pleasant day ahead.