Best Computer Monitors In India (January 2020)
People often have this misconception that with the advent of powerful laptops, desktops are facing an existential crisis.
But in reality, desktop computing remains stronger than ever before. More people are showing their interest in assembling their own systems.
As monitors being one of the important components of a Desktop computer, we feel this itself is a subject worthy of an article.
So here we are, presenting to you the seven best computer monitors that you can buy in the Indian market.
Best Computer Monitors In India 2019
Overall Best Pick
4K UHD display

Excellent colour reproduction

Picture in Picture mode support
Samsung manufactures some of the best consumer displays on the market, be it in their TVs or the mobile phones.
This particular model comes with four times the resolution of a conventional HD panel and the resultant difference is evident from the visual quality, especially the details in the images.
Resolution
The Samsung LU28E590DS/XL is a 27.8-inch 4K ultra HD monitor which delivers sharper images and true to life colour accuracy at a premium price.
With its approximate 10 million pixels on the screen, this monitor delivers great results while gaming as well during media consumption.
Picture In Picture Mode
One of the USP of this device is its PIP 2.0 technology. PIP means Picture In Picture.
This feature enables you to open two apps side by side and perform actions simultaneously.
This is especially useful when, for example, if you want to watch a video and work on your seminar presentation at the same time.
Hardware
This 4K Samsung monitor features two HDMI and a display port. This will let you hook this monitor to your gaming consoles and other devices.
The narrow bezel and the rounded stand will blend with any type of home decor seamlessly.
This widescreen monitor is a joy to look at and is guaranteed to provide you with an immersive media consumption experience.
This monitor comes equipped with an inbuilt speaker for you to start using it right away without the need to search for an external speaker.
Response time
This monitor features a 1 ms response time. For normal users, these numbers don't matter but for gamers, it's of utmost importance.
Response time is the time between user action, like clicking on a mouse button, and its resultant action on display.
For gaming, the response time has to be minimal so that the gamers can execute precision movements within no time.
Also, this display can achieve a brightness of up to 370 nits which will provide vivid results even in bright environments.
Samsung provides a 3-year onsite warranty on this monitor as well.
Verdict
Samsung is the best display manufacturers in the whole world. Period.
The Samsung LU28E590DS/XL might just be the ideal choice for allround performance ranging from media consumption to gaming, you're yearning to purchase.
The screen gets very bright and the details are amazing for a 27.8-inch display. With the PIP mode feature, you can multitask without breaking a sweat.
Average inbuilt speaker quality
 Specifications
| | |
| --- | --- |
| Size | 27.87-inch |
| Resolution | 4K UHD |
| Display Type | LED Backlit |
| Response Time  | 1 ms |
Runner-Up Pick
Flicker-free viewing experience

Full HD 1920 x 1080 display

IPS technology for better viewing angles
BenQ is a popular Taiwanese consumer electronics company that's fairly popular in India with its industry-leading projectors.
The GW2780 from BenQ is a large screen desktop monitor with an edge to edge display that provides you with the ultimate viewing experience.
Resolution
The BenQ GW2780 desktop monitor features a full HD display with a resolution of 1920 x 1080 pixels.
This paper-thin display can project up to 16.7 million colours for a more natural and vibrant looking visuals.
With 250 nits of brightness, the screen is sufficiently bright even with the external lights turned on.
The big display coupled with sufficient display and natural colour tone makes it a perfect media consumption companion.
Software Features
BenQ has incorporated a few software gimmicks on this display to make it even better.
The brightness intelligence technology automatically senses the scene and adjusts the blacks and whites accordingly to give you a more realistic image/visual with excellent dynamic range.
With the eye-care technology, the BenQ GW2780 filters out the blue light emission for relaxation to the eyes and facilitates better sleeping.
The flicker reduction minimizes the jitters that occur between fast-moving scenes, to make the visual even more smooth.
Connectivity
This BenQ desktop computer monitor features a VGA port as well an HDMI port and a display port. The VGA port can be used for connecting the monitor with legacy CPUs.
HDMI is a much newer standard and offers excellent data transfer rate than the VGA cable.
Majority of the newer devices comes with HDMI ports for display out connectivity.
There's also a USB port on this monitor if you wish to plug in some media disks and play content from it directly.
Mounting
The BenQ GW2780 comes with a standard VESA wall mount included in the box package. It can be tilted sideways or upwards depending upon your seating posture.
The mount is rigid and has no flex or unnecessary movements at any given position.
Miscellaneous
What sets the BenQ GW2780 apart from the competition is that this display comes with two integrated speakers on board.
The 2 2W speakers offer decent sound output, especially when something is always better than nothing.
This flat-screen computer monitor comes with OSD support of up to 18 languages.
There is the smart cable management system which helps neatly arranging the cables along with the mount, providing a more professional visual appeal to the desktop setup.
Verdict
If you're in search of a large screen monitor for immersive media consumption, the BenQ GW 2780 is the perfect match.
The natural colour tones and decent brightness level makes it a pleasure to watch content on this thin-bezel display.
Rich connectivity options
 Specifications
| | |
| --- | --- |
| Size | 27.7 inch |
| Resolution | Full HD |
| Display Type | VA panel |
| Response Time  | 5 ms |
3. Samsung LC24F390FHWXXL
Best Budget Curved Monitor
A curved full HD display

Immersive viewing experience

Stable 60Hz refresh rate
Curved monitors are still far away from being a mainstream standard among masses. Samsung is one of the front-runners in this technology setting standard for other brands to follow.
The main benefit that these curved monitors provide is the enhanced immersive experience while watching visuals or playing games.
Since the screen is curved, our brain is tricked into believing that we are much more closer to the action, of which the Samsung LC24F390FHWXXL excels in.
Resolution
The Samsung LC24F390FHWXXL is a 23.6-inch curved full HD monitor offered at an aggressive price tag.
This monitor has a VA panel that's usually less prominent among the display types available in the market.
The VA panels offer deep blacks and great contrast levels compared to the TN and IPS panels. These panels consume less power during the operation as well.
Curved display
The advantage of the curved display over the flat panels is that when viewed from an optimal distance, these panels provide a much more realistic immersive experience due to the curvature of the field of view.
Samsung has integrated the AMD FreeSync technology on this monitor.
This will let the frames execute smoothly by synchronizing the screen refresh rate with the frame rate of the content on the screen.
Not for gaming
We'd recommend hardcore gamers to stay away from this monitor. The response rate of 4ms isn't much benefit for gaming.
This monitor mainly suits for media consumption and editing and does a very good job at that.
Eye saver mode
Samsung has integrated an eye saver mode on this product for limiting the blue light emission that will reduce strain on your eyes.
This mode also results in providing a better sleep at night after a long TV watching session.
Verdict
The Samsung LC24F390FHWXXL is a curved monitor that offers an immersive media consumption experience.
Strictly not for gamers, this desktop monitor offers a futuristic look to your computer setup.
Since the usage of a computer monitor is mostly a hands distance from the eyes, having a curved monitor makes much sense.
Viewing angles are mediocre
 Specifications
| | |
| --- | --- |
| Size | 23.6 inch |
| Resolution | Full HD |
| Display Type | Curved VA |
| Response Time  | 4 ms |
Value for Money Monitor
Full HD display

60Hz refresh rate

Tiltable stand
Acer laptops are some of our fan favourites and have been greatly discussed on our Best Laptops in India buying guides.
The same company has now come up with a budget desktop monitor for you to use with your desktop computer setup.
Resolution
The Acer R240HY is a 23.5-inch full HD LED monitor with a resolution of 1920 x 1080 pixels.
This IPS display has a viewing angle of 178 degrees with no colour shift when viewed even from extreme angles.
Display Features
The Acer R240HY has a normal 16:9 aspect ratio, suited for practically everything – media consumption, graphics designing, document editing etc.
There is no screen tearing and the frame changes appear smooth with this IPS monitor.
The brightness of 250 nits on this 23.5-inch desktop monitor makes it look vivid and vibrant while watching movies and playing games.
The 4ms response time is not bad at all, making this monitor usable for occasional gaming sessions.
Connectivity
The Acer R240HY doesn't skimp on connectivity options for a budget desktop monitor;
This device features a VGA, DVI, HDMI and a display port for extensive compatibility with whatever device you choose to use with this monitor.
In reality, the VGA and HDMI might be the only ones that will be used, as all other standards are not as ubiquitous as the above mentioned two.
Miscellaneous
The bezels around the display are very minimal. This makes the monitor look bigger than its actual size.
The minimal bezels also enhance the visual appeal of the monitor.
Verdict
The Acer R240HY is a value for money large screen quad- HD desktop monitor with decent colour accuracy.
The enhanced refresh rate and excellent contrast levels make this display a joy to look at.
 Specifications
| | |
| --- | --- |
| Size | 23.8-inch |
| Resolution | WQHD |
| Display Type | LED backlit IPS |
| Response Time  | 4 ms |
Best Budget Gaming Monitor
Smart contrast ratio

Frameless design

Blue light filter
The Asus VZ229H is a budget-friendly widescreen full HD desktop monitor aimed at entry-level casual gamers.
Asus has incorporated a lot of software as well as hardware-based features on this monitor for gamers to utilize it to the maximum.
Resolution
The VZ229H is a 21.5-inch full HD LED-backlit monitor with a resolution of 1920 x 1080 pixels.
The main USP of this monitor is indeed it's 80,000,000:1 smart contrast ratio feature which delivers lifelike images and visuals by intelligently adjusting the backlight luminance.
The images and visuals appear bright and vivid, as with the constant 60Hz refresh rate, the screen looks smooth while playing games with fast-changing visuals.
The maximum brightness, this display can reach is up to 250 nits which is more than sufficient for indoor usage.
With 5ms response rate, the screen jitter and tearing are almost eliminated, giving you strain-free gaming experience.
Software Features
Asus Splendid modes help you to personalize the display according to your needs.
There are different presets which can be switched back and forth according to the type of content on the screen.
Gaming-centric game plus software helps you tweak the game settings for better visibility and smooth gameplay.
As expected, there is Asus flicker-free technology along with the blue light filter for your eyes to induce better sleeping after gaming.
The vivid pixel technology enhances the colour and makes everything look like there are popping out the display.
Connectivity
The Asus VZ229H features the standard HDMI and DVI output ports for standard connectivity.
There's a 3.5 mm audio output port if you are hell-bent on plugging a headphone or earphone to the monitor for audio.
Verdict
The Asus VZ229H is an affordable gaming-centric desktop monitor with features tailor-made for gaming enthusiasts.
Not only does this display is great of gaming, but it can also be used for media consumption and other normal use cases and works well at it too.
Wide 178-degree viewing angle
Average sound quality from the integrated speakers
 Specifications
| | |
| --- | --- |
| Size | 21.5-inch |
| Resolution | Full HD |
| Display Type | LED backlit IPS |
| Response Time  | 5 ms |
Monitor with The Best Design
Full HD resolution display

Minimal bezels around the screen

Wide viewing angles
Computer monitors are not just output devices. They are also an important part of the ergonomics of your desktop system.
Having a great aesthetic beauty is as important as the quality of visuals that comes out of the display.
The HP 22M does fare better in both the departments which are a rarity among many.
Design and build quality
The slim design looks stunning from the front.
The chin bezel where the HP logo is embossed adds a distinct premium feel to this monitor.
The HP 22M is one of the best-looking monitors in the market.
Resolution and clarity
The HP 22M is a 21.5-inch full HD monitor that features a stylish slim design form factor.
The HP 22M has an IPS LED display that has good viewing angles.
The images and videos will look the same, no matter from what angle you watches it.
This display can have a brightness of up to 300 nits.
Excellent contrast ratio
With 10000000:1 dynamic contrast ratio, the blacks and whites remain distinct and the colours are pleasing to the eyes.
This monitor comes with a 60Hz true refresh rate. An increased refresh rate means less motion blur.
This makes the monitor a good panel for media consumption as well.
Movies and sports can be watched without having any frame drops or jitters.
This product comes with 3-years of warranty. HP has its service centres all over the country and thus prompt service is guaranteed.
Verdict
If you are planning to use your computer for a lot of text related works such as e-mailing or document editing, the HP 22M is your best bet.
With great contrast and colours, this display is one of the best-looking displays that will make your desktop setup noteworthy.
 Specifications
| | |
| --- | --- |
| Size | 21.5-inch |
| Resolution | Full HD |
| Display Type | IPS LED |
| Response Time  | 5 ms |
Entry Level Monitor
Suited for budget-constrained consumers

Reliable product from a reputed brand

Cumbersome controls
Many people look for products in which budget-friendliness and quality go hand in hand.
The Samsung LS22F355FH is one such product which delivers a decent visual experience without blowing a hole in your pocket while setting up a budget desktop computer.
Resolution
This monitor has a TN panel that's slightly inferior to the IPS panels that we have reviewed earlier in this article.
The viewing angles are limited and the colour accuracy should be expected to take a hit. However, this full HD panel does provide images with decent sharpness.
Since the TN panels feature a better refresh rate than a conventional IPS monitor, there is considerably less motion blur while watching fast-moving visuals on this display.
The effect of 5ms response time, although not great of gaming is negated with this improved refresh rate.
Hardware features
This monitor comes with an HDMI and a VGA port for connectivity. The HDMI cable is not a standard accessory with this monitor and has to be purchased separately.
The single button on the back works for virtually everything.
This makes the screen controls such as brightness and contrast adjustment cumbersome to perform.
However, for the price at which it is in the market, the Samsung LS22F355FH provides you with a decent full HD viewing experience with no additional bells and whistles to root for.
Verdict
If you are hellbent on purchasing a branded desktop monitor, the Samsung LS22F355FH is the apt choice.
Not only this product is affordable, but it also features decently sharp visuals for the price.
Colour accuracy is average
 Specifications
| | |
| --- | --- |
| Size | 21-inch |
| Resolution | Full HD |
| Display Type | TN panel |
| Response Time  | 5 ms |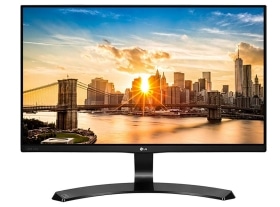 Honorable Mention
Best for reading
True to nature colours
Memory presets for different users
Monitors having true to life colour accuracy has seen increasing demand among gamers, graphic designers and even normal consumers who would like to have the taste of vividness of the visuals in its full glory.
The LG 22MP68VQ full HD monitor covers the almost entire colour spectrum to bring you a more lifelike media experience under an affordable budget.
Resolution
The LG 22MP68VQ is a 22-inch full HD monitor that offers fantastic viewing angles and colour reproduction.
Priced under Rs.10,000, this LG monitor is one of the best value for money monitors out there in the market.
The IPS LCD technology provides excellent viewing angles and the narrow bezels around the display provide a seamless viewing experience.
Colour reproduction
The LG 22MP68VQ is capable of producing output that matches 99% of sRGB.
This means that the colours represented on the screen are much closer to the real-life colour that the camera had captured while recording the visual.
Miscellaneous
There is a dedicated reading mode on this monitor that cancels the blue light emission from the display and reduces screen flicker.
The option to add various memory presets with different options is a great bonus.
If the monitor is being used by multiple people, this lets them have their preferred choice at the click of a button.
This monitor suits almost every type of users except gamers.
Warranty
LG provides a 3-year warranty on this monitor.
With quality components used, the chance of accidental damage from external events like lightning or unexpected voltage surges is a rarity.
Verdict
LG is the second best display manufacturer in the world after Samsung.
The LG 22MP68VQ computer monitor is definitely one of the best full HD displays available for your desktop PC.
If you want a display that is more colour accurate, this is it. The LG 22MP68VQ might be best suited for graphic designers who have to be precise about the colour scale used in their works.
Not suitable for hardcore gamers
 Specifications
| | |
| --- | --- |
| Size | 22-inch |
| Resolution | Full HD |
| Display Type | IPS LCD |
| Response Time  | – |
The list of eight best desktop monitors in India concludes here.
We have written this article with all the section of people in mind and by setting an imaginary budget in mind.
We hope this article has helped you decide the best computer monitors of your interest.
If you liked this article, don't forget to subscribe to our weekly newsletter.
We have more awesome buying guides and suggestions coming up in the future for you. You can also check out our other best lists from here. Cheers!