True audiophiles never look for the price tags strapped onto the product. They are all in for the quality of the sound output for their enjoyment or their professional duties.
This is why we thought we should prepare a list of the eleven best-wired headphones available in India to cater to the audiophiles who crave perfection.
Here are some of the best nine wired headphones available in the Indian market which we think might help you in your cause while you're in search of the best available sound quality in the industry.
Best Headphones in India (Wired & Over the Head)
Note: The price shown are the once when we reviewed the products. However, as the promotional offers changes on the given E-commerce sites, the price may vary. Bettershark is supported by it's readers and when you buy through links on our site, we may earn an affiliate commission.
1. Audio-Technica ATH-M50x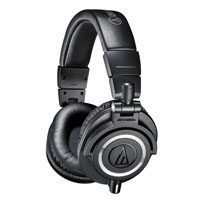 Studio-grade monitoring headphone
Detachable cables
Compact and portable form factor
BUY FROM AMAZON
Pros
Well balanced sound output
Detailed and robust build
Excellent noise isolation
Cons
Ear fatigue happens with long term listening
Audio-Technica products have been some of the common entrants to our best buying lists, be it headphones or earphones.
The Audio-Technica ATH-M50x is an over the ear wired headphone that focuses on delivering studio-quality sound output to the masses.
Build Quality
The moment you wear this headphone around your neck, it will feel like you're a professional-grade audio enthusiast.
No joking – these wired headphones have an attractive eye-catching design with a personality bound to them.
The M series headphones from Audio-Technica are acclaimed for the pure performance metrics and this product never fails to deliver the same.
The build quality is awesome and the attention to detail is exemplary. The left and right markings are designated to leave no room for confusion while wearing these.
The contoured ear cups are comfortable and it fits accurately around the ears, minimizing the noise bleed to the exterior.
The fully foldable ear cups make this a much more compact product that can be tucked into tight spaces easily without any damage to the internals.
Sound Quality
Being the successor to the original M50, Audio-Technica has the right recipe in terms of excellent sound output here. With the M50x, the recipe is further enhanced to deliver an even better sound ( does that even sound right!).
The 45mm drivers provide excellent studio-quality output without compromising the crispiness and clarity of neither the bass nor the treble.
This wired headphone is characterized by rich deep bass, balanced and natural mids along very well detailed highs.
The company itself markets this product as studio monitor headphones as the sound signature from this headphone matches that of other products used in the studio such as the Marshall's.
Miscellaneous
This wired headphone comes with detachable cables. The box pack includes three separate cables that vary in length and form factor.
A 1.2 m rounded cable, a 3m round cable and a 1.1m coiled cable is available that can be used with this headphone.
There is no need for a separate amplifier to listen to the music in its full glory with this headphone.
The closed-back design minimizes the audio leakage and ensures an immersive listening experience.
Verdict
The Audio-Technica M50x is a studio-grade monitoring headphone that delivers one of the best balanced sound output in headphones priced under Rs.10,000.
The robust build quality and the professional-grade accessories make it a wiser choice to invest your money if you're after an audiophile-grade headphone.
Specifications
| | |
| --- | --- |
| Driver Size | 45mm |
| Inline Mic | No |
| Frequency Range | 15 – 28000Hz |
| Impedance Rating | 38 Ohms |
Pros
Decent build quality
Foldable design
Lightweight construction
Cons
No inline microphone
AKG is a popular hi-fi audio equipment brand owned by Harman International. AKG markets premium headphones and car-audio systems around the world with high-fidelity sound output.
The K361 from AKG is a premium mid-range wired headphone retailing in the Indian market for just under Rs.6,000.
Design and Build Quality
The AKG K361 headphone has a closed-back, over the ear design to ensure the best wearing comfort to the user.
Thanks to the use of high quality materials for its construction, this wired headphone feels strong and durable.
The ear cups are amply padded so as to not induce wearing fatigue while listening to music for long periods of time. However, we felt that the headband cushion could have been a bit more comfortable.
The foldable notched hinge allows this headphone to be portable and carried anywhere in your backpack.
Sound Quality
The AKG K361 features 50mm drivers tuned to perfection by AKG to provide a pleasant sound output with deep, rich bass and clean vocals accompanied by crisp treble notes.
The over the ear design provides decent noise cancellation and will let you listen to the music in an immersive manner.
Even when the music is played at maximum volume levels, the distortion is not noticeable at all, indicating the robustness of the speaker driver inside.
Miscellaneous
This is a budget studio monitoring headphone. Therefore, there is no inline remote for voice call support.
Verdict
The AKG K361 is a premium mid-range wired headphone ideal for studio monitoring purposes.
If you're okay with the lack of a microphone for voice calls, the AKG 361 provides a very balanced and pleasant sound output with excellent details.
Specifications
| | |
| --- | --- |
| Driver Size | 50mm |
| Inline Mic | No |
| Frequency Range | 15 – 28000 Hz |
| Impedance Rating | 32 Ohm |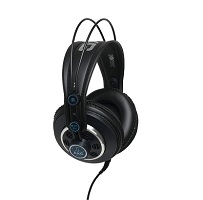 Best Budget Studio Headphone
Studio-grade monitoring headphone
Comfortable open-back design
No microphone for voice calls
BUY FROM AMAZON
Pros
Excellent bass
Comfortable fit
Minimal sound distortion
Cons
Average build quality
Samson is a brand that the majority of our readers have not heard about. For starters, they are an industry-leading audio equipment company based in New York.
Backed by two decades of industry experience, the Samson SR850 beats its competitors to the punch with its studio-quality sound reproduction and pronounced depth in the musical notes.
Build Quality
The Samson 850 is made from average quality plastics, to be honest. Mostly because of this, the headphone feels lightweight and comfortable.
The industrial design screams practicality and will not win you by the looks for sure.
The headband is quite comfortable and offers an excellent overall grip, making the earpiece stay as close to your ears.
The cushioning is minimal. This suits the humid Indian conditions where we tend to sweat a lot. With excessive cushioning, the sweat may cause discomfort while in prolonged usage.
The 1.5m cable is long and might cause some trouble dangling while travelling with this headphone.
Sound Quality
The Samson S850 comes equipped with a large 50mm driver speaker capable of providing an exceptional acoustic experience.
The wide dynamic range that covers almost all musical notes between 10 Hz and 30,000 Hz makes sure that your general listening pleasure is in no way compromised.
The bass is rich with enough power to make EDMs and hip hop lovers happy. The mids and highs beautifully complement the low notes.
The sound output loudness is on point and doesn't create distortion even while jamming in with full volume.
Miscellaneous
The semi-open back design of the earpiece has its own merits and demerits.
The open design helps a lot of acoustics to dampen easily and more naturally. This reduces the stress on your ears significantly.
At the same time, this open design might also let background noises into the ear canal, causing problems if you are in the middle of a busy street or so.
The velour fabric ear cushioning on this wired headphone works similar to the memory foam and is very comfortable for your ears to rest on.
Verdict
If you don't mind the lack of a mainstream brand tag, the Samson S850 is the best-wired headphone you can purchase under a budget of Rs.5,000.
Its studio-grade tuned drivers and the open back design makes listening to music as if you are inside a recording studio.
Specifications
| | |
| --- | --- |
| Driver Size | 50mm |
| Inline Mic | No |
| Frequency Range | 10Hz – 30000Hz |
| Impedance Rating | 32 Ohm |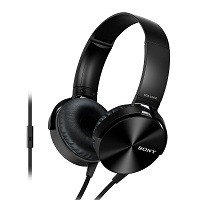 Bass-heavy Wired Headphone
For Sony loyalists and bass fanatics
Elegant design
Comfy ear cups
BUY FROM AMAZON
Pros
Rich and heavy bass
Pressure-relieving earpads
Sony is an electronics as well as a media corporate giant.
With a huge fan following for their quality range of headphones, Sony can't afford to make any mistakes.
The MDR-XB450AP is the entry-level offering from Sony on their much-revered XtraBass lineup.
Build Quality
The Sony MDR-XB450AP has a premium design that resembles many of the expensive headphones from Sony.
The earpiece in itself swivels flat and this makes it easy to be carried in tightly packed bags.
Sony has designed the earpiece in such a manner that there is an improved seal between the driver housing and the ears which enhances the bass.
The materials used for the construction of this wired headphone is of top-notch quality and feels premium.
Sound Quality
Those Bass fanatics looking for the best headphone under Rs.2000 need not look further.
If you are the one who is longing for the deep bass, the XB450AP is the go-to headphone under Rs. 3000 category.
With its 30mm driver unit along with the lower impedance rating of 24 Ohm, the lows in the music will be more pronounced.
This headphone has a frequency response range varying from as low as 5 Hz to 20000 Hz to get you covered by all the notes in the music you're listening to.
Miscellaneous
MDR-XB450AP comes with a tangle-free serration cord that feels the premium quality that will resist the tendency to knot.
The addition of pressure-relieving comfy ear cups adds up to the overall quality that this headphone offers.
Verdict
XtraBass lineup from Sony being synonymous to the rich bass, audiophiles with an affinity to bass can pick this up over the other competitors.
Specifications
| | |
| --- | --- |
| Driver Size | 30 mm |
| Inline Mic | Yes |
| Frequency Range | 5Hz – 22000Hz |
| Impedance Rating | 24 Ohm |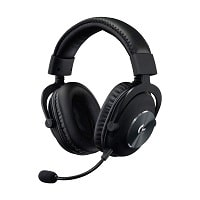 Logitech Pro-G 50mm drivers
G HUB gaming software
Steel and Aluminium frame
BUY FROM AMAZON
Pros
Minimalist design
USB Sound Card
Excellent virtual surround sound
Logitech needs no introduction when it comes to computer peripherals. They are one of the leading manufacturers in the world and anyone who has the tiniest of knowledge about computers will know them.
The Logitech G Pro X is a premium gaming headset that retails under Rs.15,000 in India.
Build and Design
The Logitech G Pro X is a flagship gaming headset that features a rather clean and minimalistic design. There is no RGB lighting on this device, unlike some other headphones.
When it comes to construction, this gaming headphone is made from premium quality materials. The plastic and metal used for its construction are extremely durable.
The earcups of this gaming headphones have an oval design and they comfortably fit over your head. The headphone is quite flexible and also features a slider mechanism to adjust the height.
Cushioning on the headband and the earcups is quite good. The headband and ear cups have leather upholstery. A memory foam earpad also comes bundled extra so you can swap them if required.
A host of accessories are also present with the gaming headphones. The detachable microphone, dongle, a pouch for the headphones, USB sound card, etc.
The connecting cable of this headphone is detachable and is of good quality.
Sound quality and Speakers
To no surprise, the sound quality of the Logitech G Pro X is outstanding. This gaming headphone from Logitech has one of the best sound quality when it comes to gaming.
It is recommended that you use the USB soundcard for an even better audio quality while gaming. Regardless of which platform you are gaming on be it PC, console, or mobile you are guaranteed to have a great time with it.
The drivers on these gaming headphones are Logitech's in-house 50mm drivers which are excellent at what they do. There is also support for Logitech G HUB gaming software on the mouse.
Using the gaming software you can adjust the audio settings as well as enable virtual 7.1 surround sound. The virtual surround sound on this gaming headphone is excellent and is one of the best on any headphones.
The microphone audio quality on the headphones is also quite good. You won't have any problems while communicating with other players and the noise cancellation is up to the mark.
Verdict

The Logitech G Pro X is one of the best gaming headphones that you can find in the Indian market. Yes, they are priced at a premium but if you are a serious gamer then this is one of the best options to go for.
Specifications
| | |
| --- | --- |
| Driver Size | 50mm |
| Inline Mic | Yes |
| Frequency Range | 20 Hz- 20,000Hz |
| Impedance Rating | 35 Ohm |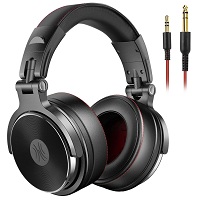 Excellent instrument separation
Decent in-call audio quality
Bass-heavy sound signature
BUY FROM AMAZON
Pros
Solid build quality
Detachable cables
Comfortable soft protein earmuffs
OneOdio is a relatively new entrant to the Indian headphone scene with a few affordable models that have been well received among Indian customers.
The Studio Pro 50 is the flagship wired headphone from the Studio Pro series lineup from OneOdio.
Build Quality
The design of the OneOdio Studio Pro 50 is no different from the other Studio Pro models we've reviewed before.
The entire body is made from high quality matte black plastic materials which feel extremely durable and sturdy.
The chrome finish trims around the earpiece housing looks very attractive and premium.
In terms of wearing comfort, the adjustable headband and the soft protein earmuffs ensure that you won't face any trouble listening to music with this headphone.
The fully foldable design makes this headphone easy to carry around in bags and backpacks without any problems.
Sound Quality
The OneOdio Studio Pro 50 features a custom-tuned 50mm speaker driver with rich bass output accompanied by clean and crisp vocals as well as tingling highs.
The instrument separation on this wired headphone can be defined as one of the best in this price segment.
This headphone will satisfy every kind of audiophile out there – be it bassheads or purists.
The ergonomic earpad cushions ensure a tight fit around the ears, resulting in good noise isolation characteristics.
Miscellaneous
The OneOdio Studio features detachable audio cables. The company provides two cables with this headphone – one 3.5mm to 3.5mm cable with inline mic and a 6.35mm to 3.5mm coiled cable without the mic.
You can use these cables to hook the Studio Pro 50 to a wide range of devices from guitars to smartphones to amplifiers.
Verdict
The OneOdio Studio Pro 50 is one of the affordable feature-rich wired headphones available in India priced at just Rs.3,600.
If you prefer a versatile headphone with universal compatibility with a multitude of devices, the Studio Pro 50 is one of the best choices out there.
Specifications
| | |
| --- | --- |
| Driver Size | 50 mm |
| Inline Mic | Yes |
| Frequency Range | 20Hz – 20000Hz |
| Impedance Rating | 32 Ohm |
7. Boult Audio BassBuds Q2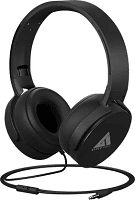 Universal compatibility
Comfortable ear cushion
Gold plated 3.5mm jack
BUY FROM FLIPKART
Pros
Affordable
Retractable earcups
Decent sound output
Boult Audio Bass Buds Q2 is a budget over the ear style wired headphone released recently in the Indian market that retails at a very low price around Rs.700.
Design and Build Quality
The Boult Audio Bass Buds Q2 is entirely made of hard plastics and nothing else. The quality of the construction is not as great as we would like it to be, but it isn't too shabby either.
The matt finish body with Boult branding offers a minimal design choice which is indeed a good thing for many.
The ear foams are of good quality so does the headband cushion. The earcups are completely retractable, aiding in better portability.
Speakers and Sound Quality
The Boult Audio Bass Buds Q2 comes with a 32mm speaker driver that is advertised to deliver bass-heavy sound output.
In reality, the sound signature from this headphone is flat but tonally well balanced. The bass, vocals and treble perfectly compensate each other for a decent music listening experience.
In-line Remote and Microphone
The 3.5mm cable on this wired headphone is long and sufficiently thick enough to prevent any accidental damage.
The inline remote and the integrated microphone works as promised to give you a no-frills hands-free voice calling experience.
Verdict
The Boult Audio Bass Buds Q2 headphone is a good choice for those who have a tight budget but need a fully functional wired headphone with an integrated mic for voice calls.
Specifications
| | |
| --- | --- |
| Driver Size | 32 mm |
| Inline Mic | Yes |
| Frequency Range | 20Hz – 20000Hz |
| Impedance Rating | 32 Ohm |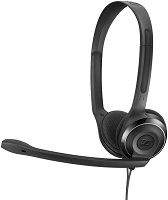 Best Budget VoIP Headphone
Best suited for voice calls
Must have for content creators
2-year warranty
BUY FROM AMAZON
Pros
Lightweight
The mute button on the inline remote
Excellent call quality
The Sennheiser PC 8 USB wired headphone is made to use with computers and laptops. The company advertises this product as an internet telephony device.
Before reading further, note that this headphone isn't compatible with smartphones as it comes with a USB connector rather than a 3.5mm jack.
Build Quality
If you're a content creator on platforms such as Youtube or the one who engages in a lot of VoIP calls, this headphone might be the best bet for you in terms of audio as well as microphone quality.
This headphone from Sennheiser is a plug and play device, which means you don't need to install any software to use it for the first time.
The Sennheiser PC 8 USB is compatible with both Windows and Mac OS alike.
The lightweight design and comfortable headband make this headphone a must for those who regularly rely on voice/video calls over the internet.
Sound Quality
The 36mm diver speakers sound nice and clear. Vocals are crisp and without any distortions even at maximum volume levels.
The inline remote gives you the option to control the volume on the go and there's a dedicated mute button as well.
Noise cancellation works well on this headphone and you won't get distracted by background noises while attending your calls.
Miscellaneous
The microphone can be swivelled away from the face when not in use.
The quality of the mic is good and is perfectly suitable for recording voice-overs and conducting regular calls.
Verdict
If you want a headphone specifically for making calls from the Internet or to do voice-overs or podcasts from your PC, the Sennheiser PC 8 USB is a great choice.
Specifications
| | |
| --- | --- |
| Driver Size | 36 mm |
| Inline Mic | Yes |
| Frequency Range | 42Hz – 17000Hz |
| Impedance Rating | 32 Ohm |

Best suited for activity sports
Durable build quality
Passive noise cancellation
BUY FROM AMAZON
Pros
Good build quality
Textured and hardened headphone jack
Bass-rich sound
Cons
Sharp edges on the headband
boAt audio products are fairly popular in the Indian market because of their affordability and features.
The Bassheads 900 from boAt is an over-the-ear headphone targeting users who love bass.
Build Quality
Construction-wise, boAt has done a great job with this product. The faux leather cushions feel comfy and will last longer compared to the normal fabric cushions.
The metal mesh finish on the outside of the earcups looks premium and classy. The adjustable headband is where a slight discomfort creeps in.
There are sharp edges on the headband which might cause discomfort if you're wearing this headphone around the ear.
If you're bald, we'd recommend you to stay away from this product as the sharp edges may scratch your head.
Sound Quality
Talking about the quality of sound from this headphone, the bass is on the higher side as we've expected from the name Bassheads itself.
This wired headphone priced under Rs.1000 delivers good sound quality for the price at which it retails in the market.
At times, the bass overpowers the mids and highs but it isn't much evident when listening to EDMs and other instrument-heavy music.
Miscellaneous
The wire on this device is sufficiently long and thick. It feels like it is built to last, so thumbs up to boAt for that.
The 3.5mm connector has a metal case covering which is textured. This adds grip to the pin and can be easily plugged in and out of the devices without breaking a sweat.
Since the faux leather cushion covers the ear properly, it acts as a passive noise cancellation medium.
Though not a complete solution to block outside noise, having something is always better than nothing.
Verdict
The boAt Bassheads is the perfect headphone for listening to music while engaged in active sports such as jogging or while working out at the gym.
The long sturdy cable and comfortable ear cushions make this product a compelling choice.
Specifications
| | |
| --- | --- |
| Driver Size | 40 mm |
| Inline Mic | Yes |
| Frequency Range | 20Hz – 20000Hz |
| Impedance Rating | 32 Ohm |
The best nine wired headphones in India article comes to an end here, but our search for the best product continues.
We are testing and reviewing products regularly and will make sure to update the article as we find a worthy product to replace the existing ones.
If you feel we should have added a product, do mention that in the comment section below.
Thanks for spending your valuable time on our website and keep coming back for more best buying lists and product reviews!