Best Over Ear Headphones Under Rs.2,000 (Wired) (February 2020)
Headphones are the holy grail for audiophiles. Good music accompanied by a great headphone will satiate their quest for nirvana.
Not only audiophiles, who doesn't appreciate a good music listening experience right?
There are a lot of great, quality over-the-ear headphones coming under this price bracket and here we are suggesting you the best headphones under Rs.2,000 that you can buy.
NOTE: If you are looking for wireless headphones (over the head), please check out our list of best wireless headphones under Rs.2,000.
Best Wired Headphones Under Rs.2,000
1. Audio Technica ATH-AX1iSBL
Overall Best Pick
Best for serious audiophiles

Wide frequency response spectrum

Elegant design
Audio Technica, the Japanese audio equipment company is famed all around the world for their studio-grade professional earphones and speakers.
The ATH-AX1iSBL from the company is a budget-oriented over the ear headphones that delivers one of the best quality audio output in this price category.
Design and build quality
The build quality is decent if we must say. The plastics used are of good quality but the wires seem a bit fragile.
Audio Technica could have added a nylon braided wire for durability.
The headband is adjustable and can fit on the contours of your head perfectly fine. Long-time listening with this headphone isn't painful.
The ear cushions over the speakers will feel a little hard at first but will get softer as days pass by.
The stylish Audio-Technica logo over the earpiece makes this product a lot more cool to look at.
Speaker and sound quality
Now coming to the sound quality, this product features a 36mm driver speaker which delivers excellent quality sound.
The bass isn't very overpowered and is very much balanced along with with the crystal clear mids and highs.
Since the speaker driver covers a large frequency response spectrum ranging from as low as 15 Hz to 20,000 Hz, notes from every instrument are audible.
Miscellaneous
The inline remote consists of a mic and a volume slider. The mic picks up your voice clearly during voice calls even while you're engaged in jogging or gym sessions.
Since the ear cups of this over-the-ear wired headphone swivel and fold flat, it is easy to carry around.
Verdict
If you're a music lover who likes to listen to music in its full glory, the Audio Technica ATH-AX1iSBL will be the best choice in this budget of Rs.2,000.
Specifications
| | |
| --- | --- |
| Driver unit Size | 36 mm |
| Frequency Range | 15Hz – 22000Hz |
| Impedance Rating | 40 Ohm |
| Additional Features | Excellent Sound Quality |
Runner-Up Pick
Bass-rich sound

Flat tangle free cable

Single-button voice assistant feature
JBL is a company well known for its speakers.
Their entry to the headphone market was wildly successful and the company even have a cult following from audio enthusiasts all around the world.
We at dope mobiles personally think there won't be any best headphones list without an offering from JBL.
JBL T500 is a great entrant to the list of best headphones under Rs.2000 and let's analyze its features.
Design and Build Quality
First things first, the build quality remains a lot to be improved.
There is no foam padding on the headband and this might make the headphone listening experience cumbersome for bald people out there.
The ear cup quality is decent with comfy padding that will let you rest your ears without
any issues.
The overall weight of the headphone in minimal and it is easy to wear for extended usage.
Speaker and Sound Quality
A 32mm driver powers the T500 with a frequency response range spanning from 20Hz to 20000Hz.
The lows, mids and highs are distinct and the bass levels are rich.
The sound output being the most desirable quality from a headphone, T450 excels and beats its competitors with a punch.
Miscellaneous
The headphone comes with a flat tangle-free cord that won't make you wait for the cord to be untangled before listening to your favourite track.
An inline mic is given for attending calls. The one-button remote can be long pressed to invoke Google assistant on Android phones.
Verdict
If you are in search of a great quality headphone under Rs. 2000 and is not bothered about the wireless connectivity options, JBL T500 will fulfil your needs.
Specifications
| | |
| --- | --- |
| Driver unit Size | 32 mm |
| Frequency Range | 20 Hz – 20000 Hz |
| Impedance Rating | 32 Ohms |
| Additional Features | Flat tangle free cable |
Best Gaming Headphone
Built with gamers in mind

Lighting and vibrations is a plus

Great vocal clarity
Cosmic Byte is a gaming accessories manufacturer based in India that specializes in the marketing of affordable PC accessories.
G1500 is one of the gaming headphones Cosmic Byte has introduced to the market at an enticing price point.
Design and build quality
Being a gaming headphone, G1500 is heavy and feels bulky.
This is mainly because of the internals that Cosmic Byte had to stuff inside such as a vibration motor along with LED lighting setup.
Overall, the headphone seems to be well built with a sturdy finish.
Speaker and sound quality
Cosmic Byte G1500 comes equipped with a 50mm driver that is the largest one in our list.
It delivers good audio quality over the frequency range between 20 Hz and 20000 Hz.
The bass is deep and the vocals are clear.
Miscellaneous features
There is an inbuilt vibration mode that will activate based on your actions while gaming and the LED lighting around the ear cup add flair to the overall gaming experience.
The G1500 comes with a flat cable that is thick and feels durable.
Omni-directional noise cancellation helps gamers to communicate with their teammates without any hindrance even when playing in a loud environment.
Verdict
The Cosmic Byte G1500 with its affordable price tag and gaming-centric features it offers can easily be termed as the best gaming headphone under the Rs.2000 price segment.
If you would love gaming, don't forget to check out our article on the best gaming laptops in India.
LED's can't be turned off
Specifications
| | |
| --- | --- |
| Driver unit Size | 50 mm |
| Frequency Range | 20Hz – 20000Hz |
| Impedance Rating | 32 Ohm |
| Additional Features | LED lighting, vibration mode |
4. Flipkart Smartbuy headphone
 Best Budget Wired Headphone
Universal compatibility

Comfortable ear cushion

Gold plated 3.5mm jack
Flipkart smart buy is a budget over the ear style wired headphones released recently in the Indian market that's retailing at a very low price around Rs.900.
Design and Build Quality
The smart buy wired headphone is entirely made of hard plastics and nothing else. The quality of the construction is not as great as we would like it to be, but it isn't too shabby either.
The matt finish body with subtle branding offers a minimal design choice which is indeed a good thing for many.
The ear foams are of good quality so does the headband cushion. The earcups are completely retractable, aiding in better portability.
Speakers and Sound Quality
The Flipkart smart buy headphones come with a 40mm speaker driver that is advertised to deliver bass-heavy sound output.
In reality, the sound signature from this headphone is flat but tonally well balanced. The bass, vocals and the treble perfectly compensate each other for a decent music listening experience.
In-line remote and Microphone
The 3.5mm cable on this wired headphones is long and sufficiently thick enough to prevent it from any accidental damage.
The inline-remote and the integrated microphone works as promised to give you a no-frills hands-free voice calling experience.
Verdict
The Flipkart smart buy wired headphone is a good choice for those who have a tight budget but needs fully functional wired headphones with integrated mic for voice calls.
Specifications
| | |
| --- | --- |
| Driver unit Size | 40 mm |
| Frequency Range | 20Hz – 20000Hz |
| Impedance Rating | 32 Ohm |
| Additional Features | passive noise cancellation |
Best Build Quality
For Sony loyalists and bass fanatics
Elegant design
Comfy ear cups
Sony is an electronics as well as media corporate giant.
With a huge fan following for their quality range of headphones, Sony can't afford to make any mistakes.
The MDR-XB450 is the entry-level offering from Sony on their much revered XtraBass lineup.
Design and build quality
The Sony MDR-XB450AP has a premium design that resembles many of the expensive headphone from Sony.
The earpiece in itself swivels flat and this makes it easy to be carried in tightly packed bags.
Sony has designed the earpiece in such a manner that there is an improved seal between the driver housing and the ears which enhances the bass.
The materials used for construction of this wired headphone is of top notch quality and feels really premium.
Speakers and sound quality
Those Bass fanatics looking for the best headphone under Rs.2,000 need not look further.
If you are the one who is longing for the deep bass, the XB450 is the go-to headphone under Rs.2,000 category.
With its 30mm driver unit along with the lower impedance rating of 24 Ohm, the lows in the music will be more pronounced.
This headphone has a frequency response range varying from as low as 5 Hz to 20000 Hz to get you covered all the notes in the music you're listening to.
Miscellaneous
MDR-XB450 comes with a tangle-free serration cord that feels premium quality that will resist the tendency to knot.
Addition of pressure relieving comfy ear cups adds up to the overall quality that this headphone offers.
Verdict
XtraBass lineup from Sony being synonymous to the rich bass, audiophiles with an affinity to bass can definitely pick this up over the other competitors.
Pressure relieving earpads
Plastic body feels fragile
Specifications
| | |
| --- | --- |
| Driver unit Size | 30 mm |
| Frequency Range | 5Hz – 22000Hz |
| Impedance Rating | 24 Ohm |
| Additional Features | Tangle Free Serration Cord, Pressure Relieving Earpads |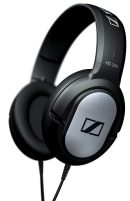 Best Budget Headphone
Crisp and clean audio output
xcellent noise attenuation
Lightweight and comfortable
The brand Sennheiser doesn't need any introduction for audiophiles around the world.
This German audio equipment manufacturer is synonymous with high-quality audio equipment such as headphones and earphones.
The Sennheiser HD206 is an entry-level wired headphone from the company offering a taste of signature Sennheiser audio quality under an affordable budget.
Design and Build Quality
The Sennheiser HD 206 is completely made out of polycarbonate plastics. This makes the headphone lightweight and extremely comfortable to wear.
There is no flex or creeks on the chassis, in case you're wondering about the build quality.
The dual tone black and silver finish imparts a sense of premium quality to this headphone.
The cables are reinforced at the joints to minimise the possibility of damage when handled roughly.
Speakers and Sound Quality
The Sennheiser HD206 comes with 32mm custom factory tuned drivers for precise audio reproduction.
This is one of the cheapest supra-aural headphones which will deliver you a perfect, tonally balanced audio output across the entire 21 – 18000Hz frequency spectrum.
The bass, mids and the treble very well compliments each other to provide pleasant music listening experience, no matter which genre of music you're hooked in to.
The closed-back design helps in preventing the ambient background noise from getting inside your ears and offers a serene and calm, immersive experience altogether.
Miscellaneous
Unlike the other headphones, the Sennheiser HD 206 comes with a really long cable, almost double the length of conventional 1.2m cables found in earphones and headphones.
This allows you to conveniently place the smartphone in your pocket and listen to music with enough slack to the cables, protecting the phone as well as the headphone from damage.
The only downside of this budget headphone might be the lack of an inline remote and microphone for voice calls.
However, the premium quality sound output makes up it for this omission.
Verdict
The Sennheiser HD 206 is one of the cheapest headphones you can purchase in the market right now with exceptional sound clarity.
If you are tight on your budget and the lack of an inline microphone doesn't bother you, this is it.
Signature Sennheiser sound quality
Specifications
| | |
| --- | --- |
| Driver unit Size | 32 mm |
| Frequency Range | 21Hz – 18000Hz |
| Impedance Rating | 24 Ohm |
| Additional Features | Long cable |
This concludes our list of the best headphones under Rs.2,000. We have taken a genuine effort to include headphones in each category that we feel might suit our readers in order to make your choice selection easier.
The list, although is not an exhaustive guide, will let you have a basic idea of what to look for while purchasing headphones in this segment.
Meanwhile, if you wish to have a look at the much more compact "in-ear" earphones, do read our article about the best earphones under Rs.2,000.
For more buying guides like this on related electronic devices, you can subscribe to our weekly newsletter here.