IoT (Internet of Things) is a booming industry with a lot of products added to the ecosystem daily from door locks to web cameras.
The primary aim of IoT is to club the existing applications with the internet so that their usability is enhanced.
Smart speakers are one such device where their existing use is kept intact whereas add-ons such as voice recognition and internet connectivity are added to bring a new set of features through which we can interact with them effortlessly.
In this curated best buying list, we bring you the nine best smart speakers available for purchase in India, priced under Rs.5,000.
Without any further ado, let's get started with the products!
Best Smart Speakers Under Rs.5,000
Note: The price shown are the once when we reviewed the products. However, as the promotional offers changes on the given E-commerce sites, the price may vary. Bettershark is supported by it's readers and when you buy through links on our site, we may earn an affiliate commission.
Pros
Bright blue coloured ring light
3.5mm audio output
1-Year warranty
Cons
Bass levels are average
The Amazon Echo series smart speakers are the company's direct rival to the Nest and Home series smart speakers from Google.
The fourth-generation Echo Dot is one of the affordable smart speakers in the Echo lineup that retails for a budget under Rs.5,000 in India.
Design and Build Quality
The spherical ball design of this smart home assistant is unique and makes it the centrepiece of attraction with the glowing LED illumination ring around it.
This smart speaker had a hidden LED clock that not only display the time but also the timer, alarm clock and even the outside temperature.
At the top side of the speaker, there are volume up/down buttons, a microphone on/off button, and one action button.
Talking about the connectivity ports, this device sports a regular power supply port along with a 3.5mm headphone jack.
As we mentioned earlier, this smart speaker has a blue light ring provided at the bottom side, which glows when you plug in the power cable.
Speaker and Sound Quality
The Echo Dot 4th generation has one speaker and two small tweeters inside that produce a loud and clear sound output.
The sound quality is crisp and loud enough to fill a small to medium-sized room. Don't expect too much deep bass from this tiny speaker though.
If your primary aim is to listen to music in its full glory, we'd suggest you go for a full-fledged Bluetooth speaker instead of this smart speaker from Amazon.
Features
Primarily this is a smart home speaker so there's more than just listening to songs.
Alexa, is the brain of the Echo Dot and since it is a cloud-based technology it will improve over some time and as you use it more it will adapt your usage and offers you the best experience.
Setting Echo Dot is an easy process and if you have trouble setting it up just follow the below instructions.
Plugin the adapter with the Echo Dot
Download the Alexa app from Playstore (If using Android) or App store (For Apple)
Select your model
Connect the device to your Wi-Fi
Select where is the Alexa located (e.g. bedroom, kitchen, main hall, etc.)
That's all, you're ready to go.
Also, if you don't want to use the mic while going outside or to prevent someone in your house from using Echo Dot just click on the mic button given at the top.
Verdict
The Echo Dot 4th generation from Amazon is a fantastic smart home speaker with great abilities and is priced at just Rs.4,499.
Specifications
| | |
| --- | --- |
| Warranty | 1-Year |
| Mic Mute Button | Yes |
| Audio Output Port | Yes |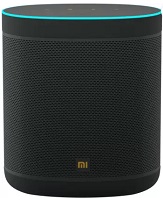 Runner-up Pick
Exceptional audio quality
Google Assistant with Chromecast built-in
RGB LED ring light
BUY FROM FLIPKART
Pros
Wi-Fi and Bluetooth connectivity
Far-field mic for precise voice recognition
Touch-sensitive buttons
Xiaomi is a Chinese manufacturer which is very popular in the Indian subcontinent for its smartphones and other consumer electronics accessories.
The Mi Smart Speaker is an affordable smart home speaker priced at just Rs.3,999. It comes with Google Assistant integration and competes against products such as Amazon Echo and Google Home.
Design and Build Quality
The elliptical-shaped Mi Smart Speaker has a rounded cylindrical design with a metal mesh grille sandwiched between high-quality ABS plastic frames.
At the top, there are four touch-sensitive buttons including volume adjustment, forward, and microphone off buttons.
There is also an RGB LED light ring placed around the top surface which illuminates in different colours based on various actions.
On the top surface, two far-field microphones are sensitive enough to detect the voice from a medium-sized room away.
This Mi speaker does not have any extra ports apart from the DC port for power delivery because the device does not have a built-in battery and to use it, you must connect it to a power supply.
Sound Quality
The Mi Smart Speaker has a front-facing single 63.5mm speaker driver with 12W output that is loud enough to fill a medium-sized room with sound.
The quality of sound from this speaker is surprisingly rich with a decent amount of bass. The vocals sound crisp and the high-end treble notes are distinctly audible as well.
Smart Features
To make this smart speaker work, you need to download the "Google Home" application and pair the speaker with your Google account.
After setting up this smart speaker you can start asking questions by adding "Ok Google" in front of every sentence, just like what you do with the smartphone.
To use this speaker with other smart home devices, you need to pair them with the same Wi-Fi network as well as you need to add them into "Google Home".
Once you've done it you are ready to go, you can ask the speaker to turn on/off the bulb, command it to play Netflix/Youtube on TV, and so on.
Miscellaneous
The Mi smart speaker can also understand the Hindi language; you don't have to set it up separately.
The device comes with a 1-year warranty so if anything goes wrong you can reach out to their service center nearby.
Verdict
This smart speaker from the Mi is a well-built device to make your home smart and is not limited to playing music but you can set up alarms and reminders by applying voice commands.
Specifications
| | |
| --- | --- |
| Warranty | 1-Year |
| Mic Mute Button | Yes |
| Audio Output Port | No |
Pros
Decently loud speaker
USB Type-A port for charging
Built-in Google Assistant
Cons
Hard to press buttons
Lenovo is a Chinese company known for its affordable laptops and smartphones not just in India but across the world.
The Lenovo Smart Clock Essential is not just a clock but a smart speaker with a built-in Google Assistant that responds to your voice commands for just Rs.2,999.
Design and Build Quality
The design of this Lenovo Smart Clock is almost similar to that of a regular desktop alarm clock.
This trapezoidal shaped device has a fabric covering around the chassis except for the front where the large display is situated.
All the connectivity ports are located on the rear – including a power supply port and a USB Type-A port that can be used to charge devices such as tablets and smartphones.
With this smart speaker, Lenovo has provided a dedicated mic mute button in the rear that can be turned on or off depending on your choice.
On the top side are the volume controls, play/pause button and a dedicated alarm button.
The dual-array microphones are located ergonomically besides the display to capture your voice accurately.
Overall, build quality wise, the Lenovo Smart Clock proves its mettle to be sturdy and durable.
Speaker and Sound Quality
The Lenovo Smart Clock has a built-in speaker with an output of 3W that produces a fairly loud sound output.
You can play audiobooks, podcasts, and songs right from your smartphone and the audio quality is good enough for a small room.
Features
You can configure this Lenovo Smart Clock speaker inside the Google Home application and once it's connected you can use it simultaneously with other smart home gadgets.
For example, if you have a smart bulb you can turn it on/off by using voice commands.
Smart Clock
The Lenovo Smart Clock features a 4-inch LCD that shows you time, temperature, and the day of the week.
The troublesome process here is setting the alarm manually, therefore we advise you to use voice commands to set up the alarm, for example say, "OK Google, set the alarm for 7 AM for Monday".
To view the alarm you click the "Alarm" button and when the alarm is ringing you can dismiss it by pressing the "Alarm" button.
Whenever you set multiple alarms and want to delete others just click the alarm button and press, "Alarm + Volume minus" button.
Verdict
The Lenovo Smart Clock is a feature-rich desktop alarm clock with a large display, spiced up with smart connectivity features and ever-reliable Google voice assistant integration.
Specifications
| | |
| --- | --- |
| Warranty | 1-Year |
| Mic Mute Button | Yes |
| Audio Output Port | No |
Pros
Battery LED indicator
Works with a lot of smart accessories
Built-in rechargeable battery
The Echo series from Amazon is the smart speaker competitor to Google's Nest speaker lineup.
The Echo Input is one of the latest Echo smart speakers and what's unique about this device is that it features a rechargeable battery inside.
The Echo Input is available for purchase in the Indian market at just Rs.3,999.
Design and Build Quality
The Echo Input looks similar to that of a mini drum in terms of its design. This rounded speaker weighs about 448g and is quite easy to carry around.
The fit and finish of the construction of this smart speaker as expected from a brand like Amazon is top-notch.
Amazon has kept the aesthetics premium – the fabric material wrapped around its surface has a nice texture that looks and feels nice.
This portable speaker has a rubberized material at the bottom side so whenever you keep this speaker on a flat surface it will remain stable without slipping away.
This smart speaker has its volume control, power on/off buttons and battery status LED indicator on the side. At the top surface, there is a far-field microphone, microphone on/off button, and an action button.
Speaker and Sound Quality
The Echo Input provides a 360-degree audio output but the audio quality is not exceptional when compared to the Google smart speakers.
If you like hearing slow music at night or some acoustic music while alone then this speaker might just fit your taste.
As a smart speaker, the sound quality from this device is okay for the price and the primary goal of making your life easier with voice commands is what this speaker does right.
Smart Features
Setting up this speaker with your smartphone and home Wi-Fi setup is quite easy. Just install the Alexa application and pair the device with your smartphone.
Alexa now supports the Hindi language which is very helpful for native Hindi speakers who are less fluent in English.
If you have smart appliances in your house such as smart AC, TV or bulb then you can also control them by just using a voice command.
The microphones on this speaker can hear your voice from far and it will adapt to your use and improve further to provide the best experience in future.
Battery Life
The Echo Input has a built-in rechargeable battery inside with a capacity of 4800mAh rated to provide a battery backup of up to 10 hours.
You can also keep the device plugged in when using it indoors. Amazon has bundled a standard 5W adapter for the same inside the box.
Verdict
If you wish to have a portable smart speaker with a reliable voice assistant feature, then Echo Input is what you need.
Priced under Rs.4,000, this smart speaker from Amazon is worth purchasing for its robust IoT integration.
Specifications
| | |
| --- | --- |
| Warranty | 1-Year |
| Mic Mute Button | Yes |
| Audio Output Port | No |
Pros
Dual far-field microphone
Lightweight and portable
Function buttons at the top
Cons
Hard to set up initially
Zebronics is an Indian brand that manufactures audio equipment, desktop accessories, gadgets for gamers, and much more.
The Zebronics Zeb-Smart Bot is yet another affordable smart speaker available for purchase in the Indian market for just Rs.3,699.
Design and Build Quality
The Zebronics Zeb-Smart uses high-quality plastic materials for its construction and that reflects well in the overall fit and finish of the product.
Weighing at just 388g, this smart speaker from Zebronics is portable and easy to carry around.
This device has an IR blaster sensor that can control TV, AC, and projector, we will later explain to you in detail how to set it up.
Moving towards the top surface, there are dual microphones and dedicated tactile buttons for volume control, song play/pause and microphone on/off button.
In the center, there is an action button that is surrounded by an RGB LED light that glows while in use.
Speaker and Sound Quality
The Zebronics Zeb-Smart has a 38.1mm speaker driver with an output power of 5W which is loud enough to fill a small-sized room.
The audio output is good from this smart speaker but the sound gets muddy if the volume levels increase above 80%.
Miscellaneous
There are things we need to explain because configuring this smart speaker is a little tricky.
Configuration Setup of Zebronics Zeb-Smart Bot:
To set up the Zebronics Zeb-Smart Bot you required two applications:
ZEB Home
Amazon Alexa.
First, go to the ZEB Home app and create an account, and login into the app.
Now go to the Amazon Alexa app > click on More > tap on the "Skill and Games" option > click on the "Search" icon and type "Zebronic Home".
Once you find it click on the "Enable To Use" button after this it will ask you to connect your Zebronic account. Sign in with your Zebronics account, it will take less than 5 minutes to set up.
After the above steps are done you need to reopen the ZEB Home app and add the "Smart Speaker" by clicking on the "Add Device" button and then you'll see the option for smart speakers.
Then the app will detect the device and you need to set up it with your WiFi, which is very easy.
At last, it will show you a window where you need to sign in with your Amazon account.
Congratulations, you've done it successfully.
Smart Features
After successfully setting up your smart speaker it's time to explore its features.
You can add Alexa in front of your every sentence to make this device work but the real innovation here is that IR blaster sensor which can turn your non-advanced TV or AC into a smart device.
Use the ZEB Home app to use this IR facility. Also, to get the benefits of IR blaster make sure the device has no obstacle in between.
You can add a TV and AC remote from the ZEB Home apps and to do the device on/off just say, "Alexa, turn off the TV" and it triggers the IR blaster sensor to make the work done. You can also pair it with Bluetooth but make sure the device has a power supply on.
Verdict
We are impressed with Zebronics how they implemented the combination of Alexa and IR blaster together to provide an excellent experience to the user.
For its asking price of Rs.3,699, this smart speaker from Zebronics is delightful to have.
Specifications
| | |
| --- | --- |
| Warranty | 1-Year |
| Mic Mute Button | Yes |
| Audio Output Port | No |
Pros
Premium build quality and design
Wi-Fi and Bluetooth connectivity
1-year warranty
Google is a brand that needs no introduction not just in India but across the Globe.
Apart from its search engine, Google has its hardware lineup including smartphones and other consumer electronics accessories, one of which is the Google Nest mini smart speaker priced at Rs.3,599.
Design and Build Quality
The Nest Mini is a solid improvement over the original Google Home Mini and we like that Google used recycled materials for the construction of this device.
This doughnut-shaped smart speaker has a premium textured fabric finish on the top that provides an amazing feeling to the hands.
The smart speaker has four LEDs on the top that illuminate when the device is in use or a certain action is going on.
There are no physical buttons on this speaker but there's something more interesting than that.
You need to take yourself close to the speaker to see two LEDs that show up on the corner. It is actually for the volume controls that you just need to tap on it to increase/decrease volume.
Talking about its physical appearance, this smart speaker has a dedicated microphone at the rear side along with the power port.
Smart Home Assistant
The Google Nest Mini is easy to configure right out of the box – just install the Google Home application on your iOS or Android device and the rest of the setup is pretty straightforward.
The speaker quality is really good and Google claims the bass notes are almost two times improved when compared to the previous Google home mini.
You can pass voice commands to this smart speaker and if you want to control other smart devices with this, make sure to list them in Google Home App.
Also, you can set alarms, reminders and ask the Nest Mini to take notes so you'll never miss out on a single thing.
Turning off the microphone button will stop the device from taking voice commands and the LED on the top will turn red.
You can also stream your offline save music by connecting the Nest Mini with Bluetooth.
Verdict
The Google Nest Mini is a high-quality smart home speaker that offers an excellent smart home experience for just Rs.3,599.
Specifications
| | |
| --- | --- |
| Warranty | 1-Year |
| Mic Mute Button | Yes |
| Audio Output Port | No |
Pros
Touchscreen IPS display
Easy to set up and use
Various type of clock styles
Cons
No adaptive brightness
Lenovo is a Chinese multinational technology company that has a wide user base here in India and is mostly known for its affordable laptops.
This is yet another Lenovo Smart Clock with Google assistant that is priced at Rs.3,398, if you wish to have an Essential model but are not able to get it because of budget then this will be the perfect alternative.
Design and Build Quality
The device has a nice fabric design that fits well within Google's other speaker products.
On top of the smart clock, there are plus and minus buttons to adjust volume levels. The microphone for the google assistant is right above the screen top.
At the back, you'll find a power jack, mute switch, and a USB Type-A port to plug in your smartphone or smartwatch to charge them.
Display
The Lenovo Smart Clock features a 4-inch IPS touch panel with a resolution of 480 x 800 pixels.
It has four pre-rolled tabs and you can swipe on the screen to see tabs one by one. These tabs consist of time, alarm clock setup, music tab, and a calendar.
The display is bright enough for indoor use and since this is a gadget for indoor use only the outdoor usability is out of the question.
There is one issue with the display though – it does not have adaptive brightness like the premium Essential model and if you plan to put this right next to your bed then make sure to ask google to turn off the screen.
Additional Features
You can change clock faces by just tap and hold action on the display clock and it will show you a bunch of clock styles and you can choose from.
Our best liking is the one with the photo where you can select a photo of your own, make sure to sync your photo library to google photos to get one.
You can set a family photo and it will show time and photo on the display which will increase the shine of your interior.
You can list this device in the Google Home application and operate your other smart devices with voice commands.
Speaker Quality
The speaker inside this smart speaker sounds loud and clear but lacks bass when compared with the Google Nest mini. But if you love hearing audiobooks, podcasts and radios then this speaker will be perfect for you as the vocal output is impressive.
Verdict
The Lenovo Smart Clock is an affordable option compared to the expensive Essential model.
Excluding some minor exceptions, this smart speaker is an excellent investment for its asking price of just Rs.3,318.
Specifications
| | |
| --- | --- |
| Warranty | 1-Year |
| Mic Mute Button | Yes |
| Audio Output Port | No |
Pros
Elegant design
Quick and responsive in answering queries
Loud sound output
Cons
Average sound quality
No 3.5mm aux-in jack
The Home Mini is an affordable smart speaker from the tech giant Google.
This smart speaker behaves like the hardware version of the smart assistant that you might have come across on your Android smartphone.
Design and Build Quality
The Home Mini is a pebble-shaped device that has almost the size of a doughnut. This device is made of high-quality polycarbonate plastic and feels solid and durable in hand.
On the top portion, there is the fabric made speaker grill that adds to the style and flair of the device.
There are no other ports except the single micro USB port for charging on this device. No, not even a 3.5mm aux-in port.
There are four coloured LED up top carefully hidden inside the fabric covering, which lights up in different patterns depending on the current operation status.
A mute button switch is given on the side of the speaker if you want to keep things a bit calm and quiet around the house.
Speakers and Sound Quality
You shouldn't expect any surprising sound performance from a smart speaker like Google Home mini.
This little guy here has a single upward-firing speaker with 40mm drivers. It sounds louder and clear but the bass and highs are a bit off.
You can listen to songs on it, yes but if your sole aim is music listening, you should take a look at the other speakers listed in this article, period.
Smart Features
The Google Home Mini can answer any general question you can throw at it – and it is quite quick to respond.
The voice recognition works very well, thanks to the omnidirectional microphone inside.
You can also pair it up with a plethora of Wi-Fi enabled devices such as your Android TV to operate them hands-free with commands.
The ecosystem for more and more hardware integration is ongoing at the moment as we speak.
This device can initiate voice calls remotely from your phone as well. The voice to text is still in testing and is soon expected to roll out in its full glory.
Connectivity
The Google Home Mini comes with Bluetooth v4.1 for connection with devices such as smartphones. The Wi-Fi aids in connecting the mini over to the internet.
Verdict
The Google Home Mini is an ideal smart speaker that answers your queries and initiates certain smart actions with the devices you have at home.
Specifications
| | |
| --- | --- |
| Warranty | 1-Year |
| Mic Mute Button | Yes |
| Audio Output Port | No |
Pros
Solid build quality
Elegant design with ring lighting
Decent sounding speaker
Cons
Need Amazon prime subscription for full utilization
The Echo Dot is Amazon's answer to the Google Home Mini.
Amazon had released its smart speaker way before Google did and this has given it an advantage of a robust hardware control ecosystem based on IoT.
The Echo Dot is the third generation iteration of the same and has various features that will make your life easy and delightful at the same time.
Design and Build Quality
The Amazon Echo Dot has a short cylindrical design with fabric material cover-up on the sides and control buttons on the top.
The soft-touch buttons are very responsive and tactile. There is an LED ring light that glows around the Dot while in operation and it looks cool at night.
On the sides, there are two ports, one for connecting the device to the mains, which isn't a micro USB or a USB C port.
The next one is a 3.5mm aux-in port which can be used to connect the Echo dot to other speakers or to your smartphone itself.
The quality of construction is very good and the device feels well crafted and made to last.
Speakers and Sound Quality
The third-generation Amazon Echo Dot has a 41mm driver speaker that sounds exceptionally well compared to the one on the Google Home Mini.
The quality of sound is much better with enjoyable bass and rich vocals, offering an immersive audio experience.
Since the speaker is upward firing and the device is having a cylindrical design, the circular sound propagation helps in equal audibility around the device.
If you ever feel the sound isn't enough, you can hook up another speaker with the Echo dot with the help of a 3.5mm aux-in cable.
Smart Features
The Amazon Echo Dot comes powered by Amazon's home-brewed Alexa voice assistant.
It manages to answer your queries quite well but Google has it better when it comes to answering general questions.
What makes Echo Dot stand out is its deep integration with the IoT ecosystem. The Echo Dot supports much more devices than what Google Home Mini supports now.
IoT is a system of inter-related devices which interact with each other through the cloud by some means of connectivity.
This means that even cheap Chinese made IoT devices such as smart bulbs and the smart thermostat will work flawlessly with this device.
The Echo Dot comes with support for many native apps like Saavn and Uber and can be used to stream music hands-free or book a ride. It can even order food for you via certain apps on the market.
Connectivity
Similar to Google Home Mini, the Amazon Echo Dot has Bluetooth v4.1 and Wi-Fi connectivity onboard.
As we have discussed earlier, you can also use the 3.5mm for wiring up the Dot with other devices.
Verdict
The Amazon Echo Dot is your best bet if you're in search of a smart assistant Bluetooth speaker for controlling your home automation.
Specifications
| | |
| --- | --- |
| Warranty | 1-Year |
| Mic Mute Button | Yes |
| Audio Output Port | Yes |
There you have it – the list of the best nine smart speakers under the price of Rs.5,000 concludes here.
If you have any questions regarding this article, let us know in the comments section below and we assure you of a prompt response.
Thanks for your time and have a nice day ahead!