Best USB Pen Drives Under Rs.1,000 (32 GB & 64 GB) (May 2019)
USB pen drives are best for carrying data around in a small and compact form factor. These days the prices have sharply fallen and the memory capacity has almost doubled.
In this article, we present you the best USB pen drives that money can buy around Rs.3,000 in the Indian market.
We have done thorough research about the models listed here and conducted various tests to make sure they are worth the asking price.
With that said, let's jump straight into the article to know more about these products in detail.
Best USB Pen Drives Under Rs.1,000
Overall Best Pick
Superfast USB3.1 technology
Best for storing sensitive content
Intensive File recovery options
Sony has its wings spread across a large spectrum of consumer electronics. Ranging from LED TVs to earphones to storage media devices, the company is really renowned for the quality for the premium you pay for. And they have justified that quality in this flash drive as well.
Design and Build Quality
The Sony USM32BA2 is a 64GB USB pen drive that features a metal chassis. The outer casing feels tough and durable and won't face a dent even if it falls on the ground from a reasonable height.
The maximum length of this USB pen drive is only about 5 cm which makes it to be easily accommodated inside your wallet or can be tagged along with your keys on a keychain.
Storage Capacity
The Sony USM64MX3 comes with a 64GB flash memory inside.
Even though the memory capacity is designated as 64GB, leaving the space for the hidden firmware inside, you'll get around 57GB of free space to store your files.
This pen drive has the latest USB3.1 technology powering the data transfer.
This ensures that you will get much better speeds while copying content from the pen drive to an external source such as a laptop and vice versa, provided the host port is also of compatible USB3.1 standard.
However, for the price at which this product is on sale, the data transfer speed is OK, we'd say.
Software Support
Worried that your precious data may be lost from the pen drive?
Fret not.
Sony File rescue software can now dig out the lost video, audio as well as document files of different formats.
This file rescue software works best only with Sony USB drives and memory cards.
Additionally, Sony also provides the Easy lock software that protects your confidential files with a 256-bit AES encryption.
Verdict
This 64GB USB pen drive from Sony is the best that you can buy for a budget of Rs.1,000.
The solid build quality supplemented by the ultrafast USB3.1 technology makes it a desirable product in its category without any second thoughts.
Also, if you use the pen drive to store sensitive information that shouldn't be lost or stolen by any software, this USB thumb drive offers one of the most comprehensive protection and data recovery options available in the market at present.
256-bit strong encryption
Specifications
| | |
| --- | --- |
| Storage Capacity | 64 GB |
| USB Type | USB 3.1 |
| Body Construction Material | Metal |
| Application Support | Yes, Sony File Rescue |
Best Value for Money USB Drive
USB C/ USB A dual mode operation

5-year warranty

128GB storage capacity
Strontium Technology is a Singapore based PC and flash memory manufacturing company popular in the Indian market for its affordable USB drives.
The Nitro Plus USB drive from Strontium is one of the companies latest offering in India featuring a USB C type input port to take leverage of the ever-increasing USB C adaptation among device manufacturers.
Design and Build Quality
The Strontium Nitro Plus is made of polished aluminium which feels extremely durable and premium.
The brushed aluminium finish on the main body of the USB drive makes it stand out from the rest of coloured USB drives available in the market.
The rotatable cover protects the port from damage in the case of an accidental fall. Since it's not a separate cap from the body, the chance of losing the cover is next to impossible.
Storage Capacity
The Strontium Nitro Plus comes in three storage capacity variants – a 32GB mode, 64GB and a whopping 128GB one.
You can choose the size according to your needs, but we'd like to suggest the 128GB variant as it offers the best value for money proposition.
The high-speed NAND chip inside has a maximum read speed of 150MB/s and write speeds up to 100MB/s, which is one of the best in its segment.
USB – C and USB A
This 128GB pen drive from Strontium has a dual side USB C/USB A port for catering the different type of inputs found on devices such as smartphones and laptops.
The high-speed USB 3.1 port is backwards compatible with USB 3.0 and USB 2,0 ports found on legacy devices.
With the USB C output, you can plug this device directly into the USB C port of your smartphone without any additional dongles as USB OTG.
Verdict
If you're the type of person who loves to carry a lot of media with you and want a smaller sized storage medium apart from an external hard disk, the Strontium Nitro Plus is an excellent choice priced around Rs.2,500.
Up to 150MB/s transfer speed
Specifications
| | |
| --- | --- |
| Storage Capacity | 128 GB |
| USB Type | USB 3.1 |
| Body Construction Material | Metal |
| Application Support | Yes |
Best USB with Direct OTG
No need for an OTG cable
Backward compatible
Faster data transfers
SanDisk, as we mentioned earlier, is a major player in the storage segment.
The Ultra Dual is a USB3.0 pen drive that comes with two ports on either side for versatile data transfers into different devices at once.
Design and Build Quality
The Ultra dual sports two different ports on either side. In Order to expose only one port outside at a time, SanDisk has adopted a retractable design where you can slide the ports out.
The actual pen drive chassis is surrounded by a supporting fibreglass frame. The retractive mechanism feels solid and we didn't feel any trouble moving the ports multiple times.
But hey – moving parts risk a failure more often than those with rigid components. So be careful when using this device.
Storage Capacity
The SanDisk Ultra Dual comes with a storage capacity of 64GB. This USB pen drive has USB3.0 technology for enhanced read and write speeds. It can copy files much quicker than a conventional USB2.0 device.
With the micro USB port on the other end being the traditional 2.0 port, expect a slowdown while transferring content onto a third device, normally an OTG enabled smartphone.
Miscellaneous
Usually, we transfer files to a third device featuring a micro USB port such as the smartphone either by using an OTG cable or by copying the content to the computer and then transferring it to the phone.
But with the SanDisk Ultra Dual, you can now directly plug it into the smartphone and copy files in a flash with the help of inbuilt micro USB port that acts as an OTG host device in itself.
This is of great use for those who don't have quick access to a computer and still want to transfer content onto their smartphone.
Software Support
SanDisk, unlike other manufacturers, offers a host of utility software that improves the functionality of their products.
The SanDisk Memory Zone App can be downloaded from the Google Play Store and it lets you manage the storage and also allows one-touch backup of files from your phone.
Verdict
SanDisk Ultra Dual is your best bet if you own an OTG enabled smartphone and has no access to a laptop or computer. File transfer between multiple devices is easy and without any wires.
With 64GB of storage capacity and USB3.0 support, this product is one of the best USB flash drives under Rs.1,000.
Movable parts may face wear and tear over time
Specifications
| | |
| --- | --- |
| Storage Capacity | 64 GB |
| USB Type | USB 3.0 – Micro USB |
| Body Construction Material | Transparent Fibreglass |
| Application Support | Yes, SanDisk Memory Zone |
Best Compact Pendrive
High-speed USB3.1 standard
SanDisk Secure Access protection
5-year warranty
SanDisk is an American storage medium company that is now a subsidiary of Western Digital.
SanDisk has been a prominent player in the countries storage media market with its USB drives and SSDs.
The SanDisk Ultra Fit is a small and compact USB pen drive that comes with the latest USB 3.1 standard for faster data transfer speeds.
Design and Build Quality
It seems USB designs and form factor too follows Moore's law. The size of these storage mediums is getting smaller and smaller day by day while the memory capacity almost double or even triples.
The SanDisk Ultra Fit has a small plastic body with a textured finish that lends it some grip in hand. Wait – this USB pen drive is so small that you won't even feel that it's in your hands.
Above the top port, there is a fibreglass insert that can be used to hang this device as your key-chain or whatnot.
This darkened fibreglass along with the textured plastic body gives this USB thumb drive a distinctly modern look.
The USB connector has been marked in blue suggesting that it's indeed a USB3.1 product.
Storage Capacity
The SanDisk Ultra Fit comes with 64GB of internal storage on board with USB3.1 protocol for data transfers.
USB 3.1 is the latest standard for storage devices. It is considerably faster than USB 2.0 and almost 50% quicker than the USB3.0 counterpart.
SanDisk Ultra Fit offers up to 130MB/s read speed. What it means to the end customer is that while you try to play a 4K video from this storage drive, without a fast enough read speed, your DVD player or TV might find it difficult to display a smooth frame. This results in degraded experience.
With writing speed that is 15x times faster than the speed of a USB2.0 device, you can transfer files in a flash from supported devices.
Software Support
SanDisk packs in its USB utility software such as the SecureAccess that protects your files with a 128-bit AES encryption.
This is useful when storing your personal files or those work-related documents that require an extra layer of security from the prying eyes.
Miscellaneous
Being a USB3.1 device, it's compatible with devices sporting USB3.0 or even USB2.0 standard ports.
The only gripe is that you won't be able to get those speeds that you get from a USB3.1 compatible device.
Verdict
The SanDisk Ultra Fit is a cute and compact USB pen drive that offers 64GB of storage space for under Rs.1000.
With its ultra speed USB3.1 standard, you can read or write files from/to this drive relatively quickly than many other devices that are featured on this list.
Gets heated after long use
 Specifications
| | |
| --- | --- |
| Storage Capacity | 64 GB |
| USB Type | USB 3.1 |
| Body Construction Material | Fiberglass + Plastic |
| Application Support | Yes, SanDisk Memory Zone |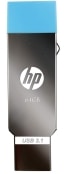 Best Build Quality
64GB storage capacity

USB 3.1

5-year warranty
HP is a consumer electronics conglomerate that is really popular in India with their laptops and printers.
The company also concentrates on accessories such as computer mouses and media storage devices such as pendrives.
Design and Build Quality
The HP HPFD302M has a brushed metal chassis with dark blue accent on the top portion. It's designed similar to Sony's USM series that we had discussed above. A single block of steel structure makes it less prone to damage.
No moving parts also ensure that the device won't face many issues if it is accidentally dropped from a height.
However, the USB port is open and doesn't come with either a slider or a cap to keep it safe.
The steel frame is really solid and can withstand rough use.
Storage Capacity
With the HP HPFD302M USB drive, what you get is a 64GB storage capacity on a relatively small and lightweight device.
A normal user can store all your files and photos on this little device and still have some space left for more with this device.
This is a USB3.1 device. The data transfer speeds are relatively faster than other USB3.0 devices significantly speedier compared with the USB3.0 devices.
Miscellaneous
HP is known for its high quality, durable products in the market. Likewise, this USB pen drive too will last long.
With service centres all around the country, even if something unfortunate happens you can repair it under warranty coverage for up to 5 years.
Verdict
If you are in search of a solidly built USB pendrive, this is one of the best device you can get for a price under Rs.1000.
It is suitable for storing backups and OS images for installation and booting purpose.
Specifications
| | |
| --- | --- |
| Storage Capacity | 64 GB |
| USB Type | USB 3.1 |
| Body Construction Material | Metal |
| Application Support | Yes |
Honorable Mention
Easy to carry around

Can withstand falls

High-quality flash memory
Strontium has been in the memory card business so long and is really popular in marketing affordable memory cards for smartphones and cameras.
The Strontium Ammo is a 64GB USB3.1 drive that features a rugged metallic build which makes it suitable for rough use.
Design and Build Quality
The Strontium ammo looks and feels sleek. The metallic chassis with a keychain holder makes it suitable to clip it with your backpack or keys.
The keychain holder is metallic as well and is really well made.
The embossed Strontium logo on the metallic chassis imparts a shiny and premium feel.
In short, compactness and sturdiness combined in an attractive form-factor are what we can say about the design of the USB pen drive.
Storage Capacity
Strontium Ammo comes with a 64GB flash memory with support for USB 3.1 protocol.
Strontium, in general, uses high-quality flash memory modules in their products.
This makes them perform faster when compared with some other USB3.1 devices priced similarly.
All USB devices are inter-compatible with different devices following different USB standards.
The only difference will be the data transfer speeds and nothing can be done to improve the speed as it is a hardware related feature.
Software Support
Even though you may not find a service centre for Strontium anywhere near you, the company has hosted a variety of tools for data recovery and memory diagnostic tools on their website which is available free of cost.
USB pen drives are usually less prone to hardware failure than most other electronic devices.
Unless without a voltage surge, the only thing that can break a USB drive is by hardware abuse.
Verdict
The Strontium ammo is a USB3.1 pen drive with a robust and sleek design enclosed within a sleek form factor that lets you carry your photos and files with ease.
If you are looking for a strong and reliable pen drive for storing your documents and other files, this 64GB 3.1 USB drive is well worth every penny.
The metallic keychain will make sure that the pen drive doesn't get lost even when running or moving rapidly amidst the crowd.
Decent data transfer speeds
Excellent software support
Slower read/write speeds compared to other USB 3.1 devices
Specifications
| | |
| --- | --- |
| Storage Capacity | 64 GB |
| USB Type | USB 3.1 |
| Body Construction Material | Metal |
| Application Support | Yes |
Here we conclude the buying suggestions for the six best USB pen drives under Rs.1000.
If you feel we've missed any products that should have been on this list do let us know in the comment section below.
Also, consider subscribing to our weekly newsletter for regular updates on product launches and updated gadget guides.
Thanks for spending your valuable time on our website, do come back and have a great day ahead!