Owning a pair of comfortable earphones is a must if you own a smartphone.
There are several competing models in the market which delivers excellent sound output with affordable price tags.
The boAt BassHeads 225 and the JBL C100SI are two wired earphones priced under Rs.1,000 which has seen an ever increasing demand from the Indian consumers.
In this article, we'll discuss these two products and reach a solid conclusion on which of these two earphones should you spend your hard earned money on.
Let's begin!
boAt BassHeads 225 vs JBL C100SI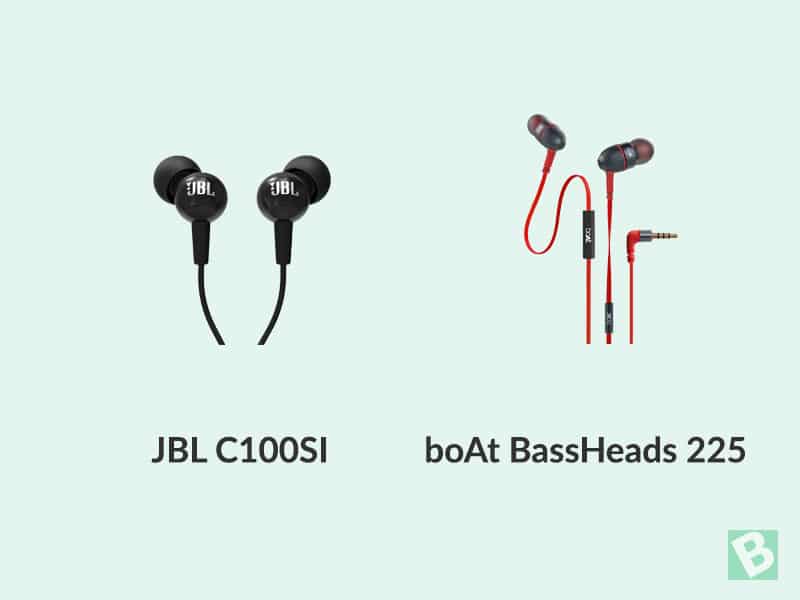 boAt is an Indian company specialized in marketing earphones, headphones and Bluetooth speakers while JBL is an international brand with the prowess of years of experience in the audio equipment industry.
Now, we'll compare these products side by side, analyzing the performance and the quality to reach a solid conclusion about which product is better of the two.
Comparison Table
| | | |
| --- | --- | --- |
| | boAt BassHeads 225 | JBL C100SI |
| Frequency | 20-20K Hz | 20-20K Hz |
| Driver Size | 10mm | 9mm |
| Impedance | 16 Ohms | 16 Ohms |
| Microphone | Yes | Yes |
Design and Build Quality
The boAt BassHeads 225 features a metallic earpiece housing with a textured finish which looks absolutely stunning for the price.
The included silicone eartips are very comfortable to wear and offers sweat resistance.
Meanwhile, the JBL C100SI has a plastic earpiece casing, which also is of great quality and feels very lightweight to wear.
In terms of look, picking up the winner among these two is difficult as the taste for design is highly subjective and varies from person to person.
In short, the build quality and design of these two in-ear style earphones are excellent and very well worth the price.
Speakers and Sound Quality
In terms of output quality, both these earphones deliver crystal clear sound output.
The boAt BassHeads 225 comes equipped with a 10mm speaker driver which covers the normal audible range of human ears, 20 – 20000Hz.
As the name suggests, this earphone produces very deep rich bass notes which you will be glued on to for sure, provided you're an EDM/hip hop fan.
The JBL C100SI, on the other hand, has a 9mm custom-tuned speaker driver which produces a more tonally balanced sound output, covering bass, vocals and the treble notes gracefully.
If the bass is your forte, BassHeads 225 is the one for you. If not, the JBL C100SI is a versatile in-ear earphone which suits listening to every genre of music out there.
Inline Remote and Microphone
Both these in-ear styled wired earphones come with inline remote and microphone to facilitate hands-free voice calls.
The quality of calls is excellent with these earphones, and doesn't have any distortions or echoing effect while being on the call.
While playing music, the single button on the remote also acts as a play/pause button.
Miscellaneous
The boAt BassHeads 225 comes with a flat style cable which won't tangle easily where the JBL C100SI features the conventional rounded cable.
The boAt BassHeads 225 and the JBL C100SI comes with a gold plated headphone pin to reduce to the risk of corrosion as well as better signal conductivity.
The boAt BassHeads 225 gives one-year replacement warranty to the user in case of product failure whereas the JBL C100SI provides the regular 1-year repair warranty.
Final Thoughts
The competition between the boAt BassHeads 225 and the JBL C100SI is closer than we might have taught. Both these in-ear styled earphones perform great for the price and deliver excellent sound quality.
If you are a bass fanatic, go for the boAt BassHeads 225 and if you like a more balanced sound output, the JBL C100SI will be the perfect fit.
Some other articles you may love to read: