Smartphones have become a part and parcel of our daily lives without which life seems miserable and almost unthinkable for many.
These little gadgets act as an extension to our conscience on a daily basis and they know more about us than anyone else around.
Well, have you ever thought about how these devices shaped up to become so feature rich and powerful?
In this article, we aim to bring you the the past and present of smartphone technology and how the features shipped with these phones matured over time. Lean back and start reading!
History
Before the term smart was associated with phones, these feature-rich handheld gadgets were called Personal Digital Assistants (PDA).
PDA's were really popular in the enterprise market with business professionals who had a lot of scheduled meetings to attend and e-mails to reply with.
These personal digital assistants had large screens and supporting apps such as calendar and email clients preinstalled for enhancing their corporate productivity.
The first touchscreen PDA, the IBM Simon was developed by IBM in 1992 and released to the commercial market in 1994. It had a monochrome LCD screen with stylus support.
Two years later, Nokia introduced the Noika 9000 Communicator to the market with slightly improved functionalities and aesthetics.
Japanese cell phones were one of the first to bundle internet connectivity to the mainstream mobile phones sold for the general public.
NTT-DOCOMO sold several phones with the integrated i-mode that ran certain web pages coded in a mobile-specific cHTML language for carrying out financial transactions and ticket booking.
Later, the western market caught up to this technology with Windows mobile running PDAs and Blackberry phones.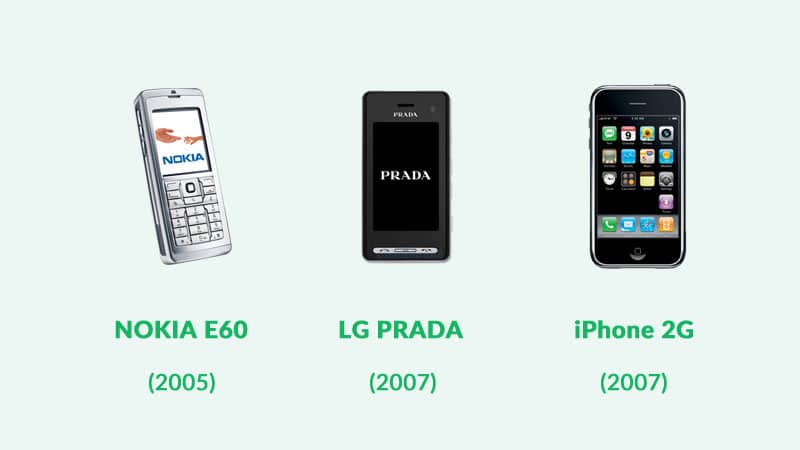 In the mid – 2005s, Nokia released its E-series phones with rich internet connectivity for the enterprise markets and the N-series phones for entertainment aficionados.
In 2007, LG made a large screen capacitive display phone named the LG Prada but was later eclipsed with the launch of the first iPhone.
Personal Digital Assistants
PDAs are handheld computing devices with functions such as memo, notes, and e-mail clients built in.
In its earlier days, PDAs didn't have the cellular connectivity baked in. The world's first PDA was developed by Psion in 1984.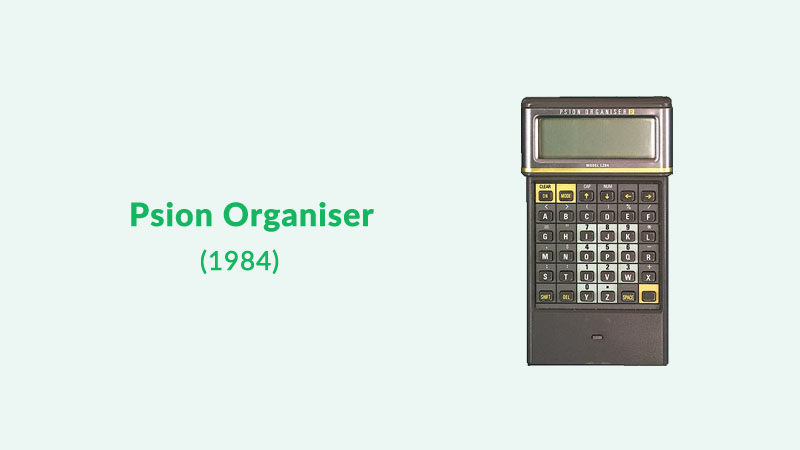 This PDA named as Psion Organiser had a small monochrome display and came with applications such as calendar and alarm clock.
Later, the display size of the PDAs increased to accommodate more pixels, making it capable of running apps with GUI support.
After a while, cellular connectivity was added for these devices to seamlessly connect with the internet for browsing, downloading and synchronizing the data wirelessly.
Fast forward, today the line which separates PDAs and smartphones have faded away completely.
Features of Personal Digital Assistant
PDAs came in an era where feature phones ruled the market. These feature phones only had a small display, two buttons for accepting and rejecting the calls and an alpha-numeric keypad.
PDAs were completely different from these ordinary mobile phones, both in form factor and features.
Let's discuss some of the features these PDA devices had:
Input type
Character input methods widely varied from device to device. The first generation PDAs came with physical buttons.
Since the functions of the earlier PDAs where so limited, physical buttons seemed apt for its purpose.
With the increase in display size, PDAs started to ship with touchscreen displays. The increased display size allowed PDAs to have GUI based apps and functions that were easier to operate with the help of a stylus.
Years later, these gadgets got touch sensitive displays that could be used just with the fingertips, similar to how modern smartphones work these days.
Display
The Psion Organiser, which was the first ever PDA device came with a two-line 16-bit display with limited functionalities.
The IBM Simon released in 1994 had a 4.5-inch x 1.4-inch monochrome display for easier interaction with the help of the stylus.
The Palm Pilot PDA had a 160 x 160 pixels grayscale touch-sensitive display, that was capable of registering hand input gestures.
Later with the advent of Windows CE powered PDAs, the 16-bit colour display came as standard and the touchscreen was configured to be controlled by the physical keyboard as well as a stylus for versatile usage.
Data Synchronization
Earlier PDAs didn't have any sort of internet connectivity for data synchronization wirelessly. These PDAs had to be manually connected with a computer for transferring files to and from the device to the computer.
Certain PDAs came with a modem and infrared functionality for wired and wireless data transfer between devices.
Memory
Compared to the mobile computing scene at present, PDAs can be considered as the glorified digital version of planners.
They had a limited amount of memory as the functions these gadgets can perform was limited. The screen resolution and the number of apps made additional storage a less desirable feature.
However, for power users, PDAs provided memory expansion options as well.
Most of the higher end PDAs in the market those days came with CompactFlash (CF) and MultiMediaCard (MMC) support.
Operating System
The first ever PDA, the Psion organiser didn't have a dedicated OS to power the functions.
Later, various companies such as Palm developed proprietary operating systems to run on their devices that had their own version of the popular apps available at the time.
Palm OS was widely regarded as the best PDA operating system owing to its ease of use and responsiveness.
Windows CE OS offered native support for native Microsoft services such as word processing and Excel sheets.
However, Palm also supported these Microsoft files albeit with some minor formatting issues.
Symbian OS didn't really get any traction in the PDA market, as it was very resource intensive.
Smartphones
Smartphones are mobile computing devices with hardware and software capabilities which are leaps and bounds ahead of the feature phones.
The term smartphone was first introduced by Sony Ericsson when it launched the popular GS88 concept mobile phone back in 1997.
Today, smartphones have actually become smarter and more intelligent than what the people coined the term in 1997 would have thought.
Smartphones include a set of sensors, value-added features such as cameras and a host of wireless communication protocols for interacting with other devices as well as with the network.
In the coming section, we'll discuss the features of smartphones that made them earn the term smart.
Operating Systems
Smartphone OS differ from those operating system ran on the PDAs, with respect to the functions it can carry out, performance and UI interactions.
Symbian was the first major mobile operating system that made waves in the mobile phone industry.
Symbian was initially an operating system made exclusively for PDAs and the consortium had a lot of takers including Nokia, Motorola, Sony Ericsson and Samsung.
Symbian ran well on mobile phones with keypad input type but was late to the party when the touch-based operating systems started to rule the market.
Android is a Linux based open source operating system developed for the mobile device which got acquired by Google.
Android, currently holds about 86% of the entire smartphone OS market with thousands of OEMs releasing new Android smartphones to the market around the globe.
This operating system has seen many revisions since its inception and the latest version released to the general public is the Android 9.0 Pie.
iOS is another strong contender for Android but runs only on Apple products such as iPhones and iPads.
iOS is considered the most secure mobile operating system, stemmed from the fact that it is completely closed source.
There are other low profile smartphone operating systems such as Tizen from Samsung and Sailfish OS derived from Linux but with much less adoption among the general public.
Cellular connectivity
Phone calls are the first and foremost priority of a phone – be it a smartphone or a feature phone.
Most of the smartphones available for purchase in the Indian market now supports 4G, while some older models are still stuck with 3G.
Recent 4G smartphones have the provision for VoLTE (Voice over LTE) capability, provided the carrier network has the support for the same.
Earlier in India, even 3G or 4G capable smartphones had to resort to 2G networks as the coverage wasn't omnipresent.
4G VoLTE enables high-speed data connection wirelessly and HD clarity voice calls.
When compared to the 3G networks, 4G is a data only protocol usually in which the voice calls are primarily routed through 2G or 3G bands.
But with VoLTE technology, both data and calls can be routed through the same bands with much better quality and signal coverage.
Support for wireless protocols such as Bluetooth and Wi-Fi
Infrared was the front-runner of wireless connectivity back in the feature phone days. When the phones became smart, newer technologies such as Bluetooth and Wi-Fi were introduced to the game.
It doesn't mean that there isn't any feature phone out there without either of these two, but smartphones came with much better integration to these technologies.
For example, the smartphones these days comes with Bluetooth v4 as the standard and there are some phones out there with Bluetooth v5.0 as well.
Infrared being a slow, short range and energy consuming communication protocol were phased out from the phones.
But still, certain smartphone manufacturers prefer to include IR sensors for remote control functionality with home appliances.
Modern smartphones come with support for dual 2.4GHz and 5GHz band Wi-Fi for faster data speeds and stable connectivity as opposed to single 2.4GHz Wi-Fi connectivity in feature phones.
Camera
Optics has seen a major improvement in today's smartphones from those namesake shooters usually found on the back of feature phones.
Today, smartphone cameras come with all sorts of sophisticated imaging technology to make the photos and videos look better and even rival some of the dedicated digital cameras in the market.
The first ever camera phone was revealed in 2000 by Sharp named the SCH-V200 in South Korea.
The camera on this phone was a mere 0.35MP unit. The imaging technology has come a long way since then with smartphones featuring not one, not two, not three but up to six cameras.
Equipped with features such as Optical Image Stabilization and variable aperture, the smartphone cameras these days are capable of taking photos and videos that are on par with digital cameras available in the market.
Display
The displays that were found on the early mobile phones came with meagre resolution and the UI was pixelated.
With the increase in display size, the display resolution too started to increase, thus providing sharp and clean text and visuals.
Apple's patented Retina display took the mobile device displays to the next level, featuring a pixel density of over 300 ppi that made these displays to produce extremely crisp images and text with no pixelations visible to the naked eyes.
Today, displays with 400 ppi is a standard for most of the budget smartphones, and some even cross the 500 ppi mark.
Delivering the largest display to body ratio is the current trend right now in the market with smartphone manufacturers implementing innovative ideas such as notched displays, a slider mechanism and motorized cameras.
Media consumption
Larger displays with higher resolutions made smartphone media consumption an enjoyable experience.
With feature phones and even with the first generation smartphones, the display quality was not something to get excited about.
This resulted in a degraded media viewing experience on these mobile devices when compared with TVs, laptops and desktop computers.
With IPS and OLED technologies finding their way to the smartphones, this has changed and now smartphones account for a significant chunk of media consumption among the people of all age groups.
Performance
In solidarity with Moore's law which states that the number of transistors in a densely integrated circuit doubles about every two years, mobile processors is becoming more and more powerful after each iteration.
The smartphone you might be reading this article may have a better performing processor and double the amount of RAM when compared to your laptop.
With mobile applications delivering the same functionality as that of its desktop counterparts, having a powerful processor and enough memory is a must for smooth performance.
There are smartphones with whopping 10GB of RAM currently available for purchase, and consider this as a reference – The AGC ( Apollo Guidance Computer) that was on board the aircraft which took the man to the moon in 1969 had a mere 3.8KB RAM to work with.
Battery
With the exponential increase in the capability and performance, the size of the battery increased linearly.
Most of the smartphones in the market now come with 3000mAh or more that will let you use the phone at least for a day of heavy usage.
Compared to the older mobile phones that have minuscule sized batteries inside them, modern smartphones feature power efficient hardware and software for providing a better screen on time.
Conclusion
Smartphones have become really smart. With those powerful chips inside them and equally powerful hardware built around the chipset that provides the ultimate mobile computing experience, we are really excited and looking forward to where the future will take us.
Meanwhile, you too can join us in the excitement and subscribe to our weekly newsletter for more interesting and informative articles like these!
Thanks for your time and have an excellent day ahead!