Linksys E5600 is a future-ready dual-band router that delivers on its promises quite well when it comes to network performance.
The lack of a smartphone app might bother some, but we hope Linksys will come up with a solution for that shortly.
Currently, the Linksys E5600 can be rated as one of the best routers that can handle 10-12 devices simultaneously without any performance bottlenecks.
Pros
Robust build quality
Fast charging support
Wired/wireless mode usage
Cons
No smartphone app
No USB port
Features at a glance
Dual band AC1200 – 2.4GHz and 5GHz
MU-MIMO technology
Beamforming technology
Separate Guest access
Robust parental controls
Coverage up to 1000sq.ft
Four internal antennas
Four gigabit LAN ports
EasyMesh technology
Auto firmware upgrade
Specifications
| | |
| --- | --- |
| CPU | MediaTek MTK MT7621A dual-core CPU @ 880MHz |
| RAM | 128MB DDR3 |
| Storage | 128MB NAND FLASH |
| Encryption | WPA2 |
| Ports | 1 WAN + 4 LAN ports ( Gigabit) |
| Antennas | Four internal antennas |
| Unit weight | 0.86 Kg |
What is a router?
A router is a networking device that directs internet traffic from a modem to different devices such as smartphones, laptops, tablets, smart appliances etc. either by wired means over ethernet LAN or wirelessly over Wi-Fi.
There are thousands of router models available in the market right now for you to choose from and the Linksys E5600 is one of the very few non-Chinese routers available for purchase in India.
Linksys E5600 is an entry-level home router with dual-band support, ideal for houses having a 1000-1200sq.ft area with 10-12 devices simultaneously accessing the internet.
Let's take a deep dive at this router – its fit and finish, performance and speed tests under various conditions to determine if it is well worth the asking price of around Rs.3,500.
How did we end up purchasing the Linksys E5600?
We had a Netlink HG323DAC dual-band router/modem for our BSNL FTTH connection with a 60Mbps plan in our office.
This particular router performed decently but with multiple devices on the network, it occasionally showed signs of speed throttling and signal drops.
This forced us to purchase an independent router so that we can keep the Netlink modem in bridge mode and take leverage of the Linksys router radios and processing power for better performance.
Thus we set out to find the best entry-level dual-band router available in the market and zeroed in on the TP-Link Archer C6 v3 and the Linksys E5600.
The overall positive reviews of the Archer C6 v3 and its four intimidating radio antennas made us hesitate a bit but we decided to try out something relatively new – the Linksys E5600 so that we can review it and let our audience know its real-life performance.
Box Contents
The Linksys E5600 router we ordered from Amazon came promptly, well packaged without any signs of mishandling.
The carton box had the router, power supply with multiple end pins, and a few leaflets with a clear description of how to set up the router.
Inside the leaflet is a unique password that should be used to log in to the router for the initial setup. This same password can also be found on the bottom portion of the router.
Design and Build Quality
The design of the Linksys E5600 is unlike any other router you might have seen till now. The unique tower design with internal antennas makes this device look futuristic and modern.
No matter how minimal your home decor is, this router will seamlessly blend in without sticking out as a sore throat unlike the other aggressively designed routers out there.
The plastic construction is top-notch and the fit and finish are on point. The tower-shaped router stands upright with six indicator LEDs upfront – one for power, one for active internet connection and the other four for the gigabit LAN ports. If the internet is down, the internet LED will glow orange.
There is a WPS button, reset button and a rocker style on/off button along with a barrel-style power jack in the rear.
There are four internal antennas inside the plastic casing that will cover approximately 1000-200sq.ft floor area. Don't think that just because there are no superficial external antennas the range will be any less.
Connectivity Options
As we said, this dual-band router from Linksys supports both 2.4GHz and 5GHz radios. Most of the modern devices support 5GHz and you can enjoy faster internet speeds with less bandwidth congestion issues.
The only downside of the 5GHz is that the operating range will be significantly less than 2.4GHz.
The internet port along with the four LAN ports in the rear supports gigabit speeds up to 1Gbps.
Hardware Details
For the hardware geeks out there, the Linksys E5600 is running on the MediaTek MT7621A dual-core processor clocked at 800MHz, which is the same chip that's on its competitor the Archer C6 v3.
While both the Archer C6 v3 and the Linksys E5600 comes with 128MB of RAM, the advantage of Linksys E5600 is that it has 128MB NAND flash memory while the Archer C6 v3 has only 16MB.
If you are planning on installing custom router firmware such as OpenWRT, having increased storage can be a game-changer.
The advantage of having a dual-core processor inside is that the router can handle multiple device connections at once without any bottlenecks.
This was the issue that plagued the Netlink HG323DAC that we had earlier used. The Linksys E5600 can easily handle 10-12 devices at once without any issues.
Performance
Now let's take a look at the real-world performance of this router with an active internet connection. What we use here at our office is a BSNL 60Mbps plan that costs Rs.599 per month excluding GST.
In the hall across which the Linksys E5600 router is placed, we got steady speeds well above 60Mbps on multiple devices at once in both 2.4GHz and 5GHz frequency.
When tested a bit farther with a solid brick wall in between, surprisingly the 5GHz connection remained strong, posting both upload and download speeds above the plan speed of 60Mbps.
The 2.4GHz connection with a brick wall in between delivered reasonably good upload and download speeds between 40-50Mbps.
With the devices taken to the ground floor, mind you the router is placed across the hall on the first floor, the speeds remained impressive.
The wireless range, even with the internal antennas remained strong through the office space.
With the LAN, as expected the speeds remained well above 60Mbps consistently. You might see slight variations in wireless speeds every time you test as the node server to which the ISP is connected might vary now and then.
Test Setup
We used a Redmi Note 9 Pro and an old Asus laptop with Ubuntu OS to test the network speeds at various locations around the office.
The minor dip in 5GHz speeds, when tested with the laptop, is because of the older dual-band radio limitations of the laptop and not the problem either with the router or the BSNL FTTH network.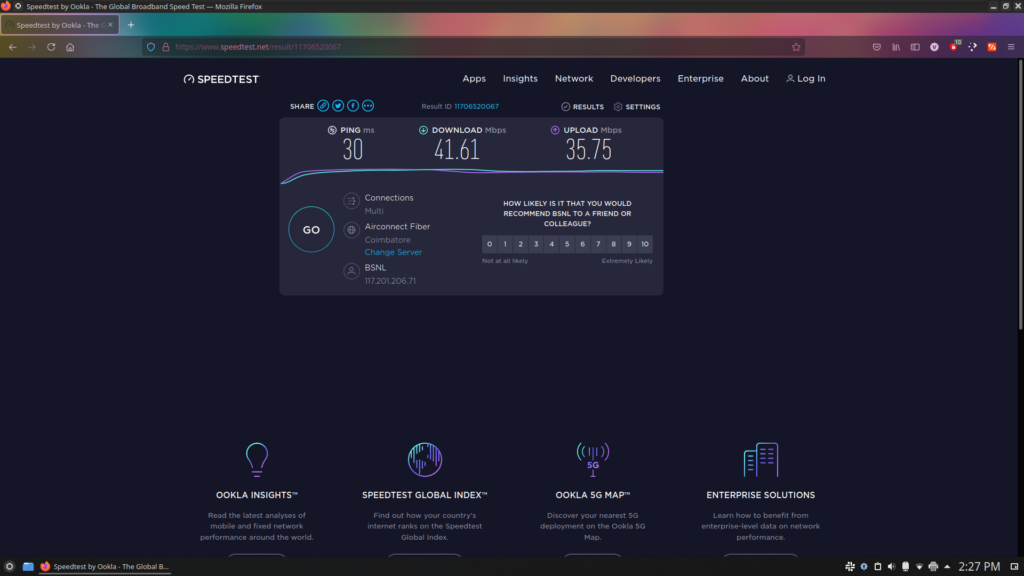 Usability
Is the Linksys E5600 router full of pros and without any cons?
No.
It isn't.
One major disappointment we have with this device is that it lacks a smartphone app to manage the router.
While brands such as TP-Link provide full-fledged, easy to use apps, with the Linksys E5600 you'll have to rely on the old school way of setting up and monitoring your connection through the web interface.
The web interface is pretty standard and nothing special. At first, you might find the UI a bit cluttered but with time, it will become familiar and easy to use.
Security 
First of all, Linksys is the subsidiary of Belkin, an American company.
This device is made in Vietnam and not in China if that's a concern for you. 
Even our Netlink router we used earlier had references to China-based networks inside the configuration files which made us spook a bit, to be honest.
As with all other routers, the Linksys E5600 comes with a WPA2 password protocol that provides strong encryption to keep your router safe and secure.
Along with this, Linksys firmware supports SPI (Stateful Packet Inspection) firewall that will automatically check for rogue data packets coming from the internet and block if it is not from a known host. 
Openwrt
We had mentioned somewhere above that the 128MB NAND flash storage will make this router future proof in case you want to install custom firmware such as OpenWRT.
The Linksys E5600 currently has the initial support for Openwrt firmware which is an open-source Linux OS for routers and related networking devices.
If you are tech-savvy enough, you can head over to the device page on the OpenWRT website and flash the firmware. 
Do note that the current OpenWRT firmware for Linksys E5600 is in its release candidate phase, so keep that in mind before jumping over.
Advantages of Openwrt
Up to date security patches, much faster than those from the OEM vendor
Reduced lag/latency and increased network throughput
Better airtime fairness
In depth control of your router as well network
Ability to install additional packages for enhanced productivity just like you would install apps on your smartphone
Strong DNS encryption
Option to block ads
EasyMesh technology
The Linksys E5600 router supports the open industry standard for mesh networking called EasyMesh.
With this, you can connect other EasyMesh compatible devices from other vendors to this Linksys router and enjoy a single seamless wireless network experience.
When compared to the like's of TP-Link's OneMesh standards, with the EasyMesh, you're no longer forced to purchase future devices from a single vendor for mesh networking.
Linksys E5600 Vs TP-Link Archer C6 v3
| Linksys E5600 | TP-Link Archer C6 v3 |
| --- | --- |
| Dual-core CPU @ 880MHz | Dual-core CPU @ 880MHz |
| 128MB DDR3 RAM | 128MB DDR3 RAM |
| 128MB NAND FLASH storage | 16MB NAND FLASH storage |
| No smartphone companion app | TP-Link Tether app support |
| Made in Vietnam | Made in China |
Should you buy this router?
If you're in search of an entry-level router with future-proof powerful hardware inside to serve an approximate floor area of 1000-1200 sq. ft, the Linksys E5600 is a good choice for its asking price.
Being a non-Chinese make router, this particular model has robust security mechanisms to keep your network safe and secure without any fears of snooping or monitoring your internet.