Shopping for things online has become a habit for us more than anything.
Thanks to the entry of numerous online stores, the popularity of digitalisation, the availability of free data, and other various reasons Indians are now shopping online more than ever before.
In order to take a full advantage of E-Commerce transactions, you need to be smart and know certain aspects to be a pro online shopper.
And that's why I have come up with a set of tips in this article.
These tips can not only save money for you but also helps you to make safe, secure and hassle-free digital transactions.
Without any further ado, let's get to the matter.
Tip #1 : Follow the E-Store on the social media channel you are active
Follow the stores and brands you frequently visit on the social media platform that you're active to get notified about the latest offers, upcoming sales festivals and other important news.
Twitter and Instagram are my preferred platform as Facebook usually suppress the posts from the pages you like on newsfeed.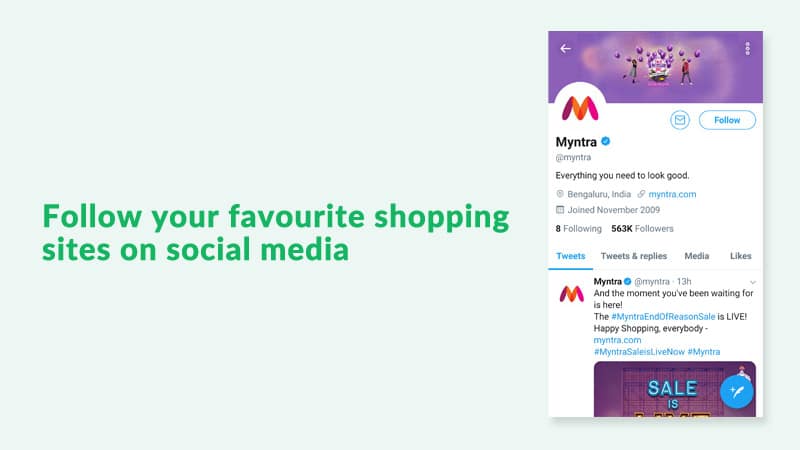 You can also subscribe to their email newsletters if you don't want to clutter your social media account.
Tip #2 : Track and compare prices using browser extensions
Track and compare prices on different platforms using browser extensions like BuyHatke and Keepa.
As the prices of product fluctuate from time to time, BuyHatke shows the price history of the product and even predicts the probability for a price drop.
It also has many other tools like price comparison from other stores, price watch alert etc.
Tip #3 : Time your big purchases with sales festivals
If you're eyeing a big money purchase or if you need to buy a lot of items at once, the best time to do that is during the sales festivals conducted by Flipkart, Amazon, Snapdeal etc.
My personal advice is to buy these items during Big Billion Days or Great Indian Shopping Festival conducted prior to Diwali in October or November.
This is the time for the highest price drop and the best offers are offered at this time in India.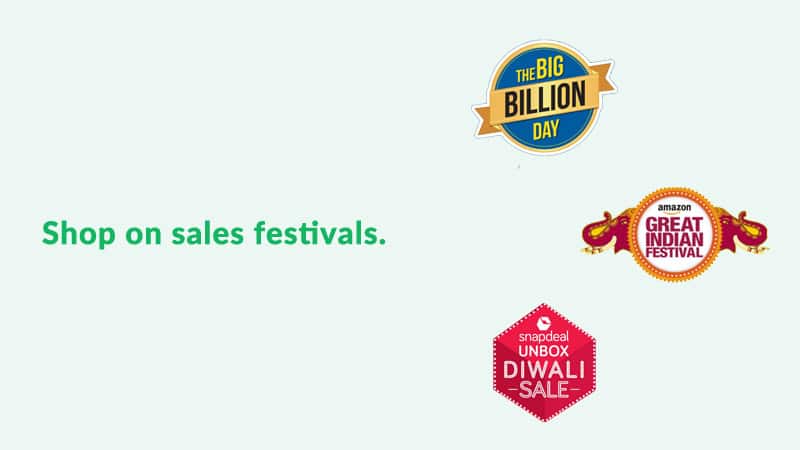 These websites conduct sales festivals in almost every quarter (once in 3 months) as well.
So time your purchase according to these sales.
You can know about their sales via E-Mail or through their social media account.
Tip #4 : Sign up for the membership program if you're a frequent user
After the tremendous success of Amazon Prime, every major e-commerce store and online services are now providing exclusive membership programs that add more value to their loyal customers.
Flipkart has recently launched the Flipkart Plus program to take on Amazon Prime which gives free shipping, fast delivery and a host of other attractive offers from their partner stores to reward their loyal users.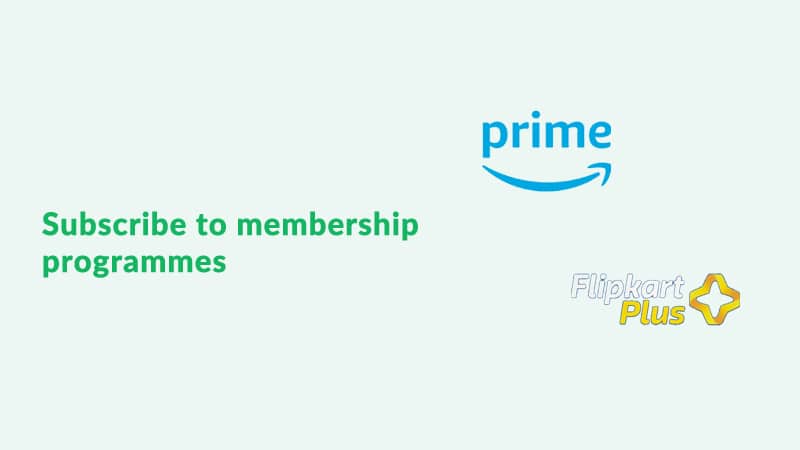 Cab aggregator unicorn Ola has launched Ola Select to help frequent travellers with features like No surge pricing, Priority booking, Faster customer support and more.
Food delivery platforms like Swiggy, Zomato and Uber Eats also have loyalty programs or they are planning launch such programs soon.
So if you are a regular user of any e-commerce platform, do check out if they have a loyalty program and subscribe to it for a better experience.
Tip #5 : Get the Credit Cards from top banks to take advantage of them
This tip is something we don't advise if you don't know what you're doing.
Credit cards are issued by banks to salaried employees based on their income limit.
You will have a certain monthly cash limit in these cards and ideally, you should be paying off the credit card bills every month without any due.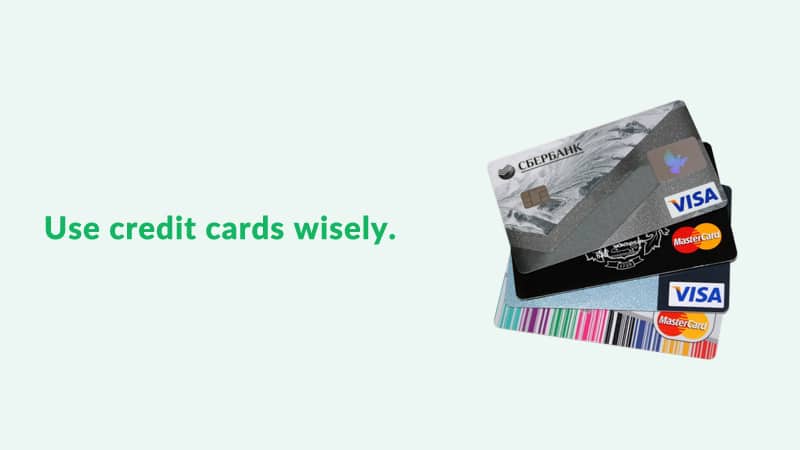 If you have the opportunity to get credit cards of popular banks like ICICI, HDFC, SBI, Axis or CITI Bank, go get them.
You can take multiple credit cards as well.
Many banks offer credit cards with Zero joining fee and annual fee or nominal annual fee with many rewarding features.
Try to get the credit card which provides maximum advantage to you.
Most of the online stores provide Instant discounts, Special offers or Cashbacks on these credit cards and you can take advantage of such occasions.
ICICI bank has recently launched a credit card in partnership with Amazon that offers 5% amazon pay cashback on every transaction you make on Amazon.
You can also use them to take EMI loans with or without any additional cost (No Cost EMI).
But keep in mind to not overspend on credit card, as the money in credit card is not the actual money you own and you are taking a loan for a short duration.
Tip #6 : Check the rating and review of the seller and website
If you don't know it yet, here is a quick reminder.
Most of the items you buy from Amazon, Flipkart, Snapdeal, Myntra etc are not sold directly by these websites.
Instead, they aggregate merchant from across India on their platform.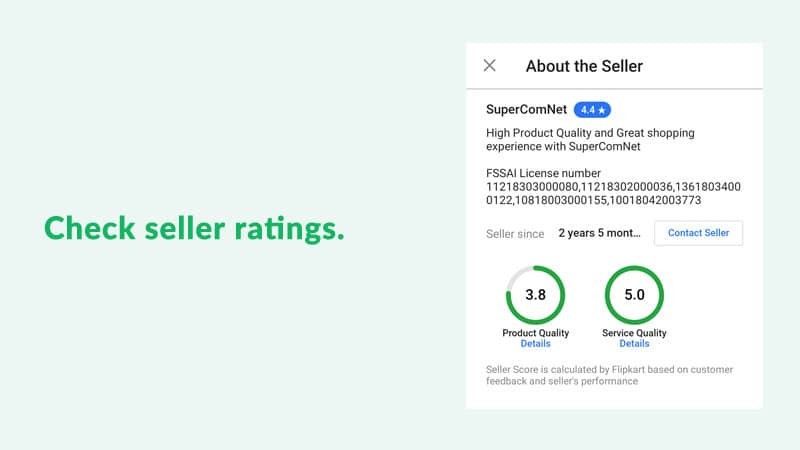 Whenever you're buying a product from these sites, look at the review and rating of the respective seller and check what other customers are saying about this seller and the particular product.
More often than not, you can escape from cheating and getting duped by fake product by doing this simple step.
Also, if you're using a 'not so popular' website to buy a product or service for the first time, do a quick google search to check the credibility of such websites.
Maybe a Quora answer or Reddit thread will give you a clear review about that website.
Tip #7 : Shop privately on Incognito
Here is another fun fact from the dark alleys of the E-Commerce world.
E-Commerce websites track your activities vigorously to provide dynamic pricing based on your location, purchase history and browsing history.
This is most evident in online flight ticket booking.
They even push targeted ads into your social media account once you visit their website for a particular product.
To avoid all this and more, it is advised to browse in incognito mode.
You can enter incognito mode on your browser by pressing Ctrl+Shift+N buttons.
You should also clear cookies and browsing history to avoid any chance of targeted manipulation from the website you are about to visit.
Tip #8 : 'Safety' is better than cure
Whenever you are doing an E-Commerce transaction, make sure that the website is 'https' secure in the URL.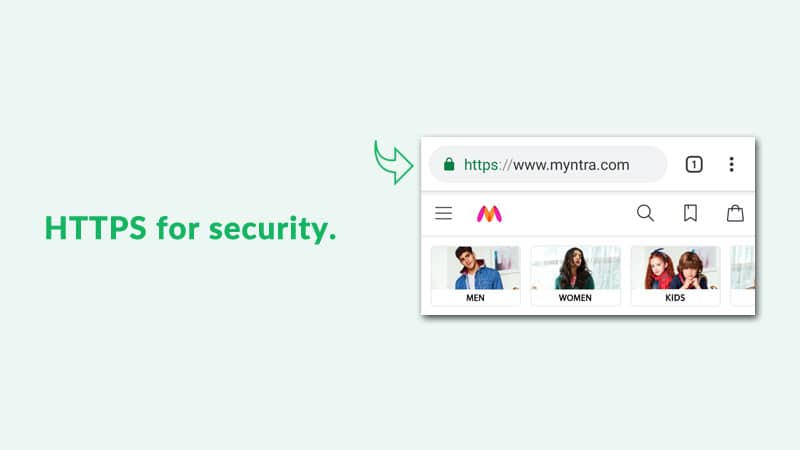 HTTPS with a lock sign ensures that sensitive pieces of information like your debit card details and login details are encrypted so that a hacker hijacking the connection between you and the website you're interacting, won't be able to bypass your information and read the data.
Tip #9 : Abandon the cart or Wishlist if you don't need an item immediately
Suppose you're simply looking for a product to buy in future and don't need the item immediately, you just add the item to your shopping cart and simply keep it there.
Some websites offer discounts or special offers if they see a product in the cart and it is not checked out for a few days.
You can also Wishlist the item to get notified about any offers for that product.
Tip #10 : Look for expert opinions and reviews
The last thing you want if you're buying something online is getting cheated by a substandard product.
The best thing you can do to avoid this is to look for credible reviews from experts.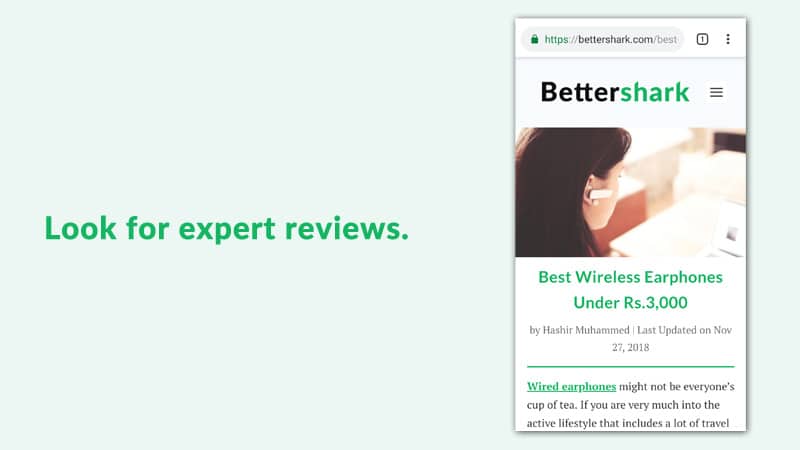 Fortunately, now we have plenty of product reviewers, YouTubers, websites and blogs to seek an expert opinion.
Simply by googling 'Product + Review' or 'Best Product Under Your Budget' will give the top reviews in front of you.
Take advantage of it – watch, learn and prepare a clear understanding of the product you're going to buy.
Maybe you can bookmark us for this purpose 🙂
Conclusion
There you have the 10 tips to shop online like a pro.
I hope the tips I have shared are useful to you and only wish that it will make your online shopping a hassle-free experience. Maybe it can help you save some money as well.
If you have any doubts, queries or suggestions, please do let me know in the comments below.
Also tell me your favourite shopping tips as well.
Lastly, subscribe to our newsletter for more such awesome tips delivered right in your inbox.
See you soon!