Earlier, whenever one would purchase a smartphone, one would have always found an earphone and charger bundled in the box. Over the years when smartphones got rid of headphone jacks, companies had to come up with more innovative ways of making earphones.
For iPhones, Apple had their proprietary earpods which featured a lightning connector that would fit into the charging port, and Android phones also shifted towards earphones that terminated into Type C USB connectors.
But this caused issues for many since most people would be able to either charge their phone or use their earphones. To solve this problem companies started rolling out wireless earphones.
Although wireless Bluetooth earphones have been available for many years they only gained popularity with the release of the Apple Airpods and now the market is filled with wireless earphones.
Generally, there are two types of wireless earphones which are True Wireless Stereo Earphones (TWS) and Neckband Earphones. Despite both of these being wireless earphones there are some key differences between them.
In this article, we will be comparing both TWS and Neckband Earphones.
But before we begin, we should know about the technology behind TWS and Neckband earphones, which is Bluetooth.
So let's start.
Bluetooth – The Game Changer
The sole reason that wireless earphones are now a possibility is Bluetooth. It is a short-link radio technology that was being developed by Nils Rydbeck at Ericsson Mobiles.
Bluetooth makes it possible to communicate and exchange data between fixed and mobile devices over short distances with the help of radio waves.
In 2021 all smartphones and laptops have Bluetooth connectivity in them, this shows how far the technology has developed in recent years.
Initially, Bluetooth was quite slow and it would take time to connect one device to another and the speed of exchanging data was also slow but with new technology and research, we have received faster Bluetooth connectivity.
The latest standard of Bluetooth technology is currently Bluetooth v5.1.
You must be wondering who is responsible for the latest versions of Bluetooth?
Bluetooth was launched as an open industry standard that allowed everyone to use the technology and this ensured that the technology would reach different markets.
After this, the Bluetooth Special Interest Groups was established in 1988 with Ericsson, Intel, Nokia, Toshiba, and IBM as its members. Currently, there are over 35000 members in this group.
All these members jointly developed the latest Bluetooth versions that we currently use.
Thanks to Bluetooth we now have so many wireless peripherals like keyboards, mice, headphones, etc. All this would not be possible without Bluetooth which is why it plays an important role when it comes to wireless connectivity.
Why Wireless Earphones?
The reason for this is that wireless is the future. If you have noticed around yourself there are so many electronic devices that previously used to be wired like printers, landline phones, chargers, headphones, and earphones which have now gone wireless.
Wireless devices are more efficient compared to wired devices because you don't have to limit your mobility. With a wired device, you are usually required to stick to a particular place.
For example, when wearing wired earphones you need to be sure that your phone is around you at all times but with wireless earphones, you are free to move around without needing to carry your phone with you.
Hence convenience or ease of use is another important factor why you should go for a wireless earphone instead of traditional earphones.
If you are concerned about sound quality then fret not because wireless technology has reached a point where wireless earphones sound equally good as wired earphones and in some cases, they even sound better than wired ones.
Let's now get to know more about the two most commonly found wireless earphones in the market which are TWS and Neckband earphones.
TWS Earphones
True Wireless Stereo ( TWS ) is one of the types of wireless earphones that you will come across when searching the market for wireless earphones. These earphones are the most popular throughout the world because they do not have any wires.
If you are not sure what TWS earphones are, an example is the Apple Airpods. They are without a doubt the most popular TWS earphones or earbuds in the world.
The technology behind TWS earphones is that the earphones make use of Bluetooth signals to transfer sound. This eliminates the need for any wires.
What separates TWS earphones from other earphones is that it is independent and does not require a physical media source to connect to.
For example, you have nothing joining your right and left earphones together, they are completely separate, and neither are they connected to your phone using a wire.
A Bluetooth chip wirelessly links the TWS earphones to your smartphone.
There are different ways a TWS earphone connects to the media source. The method depends on the accessory and also the brand.
Generally one of the TWS earphones uses a single earbud as the primary connection between two media sources. The primary earbud will first send a signal to the source and then after they are connected this signal is forwarded to the secondary earbud.
Another way of connection is that the source device simultaneously connects to both the earbuds rather than passing the signal from one earbud to the other.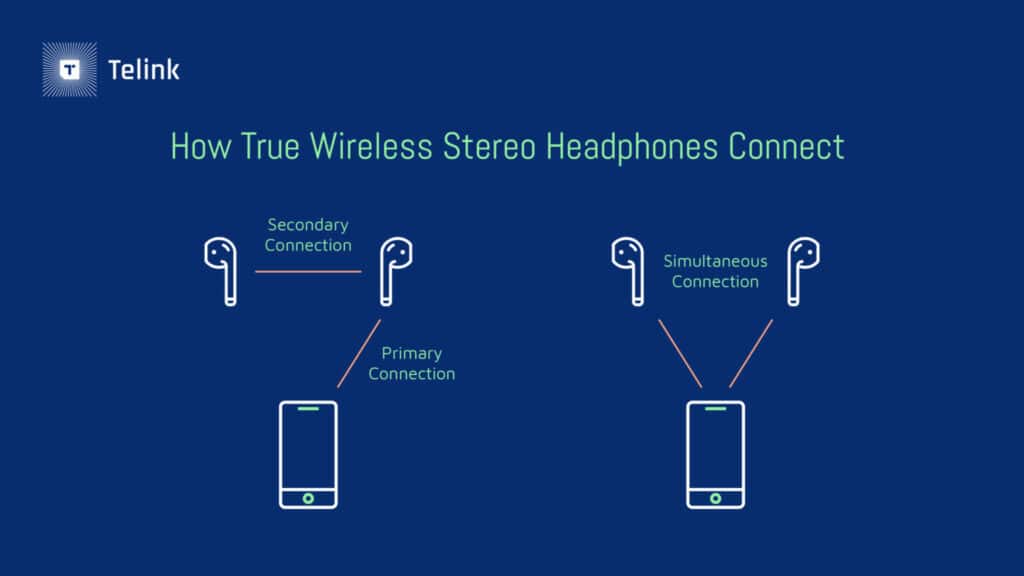 Although earphones are the most popular devices when it comes to TWS technology, this technology is not only found in earphones. There are also TWS speakers, remote controls and also a true wireless charging technology that is currently being developed.
Neckband Earphones
You might have noticed that now more and more people are using earphones that are hanging around their collars rather than leading to their pockets. These earphones might be known as Neckband earphones, Collar earphones, etc. Call them what you like but the purpose remains the same.
These Neckband earphones are one of the most convenient earphones that you will find. It is a fusion between wireless headphones and traditional wired earphones.
We have wires dangling from the earphones which meet each other around the neck and are connected. This links both the left and right earphones.
The place where the earphones meet each other at the neckband is where all the magic happens. The neckband holds all the electricals and the battery to ensure these earphones last for a long time.
Neckband earphones are loved for their convenience. Since no more wires are going from your ears to your smartphones you no longer need to worry about having them popping out your ears when opening doors or the worst-case scenario wear it accidentally gets ripped.
Most people prefer Neckband earphones because you don't have to worry about them tangling up like wired earphones and when not in use you can simply let them rest on your neck.
These headphones are usually worn by people that are active and go for walks or runs because there is no risk of it falling down and even if it does it will still be hanging by your neck.
Which is the one for you?
With so many options to choose from in the Indian market, it is frankly quite hard to pick between TWS and Neckband earphones, there is always something or the other missing in either of the earphones which is why we have made a comparison between both TWS and Neckband earphones.
True Wireless Stereo Earphones :
Thanks to their compact size and cordless design TWS earphones are extremely comfortable to wear and you do not have to worry about any wires getting tangled or stuck since there isn't one.
TWS earphones usually sport a premium design and can snuggly fit in your ear canal. At times you might even forget that you are wearing them.
Connectivity is really simple with TWS earphones. You can easily connect them to your smartphone, smartwatch, or any other Bluetooth device while they are resting in your ear canals. Due to their lightweight design, they don't feel uncomfortable even when wearing for a long time.
When answering calls and speaking through the TWS earphones people might be fooled into thinking that you're talking to yourself. This is because of the small size of the earphones.
Speaking about the audio quality of TWS earphones, it varies from one brand to another. Usually, TWS earphones that are from premium companies are the ones that sound the best such as the Apple Airpods Pro while some of the cheaper alternatives do not have the best audio quality.
Another neat feature of TWS earphones is that it hosts the controls on the buds itself making it easier to switch through tracks, pause, play and change the volume.
People believe that since TWS earphones are small that they also have weak batteries. However, these earphones can last for quite a long time.
TWS earphones also come with their dedicated carry cum charging case that lets you carry around your earphones while travelling. The case is so compact that you can simply insert it into your pockets.
But since these earphones are so compact there is also the tendency to lose them at times and it can be quite a chore to find them.
The calling experience on TWS earphones has improved over the years. The mic on these earphones is located on the earbuds and this can cause some issues like the mic not being able to pick up on what is being spoken.
In Neckband earphones, this issue is drastically reduced since the neckband can be adjusted and brought closer to our mouth.
Another important feature of TWS earphones is that you can also wear a single earbud and keep the other in its case. However, this is not possible with Neckband earphones because both the earbuds are linked together.
Advantages of TWS Earphones
Completely wireless
Premium design
Includes a travelling cum charging case
Easy connectivity
Eliminates wire damage
On-ear controls
Lightweight
A single earbud can be used
Disadvantages of TWS Earphones
Easy to lose
Smaller battery life compared to Neckband earphones
Calling experience is poor
Neckband Earphones :
More and more people can be seen sporting these futuristic collars with earphones coming out of them.
These Neckband or collar earphones are more convenient than your traditional headphones and typically have an in-ear design. But despite being a Bluetooth earphone, the buds will always be connected using a wire.
Furthermore, these buds usually have magnetic ear tips that let you snap them together when not in use.
This ensures that you won't be losing either of the buds and whenever you need them they'll always be hanging around your neck waiting to be used. These types of headphones are preferred when travelling, going for a trek, or an evening walk.
Additionally thanks to the neckband these earphones generally have a much larger battery compared to TWS earphones. Hence you don't have to worry about charging them often.
The controls like volume, play, and pause are located on the neckband. They are not as convenient as simply tapping or swiping the earbuds as on TWS but they still do get the job done.
When it comes to durability these Neckband earphones do not need safekeeping but it is recommended that you do not use them roughly since any damage to the neckband or wire can cause problems to the overall functioning of the earphones.
This is not an issue with a TWS earphone since they are completely wireless.
Moreover, when it comes to the calling experience, the mic in TWS earphones are located on the earbuds themselves. This means that the mic is far away from our mouths.
While on the other hand in Neckband earphones the mic is usually located on the neckband which is also away from the mouth but you can always bring it closer but this is not possible with TWS earphones.
The audio quality of Neckband earphones is usually better than TWS earphones when you compare it with earphones of the same price range. That is not to say there aren't good-sounding TWS earphones.
Advantages of Neckband Earphones
Bigger battery than TWS earphones
Magnetic ear tips to keep earbuds together
Prefered for active users who travel, trek and go for walks
Is not easy lost
Easy connectivity
Calling experience is better than TWS earphones
Can leave on collar when not in use
More comfortable to wear
Disadvantages of Neckband Earphones
Not compact
Has wires linking earbuds
Does not come with a travelling case
Are wireless earphones worth it?
It is not a hidden fact that wireless earphones are very expensive compared to traditional wired earphones. This is because of the technology that is behind them but are they worth the price and how do TWS and Neckband earphones fair against each other when it comes to their prices.
Nowadays it is quite common to find TWS earphones starting at prices of around Rs.2,000 whereas the more premium TWS earphones that offer good quality audio are priced upwards of Rs.10,000.
Similarly, Neckband earphones are also more expensive than wired earphones but still, these earphones are typically cheaper than TWS earphones and also offer better audio quality when it comes to similarly priced earphones.
For example, if a TWS earphone and Neckband earphone are both priced around Rs.2,000 then the latter is usually the one that provides better audio quality. In some instances, even cheaper Neckband earphones provide better audio quality than TWS that are priced more.
Hence when comparing the price to performance ratio Neckband earphones without a doubt provide more value.
However, if audio quality is not the most important to you and you want something more portable and truly wireless then a TWS earphone would be to your liking.
Finally, to answer the question if wireless earphones are worth it? The answer varies from one use case to another but in most cases, the answer would be a yes.
If money is not a problem then you can opt for premium TWS or Neckband earphones that will give you superb audio quality compared to wired earphones.
We hope that we have helped you answer all your questions about TWS and Neckband earphones. Both of these wireless earphones are equally good and have their advantages and disadvantages.
However, we suggest that if you are on a budget then a Neckband Earphone will be the better choice and if budget is not a concern then you can opt for good quality TWS earphones.
As always thank you for reading and have a great day ahead.