Wireless headphones and earphones are becoming more and more affordable, thanks to the cut-throat competition between the companies in the market.
In a developing country such as India, affordability is a key factor governing the purchase decision.
Furthermore, with modern-day smartphones getting launched without a headphone automatically drives people to purchase a wireless headphone/earphone.
With this trend on the rise, there are a lot of sceptics doubting the quality of music from a wireless earphone/headphone when compared with the traditional wired counterparts.
In this article, we'll discuss the AptX technology, which bridges the gap between the audio quality between a wired and wireless headphone/earphone.
Don't skip the article if you want your next wireless earphone/headphone purchase sound good, worth every hard earned penny.
Without any further ado, let's start!
Bluetooth
Bluetooth is a wireless data exchange standard between two devices at shorter distances.
Bluetooth employs radio waves for wireless connection and has a common range of 10m.
In its earlier days of inception, Bluetooth was used as a means to avoid cables i.e to connect peripherals to the host device wirelessly.
But later, several revisions of Bluetooth technology came to light, along which it brought the support of wireless music playback.
Bluetooth profiles
The wireless connection between two Bluetooth enabled devices is governed by a prescribed set of rules known as profiles.
These profiles determine the level of access for the Bluetooth such as the volume level of the music player and file storage access etc.
There are various Bluetooth profiles in circulation as we speak, and most of the Bluetooth devices in the market support multiple Bluetooth profiles at once for better compatibility with a number of devices and their functionalities.
Some of the most common Bluetooth profiles which we use on a daily basis are AVRCP, FTP, HFP, A2DP etc.
AVRCP (Audio Video Remote Control Profile)
AVCRP facilitates the play/pause functionality of media playback wirelessly. This is common in wireless headphones and earphones for media control purposes.
FTP (File Transfer Protocol)
As the name suggests facilitates wireless transfer of files between two Bluetooth enabled devices.
Bluetooth FTP is currently not extensively used as before, primarily because of the slow transfer speeds when compared to other FTP technologies such as Wi-Fi direct.
HFP (Hands-Free Profile)
HFP is a significant part in-car infotainment systems where Bluetooth enables to sync our phones with the car and felicitates handsfree calling directly from the vehicles control panel.
A2DP (Advanced Audio Distribution Profile)
A2DP is the Bluetooth stereo profile which allows how high-quality stereo audio streaming from one device to another over a Bluetooth connection – for example, music streaming from a mobile phone to Bluetooth speakers.
Let's discuss more about A2DP in the upcoming section.
Advanced Audio Distribution Profile (A2DP)
Advanced Audio Distribution Profile (A2DP) is the single most important link which made wireless music playback a possibility.
A2DP was introduced at the start of the 2000s, after which Bluetooth showed a resurgence in the market, mainly because of the increased demand for wireless audio equipment.
First generation A2DP profile has rudimentary capabilities and the sound quality was terrible.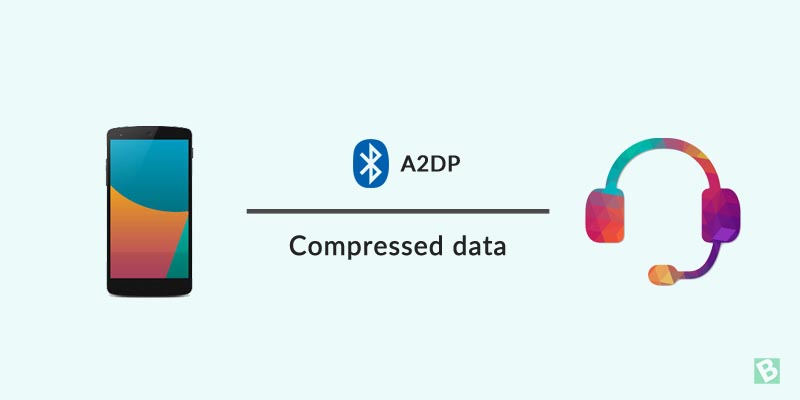 Imagine A2DP profile as a pipeline carrying data packets, in this case, music.
The basic premise of the Bluetooth protocol is to minimize bandwidth and power usage while maintaining a wireless connection.
In normal cases, mp3 is the general standard for audio files in our phone which is one of the low-quality formats.
A typical 5 minutes long mp3 audio file can be of 10MB size.
In order to send this file from the host device to the wireless headphone/earphone, A2DP compresses the data at the host end and then transmits it to the other end from which the compressed data is unpacked and given out as music.
This compression comes with a few caveats.
Yes, it minimizes the bandwidth but at the same time, it degrades the already degraded quality of the sound file.
By default, A2DP compresses and unpacks these audio files with the help of a codec named SBC (Low Complexity Subband Coding).
This codec pretty much offers the lowest quality wireless audio you can think of.
Most of the budget earphones and headphones without AptX support relies on SBC to encode and decode music files.
Even with expensive premium wireless headphones, if the sound quality remains terrible it may be because of this.
AptX
AptX is an advanced audio codec which is used as a substitute to SBC codec in the A2DP Bluetooth profile for efficient data transfer.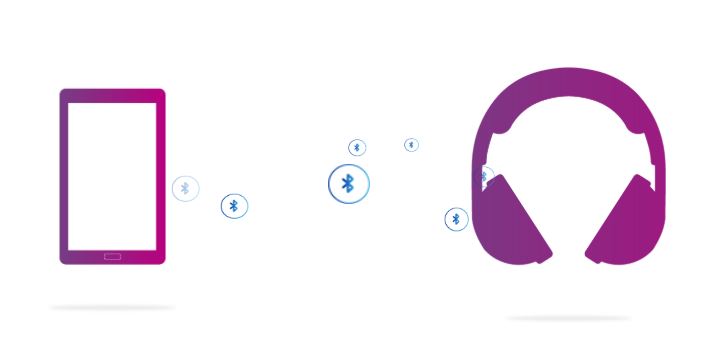 AptX is a licensed technology by Qualcomm and requires two-way support with both the host device and the wireless headphone/earphone.
AptX is now the defacto standard for high-fidelity wireless music playback.
It's always better to purchase AptX certified earphones and headphones for better sound quality.
How AptX is different from other audio codecs?
Conventional audio codecs rely on a technology called psychoacoustics whereby the pieces of musical notes which are likely to be unheard by the human ear is eliminated to compress the file.
Since the exact technical explanation is out of the scope of this article, let us describe the process briefly.
AptX works entirely different in this regard. It processes the difference in the sound notes between a specific time interval and transmits it, resulting in a much crispier and clear sound quality.
Advantages of AptX
– High fidelity wireless sound quality
– Low latency (minimal delay) music playback
– Drains less battery
– Clean and crisp handsfree voice call experience
Does AptX work with iOS devices?
Unfortunately No.
AptX is licensed technology from Qualcomm and currently works only with Android devices.
Apple uses AAC codec for Bluetooth streaming and is significantly less efficient than AptX in sound processing.
How do I know whether my device/headphone/earphone supports AptX?
AptX being a licensed technology from Qualcomm, the manufacturer has to advertise the feature if they indent to use it on their hardware.
You can see the AptX supported logo on the product box or in the specification chart.
Are AptX supported gadgets costly?
Not all.
Most of the budget Android phones priced under Rs.15,000 comes with AptX support.
There are certain headphones and earphones priced under Rs.3,000 which does come with AptX support.
Final thoughts
AptX is a continuously evolving audio technology with revised versions being released frequently.
Most of the people who buy wireless headphones/earphones are unaware of the benefits of this technology.
It isn't something which you can't live without, but having a futuristic technology in hand is always a better thing in the prospect of the future readiness of your purchase.