Best External Hard Disks in India (August 2019)
We all consume a lot of data daily. Be it in the form of movies, photos, songs and documents.
Since this influx of data, it became necessary to store them separately at a safe place rather than placing it on a folder in your computer or smartphone.
An external hard disk is the best method to keep the valuable and sensitive data safe and secure. This also keeps suficient free space on the built-in storage of your device as well.
In this list, we have compiled the best 5 External hard disk that you can rely on for your data storage needs.
We've picked the Seagate backup Plus slim as the best 1TB hard disk and WD passport as our best 2TB hard disk and has a lot more in store for you to choose from.
Read along and make a wise decision!
Best External Hard Disk In India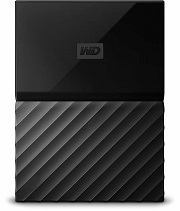 Best 1TB Hard Disk
Secure and safe external hard disk
Available in attractive colours
Consistent read/write speeds
Western Digital is an American Data Storage company that has been the pioneers of portable storage mediums since time immemorial.
My passport series from Western Digital was one of the first entrants to the Indian external hard disk market and been one of the people's favorite since then.
Stylish and Trendy Design
There is no necessity for an external hard disk to look good.
But in the case of WD My passport hard disks, the company has done some serious homework on its design and the result is evident.
The two-tone texture of the chassis would really turn some heads on the first glimpse of this product for sure.
The upper half is a normal non-textured plastic casing and the lower half has this attractive lines that add looks as well as a comfortable grip to the product in hand.
Not only that, this external hard disk from WD comes in a variety of different exciting colours such as dark blue, red and black which will make it a fashion statement along with the means of portable data storage.
1TB storage, apt Pricing
This portable hard disk comes with a 1TB storage capacity.
In our opinion, if you are an average person, 1TB worth of space will be more than enough for your immediate use such as storing photos, occasional movies and TV series and even some documents as well.
Mind you, we're not judging you in any way, but we genuinely feel for a price around Rs.3,700, 1TB storage space is actually decent.
That too with a host of other features that the company provides with this product, this is definitely a product worth having your attention.
This hard disk has a USB3.0 interface that will fasten up your data transfers across devices supporting the same.
It does work with USB2.0 devices as well, albeit with slow speeds.
Extra Features
Western Digital has a host of software utilities to enhance the usability of their products. One such software that comes with this external hard disk is the WD backup.
This piece of software will allow you to make backups of local files on your computer such as photos, videos and documents to this external hard disk at the click of a button.
The process is simple and straightforward and saves you a lot of time in searching for a backup tool on your own.
Unlike other hard disk manufacturers, WD emphasis a lot of security.
This WD My passport comes with a 256-bit AES hardware encryption that is very tough to break in to and will keep your files and folders safe.
This product comes with a three-year limited warranty that will cover unforeseen issues with the device such as any hardware failure resulting in its own and not due to user actions.
Summary
WD My Passport is a stylish and sleek little external hard disk that performs well in terms of data storage and retrieval.
The read/write speeds are consistent and will give you a pleasant experience over the course of time.
The hardware encryption feature and WD backup software will make you feel comfortable knowing that the security of the data stored inside is of high priority.
External casing is prone to scratches
Specifications
| | |
| --- | --- |
| Capacity | 1 TB |
| Interface | USB 3.0 |
| Encryption | 256-bit AES |
| Wi-Fi | No |
| Additional Notes | Available in diff. capacities |
Best 2TB Hard Disk
Three-layer protection

USB 3.1 protocol

Shock-resistant chassis
The ADATA HD650 is a wired 2TB external hard drive offering a dependable, go-anywhere storage medium with superfast USB3.1 data transfer protocol.
This ultra-portable hard disk packs in an impressive 2TB of storage space inside the drive that is only a mere 9.7mm thick.
Design and build quality
The ADATA HD650 has a unique design strategy that is in stark contrast with other similar external hard disks available in the market.
This hard disk features a silicon embodied chassis that looks premium with the slim form factor. The slightly raised peripheral hip above the glass prevents it from having direct contact with the surface and protects from scratches and dents.
However, extra care should be taken while handling this product as a minor slip from the hand might result in broken glass or at the worst a broken device itself.
There is a status LED indicator in the front of this hard drive that glows blue while in operation. Overall the design looks fresh and the quality of construction is prime for the asking price.
Storage
As we've mentioned above, the ADATA HD650 comes with 2TB of storage capacity for effortlessly handling your files and other media content on a slim and portable form factor.
With the super speed USB3.1 support, this device can achieve read and write speeds up to 150MB/s on compatible laptops and other devices.
This hard drive is also backwards compatible meaning you can hook it up with your old device with the regular USB2.0 port for unrestricted usage across different devices.
Miscellaneous
The bright blue LED indicator not only indicates the connection status but also the data transfer window during which you shouldn't pull the plug.
This is very much helpful for preventing incomplete read/write operations in a hurry to unplug the device.
ADATA provides a three-year warranty with this product so that if anything unfortunate happens in between, you can get it repaired free of cost at the nearest service centre.
Verdict
ADATA HD650 is a high-speed USB 3.1 portable hard disk for those who are looking for a large capacity external storage medium under an affordable budget.
Fully compatible with Windows, Linux and macOS
Blue status indicator LED
Specifications
| | |
| --- | --- |
| Capacity | 2 TB |
| Interface | USB 3.1 |
| Encryption | 256-bit AES |
| Wi-Fi | No |
| Additional Notes | Suited for rough use |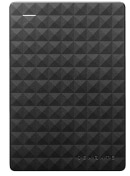 3TB Storage Capacity
Best suited with gaming consoles
Aesthetically pleasing design
1-year warranty
We've seen a Seagate product in this list above and here is the second one from the company – the Seagate Expansion.
The Seagate Expansion is a 3TB external hard disk that provides a solution to your ever-growing storage needs.
Design and Form Factor
With a rugged texture on the outer casing, this external portable hard disk offers excellent grip while holding it in hand.
Not only does the textures enhance the grip, but also renders the product an attractive design that looks aesthetically pleasing to the eyes.
For a 3TB portable hard disk, a weight of 168g is not at all bulky. It is pretty light and easy to carry around in your pocket or backpack.
Reliable Product with no Compromise in Quality
Not much can go wrong when it's product from Seagate.
This external hard disk is built to last using high-quality components that are meant to work as advertised for years without any failure.
The build quality of the device is great and it can be felt right of the bat when holding this hard disk in hand.
The USB 3.0 port is tough and secure and can withstand thousands of insertions and removals without any glitch.
Protected by a 128-bit AES encryption, the files inside this portable hard disk will be safe and secure with a password lock.
Gaming Enthusiasts, Rejoice.
Gaming is now a serious pastime recreation for many around the world.
With the arrival of high tech powerful gaming consoles and the advancements in graphics technology, the size of an average game has increased and gone upwards of 50GB.
This makes them difficult to store all together along with other contents on your laptop or desktop computer.
The WD Expansion 3TB portable hard disk lets you take your favourite games with you anywhere you want without leaving anything behind.
The limited storage space on your consoles will pose no threat to your fun with this 3TB storage hard disk for sure.
Expansion Drive to your Gaming Consoles or PlayStation
The WD Expansion 3TB hard disk can act as a secondary hard disk to your gaming console.
Games can be easily installed on this hard disk and taken anywhere to play with the supporting gaming console around.
This is much useful when you and your friends play the same game and want to gather around in a single place to party hard.
End Words
The Western Digital Expansion external hard disk is a sort of extension to our laptop/desktop/gaming console storage.
It will function as one without any fail and can be easily maintained.
The 3TB storage is more than anyone offering in the same price bracket, so if your sole aim is more storage for less price, this expansion drive from WD is worth investing your money.
Comparatively slower transfer speeds
Specifications
| | |
| --- | --- |
| Capacity | 3 TB |
| Interface | USB 3.0 |
| Encryption | 128-bit AES |
| Wi-Fi | No |
| Additional notes | Plug n Play |
Value for Money External HDD
2TB capacity

USB 3.1 connectivity

3 years limited warranty
Sony HD B2 is a portable hard disk with 2TB of storage space with support for the latest USB 3.1 technology.
This hard disk has wide compatibility with different operating systems and doesn't slow down from system to system according to the operating system it is based upon.
Design and Build Quality
The outer chassis of this portable hard disk is made of plastic and surprisingly, not something of the quality we expected from Sony.
The bright colour scheme masks the lack of quality of the plastics but it is easily prone to scratches and dents and may even break if fell on a surface face down.
The Sony logo is embossed on the otherwise bland shell. The ports and connectors are located on the top and bottom sides of this hard disk.
Storage Capacity
The Sony HD B2 has a 2TB storage capacity with superspeed USB 3.1 technology powering the data transfer.
With compatible USB3.1 hosts, this device will deliver read and write speeds around 125MB/s.
This value further decreases to around 80MB/s with USB3.0 ports and further to 40-50MB/s when used with USB2.0.
The transfer speed remains almost constant during the process, indicating excellent HDD health and optimization.
Miscellaneous
The Sony HD B2 uses NTFS protocol for data storage, NTFS has several advantages over the FAT32 protocol such as faster access speeds and easy file recoverability.
Sony provides extensive software support for this portable HDD such as data transfer accelerator and password protection manager.
Encrypted with 256-bit AES security, your data inside this external hard disk will remain safe even if anyone tries to brute force the access drive without a valid password.
Verdict
If you are in search of a budget portable hard disk capable of high-speed data transfers, the Sony HD B2 is an excellent choice.
With the latest USB3.1 support and wider compatibility, this hard disk is capable of delivering your data storage needs with much-improved read and write speeds.
The device heats up at times
 Specifications
| | |
| --- | --- |
| Capacity | 2 TB |
| Interface | USB 3.1 |
| Encryption | 256-bit AES |
| Wi-Fi | No |
| Additional Notes | 3 Years warrantyse |
5. Transcend Storejet 25MC
HDD with USB Type-C Connector
Reversible Type-C connector

High-speed USB 3.1

Anti-shock protection
Transcend is a familiar brand for Indian customers with its low-cost USB pen drives in the market.
The Storejet 25MC is the company's take on a large-scale data storage medium with a 2TB capacity supplemented with high-speed USB3.1 technology with support for USB Type-C ports.
Design and Build Quality
The Transcend Storejet 25MC has a minimal design with the excellent build quality, offering the best of both worlds.
The two-tone colour finish is aesthetically pleasing to look at and makes the device stand out from the bunch.
The outer chassis of this portable hard drive has a soft silicone material coating which offers great grip while holding it in hand. This layer over the plastic made hard casing provides some sort of cushion for the impending shocks during an accidental fall.
There is also an internal suspension damper to minimize shocks to the drive that might result in data loss or corruption.
Storage
The Transcend Storejet 25MC comes with a 2TB storage capacity with support for USB3.1protocol for high-speed data transfer rates.
The improved bandwidth of USB3.1 enables this portable hard drive to achieve impressive real-life read and write speeds up to 150MB/s consistently. This is almost three times faster than USB2.0 counterparts.
Also, this hard disc being backwards compatible with legacy ports can be connected with older devices and can deliver impressive results.
Miscellaneous
The Transcend Storejet 25MC has a dedicated button on the chassis that enables one-touch backup when used along with the Transcend Elite software.
This is a very useful feature as it will save you a lot of time from manually configuring backups with third-party backup software.
The Type-C cable supplied along with the device will let you hook this budget portable hard disk into your laptop or smartphone with the compatible Type-C ports effortless.
Verdict
The Transcend Storejet 25MC is a capable data storage device with 2TB of capacity and support for USB3.1 high-speed data transfer.
The advanced features like shockproof operation and one-touch backup make this device a compelling product for purchase under a budget of Rs.10,000.
Data encryption for secure storage
One-touch auto-backup button
Transcend Elite data management software
Specifications
| | |
| --- | --- |
| Capacity | 2 TB |
| Interface | USB 3.1 |
| Encryption | 256-bit AES |
| Wi-Fi | No |
| Additional Notes | Advanced 3-stage shock protection system |
6. WD My Passport Wireless Pro
Wireless External Hard Disk
Streaming over the air
Best for media server purposes
256-bit AES data encryption
Ever dreamt of streaming data wirelessly to the external hard disk and back?
Well, the dream has come true with the Passport Wireless Pro from Western Digital.
The My Passport Wireless Pro is a 1TB Wi-Fi-enabled portable hard disk that can double up as a media server and a portable power bank as well.
Boxy Design that Looks Ordinary
The design of this futuristic portable hard disk is OK, to say the least.
The boxy design, we think emphasizes the practicality aspect rather than the eye-pleasing design.
On the front, there is a row of four blue LED indicators that notifies about the charge left in the device. Below that there are two LEDs indicating the connection status of the device as well.
The power button is located on the top. The button is quite big and responsive.
This portable wireless hard disk has a USB3.0 port and a regular USB2,0 port to connect with devices over the wire without making use of Wi-Fi.
There is an SD card reader on this device as well.
Wireless Access and 4K Streaming
This portable 1TB hard disk has built-in Wi-Fi that will let you connect to this device wirelessly and stream content from it.
You can connect up to 8 devices simultaneously and stream content without any sort of lags or stutters happening in between.
The wireless 802.11 ac Wi-Fi lets you transfer content from other Wi-Fi enabled devices such as cameras, smartphones or laptops quickly.
Using media software such as Plex, this device can be used as a portable media server at home where you can upload movies and watch them on your devices over the air.
Battery life and More
The WD Passport Wireless Pro has a 6400mAh battery pack inside. This will let this portable hard disk to last for about 10 hours of continuous usage.
What more special about this hard disk is that with the built-in USB2.0 port, you can double it up as a power bank and charge your smartphones and other devices as well.
Access Files from Anywhere
With WD's My Cloud App, this portable 1TB hard disk can be hooked up to a network at home or office and the files inside can be accessed from any part of the world seamlessly without any interruption.
Final Thoughts
If you want an all in one device with the properties of a portable hard disk, the WD Passport Wireless Pro is a great start.
Wireless operation enables movie/photo streaming over the network to simultaneous devices at once and thus being a perfect media server device at home.
The power bank option is also an added bonus which will let you stay powered even when you are away from the grid and your smartphone is about to die.
Doubles up as a power bank
Charging takes too much time
Specifications
| | |
| --- | --- |
| Capacity | 1 TB |
| Interface | USB 3.0 |
| Encryption | 256-bit AES |
| Wi-Fi | Yes |
| Additional Notes | 10 hours Battery Life |
Honorable Mention
3-years warranty

Up to 120MB/s transfer speeds

Seagate secure encryption
Seagate is an US-based data storage company popular for its consumer-level storage products in the Indian market.
The Seagate Ultra touch is one of the most popular budget 1TB wired external hard disks that have been in the market for quite a while.
Design and Build Quality
The Seagate Ultra touch sports an ultra-slim 11.7mm thick chassis made from a high-quality plastic material.
Apart from the Seagate logo and the neatly laid out status LED on the front, there aren't any sort add-ons on the exterior of this budget external hard disk.
This hard disk is very pocketable and weighs only 151g. The supplied micro USB to USB 3.0 cable is 46cm in length which is more than enough in most of the use-case scenarios.
Storage Capacity
This 1TB portable hard disk is intended for those who are looking for a supplementary storage device for use alongside their laptop or smartphone.
Phones and laptops these days come with sufficient internal storage and most of the users won't even utilize that in full.
If you're an average user, this hard disk can store all your documents and media files and still have some extra free space.
Miscellaneous
This portable hard disk is compatible with both USB 2.0 and USB 3.0 devices. The only difference is that the copying speed will be slower in the former than the latter, which is to be expected.
The Lyve app from Seagate helps you back up the contents of this drive into the cloud and access them anywhere, no matter the device – be it your laptop, smartphone or even your tablet.
Verdict
The Seagate Ultra touch is a budget 1TB hard disk which provides a convenient and portable data storage medium for budget-conscious Indian consumers.
Specifications
| | |
| --- | --- |
| Capacity | 1 TB |
| Interface | USB 3.0 |
| Encryption | 256-bit AES |
| Wi-Fi | No |
| Additional Notes | Seagate Secure Encryption |
That's it!
The buying list for the best portable hard disks in India comes to a conclusion here. We have tried our best to cherry pick the best.
We sincerely hope we did a pretty good job in making your purchase decision a bit easier than ever before.
If you've any queries or suggestions, do let us know in the comment section below. Last but not the least, thanks for visiting our site.
Have a great day ahead and Adios!