Honor is a sub-brand of the Chinese electronics giant Huawei known for its budget smartphones in the Indian market.
While the other Chinese counterparts started diversifying their product portfolio, Honor was relatively reserved and stuck their guns mostly to smartphones.
But that ends with the introduction of the all-new Honor MagicBook 15 – which competes directly with the Mi Notebook series laptops priced under Rs.50,000.
In this article, we'll review the MagicBook 15 from Honor that has been under testing for the past ten days at our office and list out our findings, what we liked and what we didn't so that you can have a complete idea about the product before making your final purchase decision.
Without any further ado, let's begin!
Design and Build Quality
In terms of design, the Honor MagicBook 15 is a stunner, we must admit.
Built from lightweight aluminium, the MagicBook 15 weighs just 1.53Kg, making it a very portable device to carry around in your backpack wherever you go.
The maximum thickness of this laptop at its thickest point is 16.9mm – making it one of the slimmest ultrabooks out there, comparable to the likes of LG Gram.
The chamfered edges of this ultrabook have been given an azure blue paint job, which imparts a unique, premium feel to this machine.
The blue azure colour scheme is also extended to the Honor logo in the back.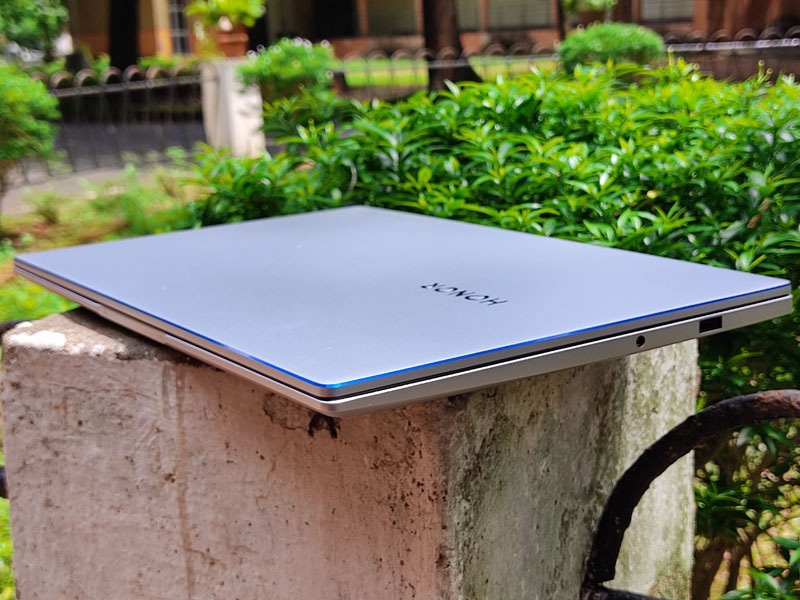 The keyboard deck on this ultrabook is very sturdy. Even with the minimum thickness, it doesn't exhibit any noticeable flex.
The trackpad is large and spacious.
Even though it is made from plastic, the touch response is excellent, thanks to the Windows precision driver support with gesture navigation.
Windows precision touchpad includes updated drivers and gesture navigation support from Microsoft which is well optimized to work with Windows OS for consistent, precise and responsive cursor pointing and clicking operations.
This trackpad does perform decently with palm rejection as well.
The exhaust fan grill is located on the bottom side along with the two downward-firing speaker grills.
Long rubber rails slightly raise the laptop from the ground, allowing these grills to remain unrestricted with their purpose.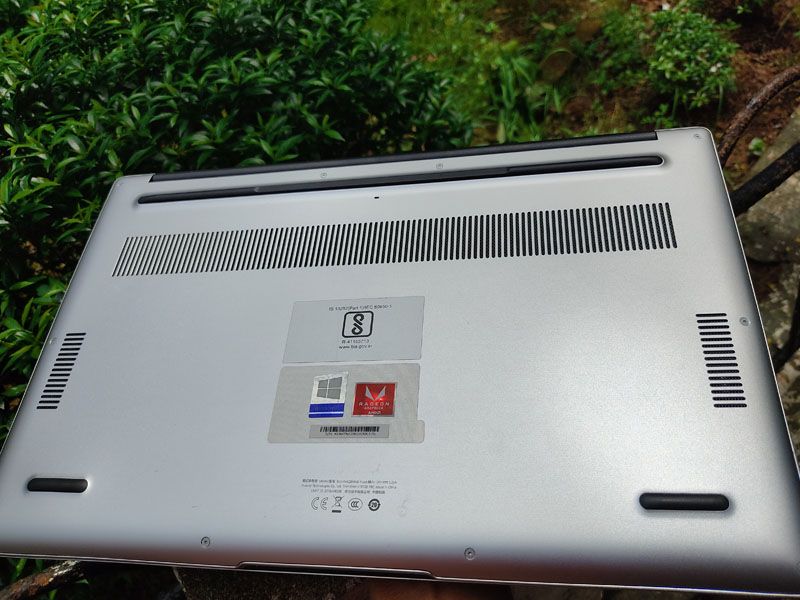 The one thing we have a small disappointment about is the weight distribution. You can't open the monitor lid of this ultrabook with a single finger like you would do on a Macbook.
But we know this is minor nitpicking at such a low price point, so it isn't a deal-breaker of any sorts.
Connectivity Features
The Honor Magicbook 15 has the following connectivity options onboard:
1 x USB 3.0 Type A
1 x USB 2.0 Type A
1 x HDMI
1 x 3.5mm jack
1 X USB Type C PD
Bluetooth v5.0
Dual-band Wi-Fi
Keyboard
The Honor MagicBook 15 has a spacious keyboard with keys resembling that of Macbooks from Apple.
These keys are well spaced and have decent key travel distance, good enough for the price you pay.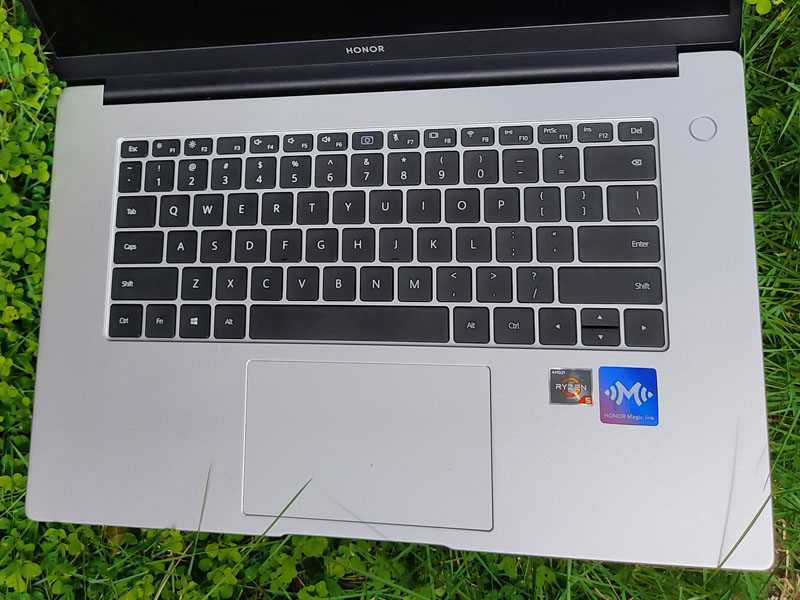 The silent keys can be a blessing if you do a lot of typing with your laptop – which is exactly what you get with the keyboard on this ultrabook.
There is no dedicated number pad on this keyboard if that's one thing you should know about.
With such a good keyboard in the mix, Honor should have included backlit functionality to enhance the usability, but unfortunately, it didn't.
The webcam is ingeniously tucked under a special key on the function key row layout which pops up when you press it. This is done citing the lack of enough space on the top bezel of the display.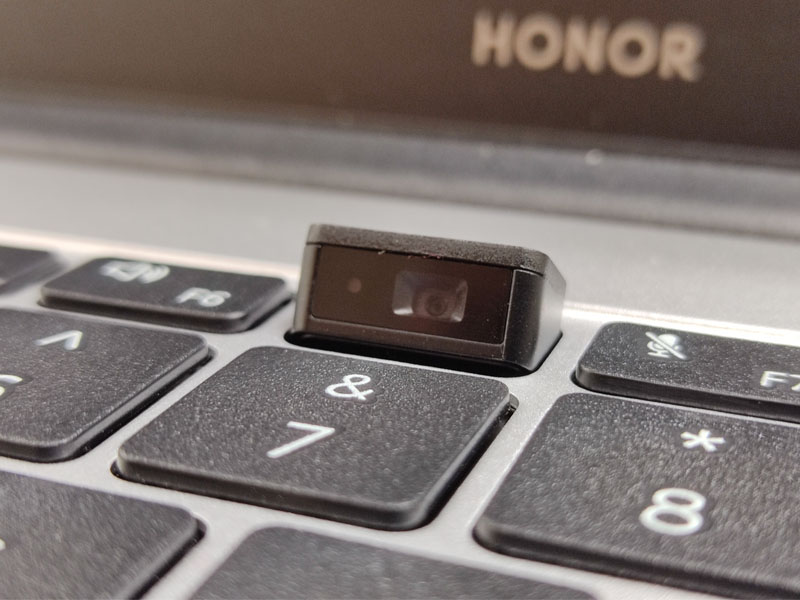 This pop-up camera has its share of advantages and disadvantages. Privacy is the first one that comes in our mind.
With the camera physically folded inside, you can be sure about the fact that no remote hacker can see you in person, no matter how clever he/she is.
The disadvantage of this camera placement is the odd angles at which you will have to talk with your friends/family/clients over video calls.
The microphone quality on this laptop is very much decent. It picks up the voice very well, providing a very delightful online call experience.
Display
The Honor MagicBook 15 features a 15.6-inch Full HD display with a 16:9 aspect ratio. With the native resolution of 1920 x 1080 pixels, this panel is very sharp and vibrant.
The colours appear natural and the brightness levels are on par when compared with other ultrabooks out there.
The outdoor screen legibility of this panel however is quite average to say the least.
This panel has an impressive screen to body ratio of 87%, delivering an immersive viewing experience.
The bezels on all three sides are very minimal and add to the premium feel of the laptop.
This display is an IPS panel with excellent viewing angles up to 178 degrees, without any colour shift when viewed from odd angles.
IPS ( In-Plane Switching) is a technology found on LCDs which improves the viewing angles and overall colour accuracy of the panel.
The matte finish coating on top of this display minimises the light glares and reflections. It also comes certified with TUV Rheinland for reduced blue light emission to keep your eyes safe and stress-free with prolonged exposure.
Processor and Performance
The Honor MagicBook 15 is powered by the powerful AMD Ryzen 5 3500U processor with a base clock speed of 2.1GHz with maximum boost speeds up to 3.7GHz.
This third-generation Ryzen CPU is a true quad-core processor with eight threads which is guaranteed to deliver excellent everyday performance.
The 8GB dual-channel DDR4 RAM is clocked at 2400MHz and runs the show pretty neat, even while multitasking with multiple tabs open.
The point here to note is that the RAM is not upgradable and you will be pretty much stuck at what Honor gave.
In our Cinebench R15 benchmarking tests, we found out that the Honor Magic Book 15 got scores as high as 660 cb, which is very much top tier for an affordable mid-range ultrabook to achieve.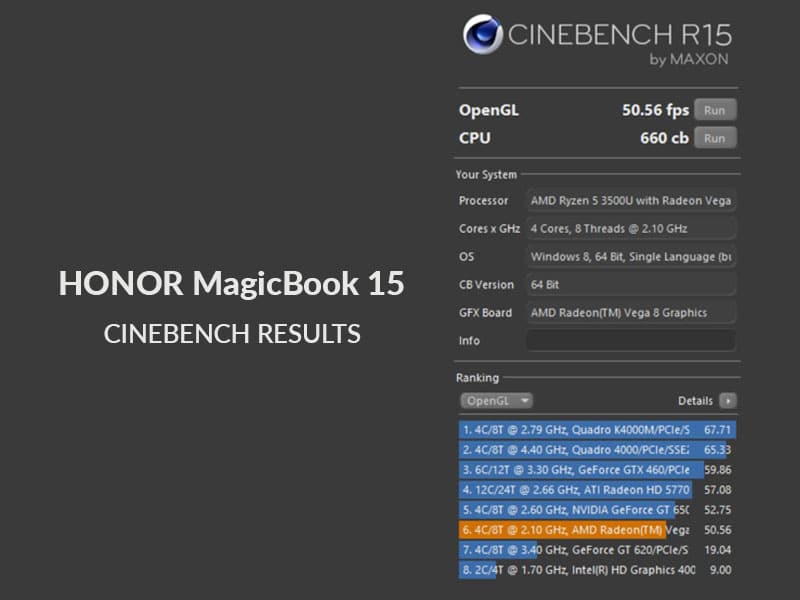 This CPU with 6MB cache memory is adequately powerful to run almost all the apps such as web browsers, media players, office suites, image editors etc with relative ease.
Cache is a smaller, faster memory located close to the processor for speedy access to the frequently used apps/data.
Application software such as Adobe Photoshop, Lightroom etc runs fine without any sort of lags or stutters.
The integrated Vega 8 graphics on this machine is very much powerful enough to handle graphics related tasks and can even run games such as CS Go smoothly with medium graphics settings.
The thermals don't get too much in the way of processor performance. The cooling fans run efficiently to keep this ultrabook silent and cool at the same time.
Storage
The Honor MagicBook 15 has a 256GB PCIe NVMe SSD which delivers astonishing data transfer speeds, considering its sub. Rs.50,000 price point.
The CrystalDiskMark software analysis of this SSD returned results that are nothing short of impressive, to say the least.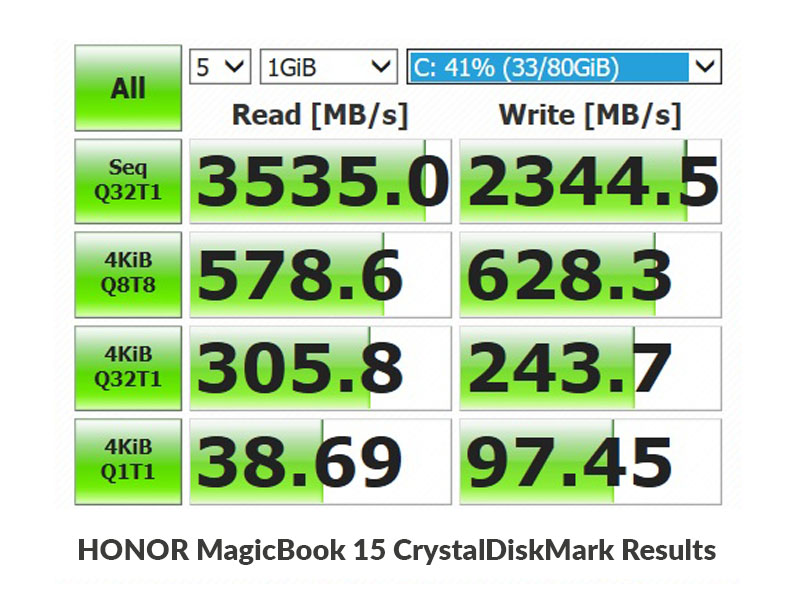 The read speeds were as high as 3535MB/s and the write speeds touched 2344.5MB/s, reassuring the fact that Honor has included a high quality, flagship-grade PCIe NVMe SSD storage with this device.
NVMe SSD'S are more than 5 times faster than SATA SSD's which is more common in other laptops in the same price range.
The bootup time, application loading, data transfers etc. are very quick, even when comparing this ultrabook with other SSD powered laptops in the sub. Rs.50,000 price segment.
Speakers
As we mentioned earlier, the dual speakers on this ultrabook are downward-firing but surprisingly loud and clear.
Unlike other laptops in this price segment, we feel the speakers on this machine have a much higher maximum volume limit.
There is no sound distortion to be heard from these speakers, even when playing media at the maximum volume.
However, we always suggest you purchase an external Bluetooth speaker for a much more bass-rich sound output.
Miscellaneous
The Honor Magicbook 15 comes with "Windows Hello" technology onboard.
Aided by an integrated fingerprint scanner on the power button, this laptop can be set to have biometric authentication for logging in to the system.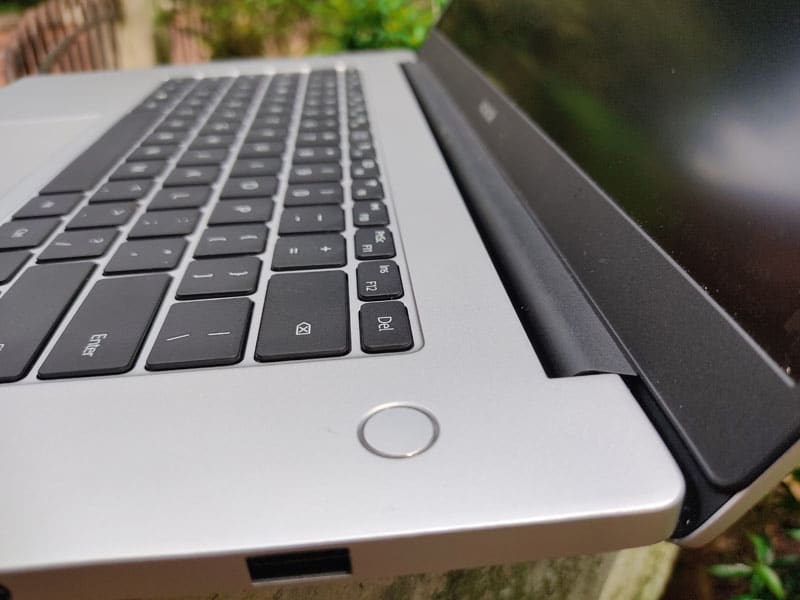 The included fingerprint scanner is very accurate and fast and takes virtually no time in recognizing the owner.
Honor has incorporated a homebrew software inside this ultrabook to enhance your laptop experience.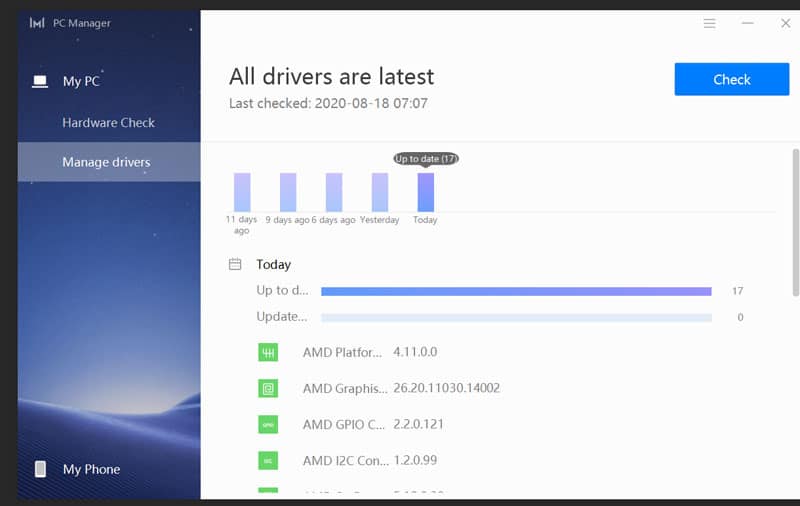 The PC manager app lets you have a quick overview of the software running the show, and prompts app and driver updates, available if any.
This will help you keep the machine up to date, running the recent version of drivers and utilities for the overall best performance.
The Honor magic link software will help you pair this ultrabook with a few selected Honor phones for seamless integration between your devices.
Battery Life
Honor advertises up 6 to 7 hours of battery life for the Magicbook 15, but in our real-life tests we found out that you will be getting anywhere from 5-6 hours of continuous screen usage with moderate brightness levels.
This is pretty much standard for an ultrabook with a Full HD display and a powerful quad-core processor inside.
The Honor Magicbook 15 features a USB type C charging port and comes bundled with a 65W fast charger which can juice up the battery roughly about 50% in under 30 minutes.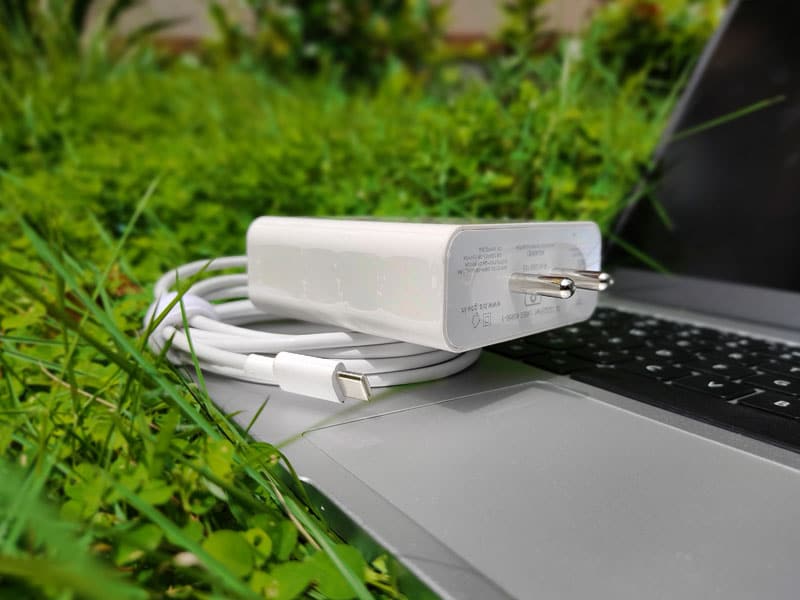 Since the USB Type C port is PD (power delivery) certified, you can charge this device with any compatible charger with USB type C but at reduced speeds.
USB Type C PD is a newer type C USB protocol that allows you to have much faster and versatile charging with compatible devices.
This fast charger can also be doubled up a smartphone charger.
Verdict
The Honor MagicBook 15 is one of the best ultrabooks that you can get your hands on for a budget under Rs.45,000.
If you are a student, a working professional or a casual user, the Honor MagicBook 15 delivers a truly unparalleled performance experience inside a lightweight compact package at an affordable price.
If you can live with small omissions such as the lack of a backlit keyboard, options for hardware expandability, lack of an SD card slot, this is probably the ultrabook you should spend your money on.
What we liked:
Robust aluminium alloy build
Lightweight and portable
Gorgeous FHD display with minimal bezels
Superfast PCIe NVMe SSD
Powerful AMD Ryzen processor
65W USB Type C fast charging
Secure fingerprint scanner
Very loud and clear speaker
What we didn't like:
No backlit keyboard
No hardware expandability
Average outdoor screen brightness
Weird webcam angle
Specifications
| | |
| --- | --- |
| Operating System | Windows 10 |
| SSD | 256 GB |
| HDD | – |
| RAM | 8 GB DDR4 |
| CPU | AMD Ryzen 5 -3500U |
| GPU | AMD Radeon Vega 8 |
| Display | 15.6 inch Full HD IPS Display |
| Battery Life | Up to 6 Hours |