Staying fit is a hard and tedious task in today's fast-moving lifestyle. Following a strict diet may not always be possible as our lives get busier and busier day by day.
Fitness trackers help balance our workout schedule and provide us with an up to date record of our exercise sessions in real-time.
Being one of the hottest selling products on the market right now, choosing one over thousands of fitness trackers is indeed a tedious task.
That's why we decided to bring you this curated list of the six best smart fitness bands in India priced just under Rs.3,000. Read along to know them!
Best Fitness Bands Under Rs.3,000
Note: The price shown are the once when we reviewed the products. However, as the promotional offers changes on the given E-commerce sites, the price may vary. Bettershark is supported by it's readers and when you buy through links on our site, we may earn an affiliate commission.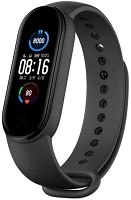 Bright and vivid OLED display
Accurate sensor data
Water-resistant up to 5 atm
BUY FROM AMAZON
Pros
Lightweight and comfortable
Easy strap on the magnetic charger
Feature-rich Mi Fit app
Mi Band 5 is the newest iteration of the popular Mi fitness smart band series.
This affordably priced smart wearable brings in many new useful features to the table which was lacking with the Mi band 4.
Is Mi band 5 a worthy upgrade to band 4? Let's see.
Design and Build Quality
The overall design of the Mi band 5 remains the same as that of the Mi Band 4. The silicone strap is as lightweight and skin-friendly as before.
This band is available in multiple colours for you to choose from, depending upon your personal preference.
The Mi band 5 case is made from plastic material, which feels quite okay in terms of build quality.
The 2.5D reinforced glass covering for additional protection and the anti-fingerprint coating adds to the build quality.
Display
The display on the Mi band 5 is slightly bigger than the one on its predecessor. When compared with the 0.95-inch display on the Mi Band 4, the Mi band 5 features a 1.1-inch display.
This improved screen real estate helps with easier screen navigation and UI visibility.
This is an AMOLED display with vivid, punchy colours and inky deep blacks, which is one of the highlights of this fitness band.
The display on this Mi band 5 has a peak brightness of 450 nits, which is 50 nits higher than the Mi band 4, making it much easier to use under direct sunlight.
This is a touch screen with good touch response and also has a capacitive button in the bottom portion which acts as the home button.
Sensors
The Mi band 5 features a 24×7 heart rate monitor which the company claims is at least 30% more accurate than the one on the Mi Band 4.
There is also a 3-axis accelerometer and a 3-axis gyroscope for precise workout measurements.
Miscellaneous
The Mi band 5 supports tracking of up to 11 different sports modes including yoga, swimming and jogging.
Since this smart band is certified to be water-resistant up to 5atm, you can use it outdoors in the rain without the fear of getting damaged.
The smart notifications including messages and calls from the smartphone work in real-time, without any delay.
This smart band can also be doubled up as a remote shutter button and media controller.
Battery Life
Mi bands are usually well known for their stellar battery life. The Mi band 5 with all its improved sensors will last you up to 14 days on a single charge.
One important thing to note here is that you no longer need to separate the band body from the strap to charge it.
Mi band 5 introduces a magnetic clip on a cradle charger which is significantly more convenient to charge than the previous versions of the Mi band.
Verdict
The Mi band 5 is one of the best budget smart fitness bands that you can get your hands on for under Rs.3,000.
The gorgeous OLED screen, snappy performance and accurate sensor data make this fitness band one of the best in the business.
Specifications
| | |
| --- | --- |
| Heart Rate | Yes |
| Display Size | 1.1 inch |
| Battery | 14 Days |
| IP Rating | 5ATM |
Intuitive user interface
Heart rate and SpO2 monitor
5ATM water resistance
BUY FROM FLIPKART
Pros
Elegant design
Long battery life
Multiple sports modes
Cons
Average quality straps
Realme is a popular Chinese brand that came out of the tech giant Oppo in the year 2018. It is mostly known for its budget smartphones but it also deals with wearables, accessories, and other gadgets.
Realme Band 2 is an affordable fitness band that features a big screen and a big battery with an elegant design.
Design and Build Quality
The Realme Band 2 looks more like a smartwatch than a fitness band, thanks to the big colour display it has. It features a rectangular design with a sleek body that is connected to a pair of silicone straps.
The straps are of average quality and are sometimes uncomfortable enough to be worn for a very long time. It weighs around 27.3 grams and is 5ATM water-resistant which means it can withstand water submersion for up to 50 meters.
Display
The Band 2 from Realme features a 1.4-inch colour display that offers a resolution of 167 x 320 pixels with a peak brightness of 500 nits.
The display is pretty bright and offers good viewing angles which makes it easily visible in both indoor and outdoor lighting conditions.
This is a touchscreen display with a single touch button that can be used to interact with the interface. The user interface of the band is pretty easy to use and understand. It works fluently without any lags.
Health Tracking
The Realme Band 2 is one of the most health-centric fitness bands in this segment. It comes packed with heart rate monitoring, sleep tracking, automatic steps counter, water drinking reminders, and sedentary reminder.
It also has stress measurement capabilities which is an important feature to have. It comes with 90 sports modes which can help you out track your different physical activities.
Features
The band uses Bluetooth to pair up with your smartphone and comes with an app called Realme Link which will be used to synchronize data with your fitness band.
This fitness band provides 50 band faces that you can choose according to your liking. You can even choose to make your custom band faces by uploading a picture from your smartphone.
Other features include music control, camera control, weather forecast, and alarms. This budget fitness band also supports Smart AIoT Control which allows you to control the AIoT products directly from your wrists.
Battery Life
The Realme Band 2 is powered by a 204 mAh battery pack that can make the band last for up to 12 days on a single charge.
It comes bundled with a magnetic charger that snaps to the back of the band and charges it up in about 1 hour.
Verdict
The Realme Band 2 is a stylish band with a lot of health-centric features. The display offers very good outdoor visibility and viewing angles.
The band looks very good and is pretty lightweight too. Although the silicone straps are not very comfortable, you can replace them at your will, so that is not much of an issue.
Specifications
| | |
| --- | --- |
| Heart Rate | Yes |
| Display Size | 1.4 inch |
| Battery | 12 days |
| IP Rating | 5ATM |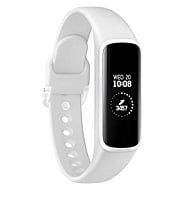 Value for Money Fitness Band
Decent OLED display
Six-day battery life
Water-resistant up to 50m
BUY FROM AMAZON
Pros
Brand reliability
Robust build quality
Vibration feedback
Cons
Not a full-fledged touch display
Samsung Galaxy Fit E is the cheapest wearable device from Samsung released recently in the Indian market.
This fitness band from Samsung offers excellent value for money features at such an affordable price tag.
Design and Build Quality
The Samsung Galaxy Fit E has a similar active fitness tracker design which resembles most other devices in its price range.
The removable strap is made from PU and is very lightweight and comfortable to wear.
The whole tracker weighs just 15g and one won't even notice this device on his/her wrist.
The fit and finish, being a Samsung product is right on point and couldn't have been better.
Display
The Samsung Galaxy Fit E comes with a 0.74-inch POLED display with a resolution of 128 x 64 pixels.
This black and white display offers decent brightness and being an OLED display, has excellent contrast levels with deep blacks and popping whites.
This is not a touch screen but you can tap on the screen to cycle between the screens.
Sensors
Samsung has included a heart rate sensor and an accelerometer in this budget fitness band.
The heart rate monitor is decently accurate for causal fitness purposes. The built-in accelerometer detects your movements and track steps as well as aid in features such as raise to wake.
Don't always depend on the heart rate sensor for medical purposes. Please visit a certified doctor for accurate analysis.
Miscellaneous
The Samsung Galaxy Fit E can be controlled via the Samsung Health app on your smartphone.
Available in both the play store and iOS store, this feature-rich app lets you control the tracker right from your smartphone without much hassle.
This entry-level smart fitness band from Samsung features vibration feedback for alarms and notifications.
Battery Life
The Samsung Galaxy Fit E has a 70mAh battery inside to power the display and the sensors.
This battery will last for about 6 days on a single charge and takes about 2 hours to charge from empty to a hundred per cent.
Verdict
Samsung Galaxy Fit E is a feature-rich, yet affordable fitness band priced competently under Rs.3,000.
With the robust build quality and decent battery life, this OLED display tracker will prove to be a worthy companion in your fitness exercises.
Specifications
| | |
| --- | --- |
| Heart Rate | Yes |
| Display Size | 0.74 inch |
| Battery | 13 days |
| IP Rating | 5ATM |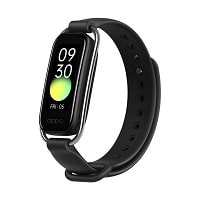 Excellent fit and finish
Long-lasting battery
Accurate sensor data
BUY FROM AMAZON
Pros
Premium design
Feature-rich companion app
24*7 blood oxygen monitor
Cons
Buckle style strap looks a bit fancy
Oppo launched its first budget fitness tracker alongside the Oppo F19 Pro+ 5G smartphone in the Indian market recently.
Oppo has pegged this band to compete with the likes of Mi Band and Honor Bands in the sub-Rs. 3,000 price segment.
Design and Build Quality
Oppo makes some of the best-looking smartphones, period. The story is no different in the case of this fitness band as well.
The unique buckle style design of the strap makes this band stand out from its competition.
For those who don't like the buckle style strap, Oppo has included a regular strap in the box.
The lightweight construction of this band doesn't mean Oppo has done any compromise with the build quality.
The fit and finish of this smart band are some of the best in its price segment.
Oppo claims that this budget fitness smart band is water-resistant up to 5atm, making it usable pretty much in any condition.
Display
The Oppo band Style features a 1.1- inch colour AMOLED display upfront.
This display has sufficient pixel density to make the visuals and text appear sharp and clean without any jagged edges.
The touch response of this display is near-instantaneous which adds to the overall positive experience.
The 2.5D glass blends seamlessly with the strap, providing a luxurious in-hand feel.
Features
The Oppo band Style comes with a 24*7 heart rate and blood oxygen rate monitor.
The blood oxygen monitor is very useful in these times of the covid pandemic to let you know if there is anything abnormal with your well being.
When paired with the smartphone, you will receive calls and message notifications on this band.
You can also control the smartphone music player with the built-in remote in this smart band.
Oppo has given support for 12 different sports modes including cricket, jogging and running. With this, you can track your workout sessions accurately.
The sleep monitor function lets you analyse the quality of your sleep and make changes accordingly.
Miscellaneous
This smart band can be controlled with the help of the HeyTap app that can be downloaded from the Play Store.
You can download various watch faces and set the one which suits your aesthetics from this app easily.
Battery Life
Oppo claims that the Oppo style band will last for up to 12 days on a single charge.
In reality, expect this number to be anywhere from 8-10 days depending on your use.
Verdict
The Oppo band Style is a well-built budget smart band with a gorgeous OLED display, accurate sensors and a long-lasting battery life.
Specifications
| | |
| --- | --- |
| Heart Rate | Yes |
| Display Size | 1.1 inch |
| Battery | 12 days |
| IP Rating | 5ATM |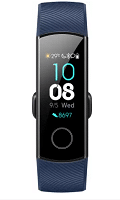 Feature-rich Fitness Band
Decent build quality
Affordable pricing
Heart rate monitoring
BUY FROM FLIPKART
Pros
Accurate tracking
Bright display
Comfortable to wear
Cons
Average battery life
Honor is a Chinese brand that is mainly popular for its feature-rich smartphones and was initially owned by the tech giant Huawei.
Honor Band 4 is another elegant-looking feature-rich fitness band that has good fitness tracking capabilities and is offered at affordable pricing.
Design and Build Quality
The Honor Band 4 features a fresh design with a sleek and lightweight capsule. It is a capsule that needs to be attached to single-connected straps. The straps are very comfortable, which makes it easier to wear them for long hours.
The overall build quality of the band is good. The Honor band 4 is 5ATM water-resistant which means you don't need to take it out of the showers or in between your swimming sessions.
Display
The Band 4 comes with a 0.95-inch AMOLED screen which offers a resolution of 240 x 120 pixels.
The display is also protected by a layer of toughened glass which protects it from minor scratches and accidental drops.
The brightness it offers makes it visible in all sorts of lighting conditions including bright outdoor lighting.
The display is touch-controlled which is another impressive thing about this band. It also has a touch-capacitive button that seats right under the display and helps with various things.
Health Tracking
The Honor Band 4 has a heart rate tracker like other bands on our list. It works well and offers pretty accurate results. It can also track your sleep cycles and offer you stats about them when you wake up.
This budget fitness band also has other basic health tracking options like steps tracking, calories tracker, and 24 / 7 exercise tracking. It even has dedicated exercise tracking options like running, cycling, treadmill, etc.
Features
The band is compatible with Android and iOS devices and uses Bluetooth for pairing. It uses an app called Huawei Health for connecting it with your smartphone.
This band comes loaded with multiple band faces that can be changed using the smartphone application.
The Honor Band 4 can also wake you up with its vibration if you have set any alarms. It also shows app notifications, call notifications, weather reports and has features like locating your phone.
Battery Life
The Honor Band 4 is powered by a 100 mAh that can last for up to 17 days on a single charge which sounds very impressive but you will have to give up all the advanced features in exchange for that. On regular usage, it can last for up to 6 days.
Verdict
The Honor Band 4 is a decent fitness band with great and accurate fitness tracking options. It comes with comfortable straps and is comfortable for wearing even for long hours.
It offers a decent battery life of 6 days which can be extended for up to 17 days by turning off the majority of the features.
Specifications
| | |
| --- | --- |
| Heart Rate | Yes |
| Display Size | 0.95 inch |
| Battery | 17 days |
| IP Rating | 5ATM |
Pros
Personalized coaching
Affordable pricing
Water-resistant
GOQii is an Indian fitness brand that is based in California, USA, and offers fitness products along with personalized remote fitness coaching.
GOQii Beat is an affordable fitness tracker which comes with basic fitness tracking features like heart rate tracking and activity tracking.
Design and Build Quality
The Beat comes with a plastic body and a generic fitness tracker design. The tracker module is rectangular shaped and the design is pretty minimal. The display module blends with the body seamlessly.
The band needs to be attached with a pair of TPU straps that comes along with it out of the box. It weighs around 22.1 grams and is comfortable enough to be worn for long hours. The band is water-resistant but does not come with any specific IP rating.
Display
This budget fitness band comes with a color display that has thick bezels around it.
The display is pretty small but when it is turned off, it merges nicely with the body almost making it unnoticeable.
It does not support touch controls, instead has a touch-capacitive button that sits under the display and works with single taps.
The display is fairly bright and is easily readable under normal lighting conditions. Outdoor lighting conditions do make it difficult to read which is a general issue in this price segment.
Health Tracking
This band has all the basic fitness tracking capabilities which we can expect from a fitness band in the Rs.3,000 budget segment.
It can track various physical activities along with heart rate monitoring and calorie calculation.
This band can also count your total steps taken. It does not offer the best fitness tracking options in the segment but has unique features that other bands do not have.
GOQii offers an optional subscription service through which they offer services like personalized coaching and doctors on call.
Features
This fitness band uses Bluetooth to pair itself with your smartphone. It comes with a dedicated application that can keep track of your activities and keep it synchronized with your smartphone.
It can also display your phone notifications directly on its screen which is a pretty handy feature.
Battery Life
The Goqii beat fitness band will last up to 7 days on a single charge. The band comes with a dedicated USB-A port that simply needs to be revealed by removing one of the straps and then it can be connected to any USB port. This mechanism makes charging hassle-free.
Verdict
GOQii Beat is a decent fitness band that has basic fitness tracking capabilities and comes at an affordable price.
The unique feature of the band is the services with which it comes along. If the personalized coaching and other services offered by GOQii pleases you then this is a good choice for you.
Specifications
| | |
| --- | --- |
| Heart Rate | Yes |
| Display Size | 0.88 inch |
| Battery | 7 days |
| IP Rating | Yes |
This is it! Our hunt for the six best fitness trackers in the Indian market priced under Rs.3000 comes to an end here.
If you didn't find the one that will satiate the fitness nerd in you, do remember to check out our Best fitness trackers priced under Rs.2,000 for much more affordable pickings.
Let us know your thoughts in the comment section below and feel free to voice your concerns and criticisms. As always, thanks for your time and have a great day ahead!