Staying fit is a hard and tedious task in today's fast-moving lifestyle. Following a strict diet may not always be possible as our lives get busier and busier day by day.
Fitness trackers help balance our workout schedule and provide us with an up to date record of our exercise sessions in real-time.
Being one of the hottest selling products on the market right now, choosing one over thousands of fitness trackers is indeed a tedious task.
That's why we decided to bring you this curated list of the six best fitness trackers in India priced just under Rs.3,000. Read along to know them!
Best Fitness Bands Under Rs.3,000
Note: The price shown are the once when we reviewed the products. However, as the promotional offers changes on the given E-commerce sites, the price may vary. Bettershark is supported by it's readers and when you buy through links on our site, we may earn an affiliate commission.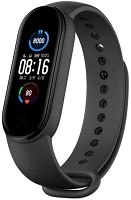 Bright and vivid OLED display
Accurate sensor data
Water-resistant up to 5 atm
BUY FROM AMAZON
Pros
Lightweight and comfortable
Easy strap on the magnetic charger
Feature-rich Mi Fit app
Mi Band 5 is the newest iteration of the popular Mi fitness band series.
This affordably priced smart wearable brings in many new useful features to the table which was lacking with the Mi band 4.
Is Mi band 5 a worthy upgrade to band 4? Let's see.
Design and Build Quality
The overall design of the Mi band 5 remains the same as that of the Mi Band 4. The silicone strap is as lightweight and skin-friendly as before.
This band is available in multiple colours for you to choose from, depending upon your personal preference.
The Mi band 5 case is made from plastic material, which feels quite okay in terms of build quality.
The 2.5D reinforced glass covering for additional protection and the anti-fingerprint coating adds to the build quality.
Display
The display on the Mi band 5 is slightly bigger than the one on its predecessor. When compared with the 0.95-inch display on the Mi Band 4, the Mi band 5 features a 1.1-inch display.
This improved screen real estate helps with easier screen navigation and UI visibility.
This is an AMOLED display with vivid, punchy colours and inky deep blacks, which is one of the highlights of this fitness band.
The display on this Mi band 5 has a peak brightness of 450 nits, which is 50 nits higher than the Mi band 4, making it much easier to use under direct sunlight.
This is a touch screen with good touch response and also has a capacitive button in the bottom portion which acts as the home button.
Sensors
The Mi band 5 features a 24×7 heart rate monitor which the company claims is at least 30% more accurate than the one on the Mi Band 4.
There is also a 3-axis accelerometer and a 3-axis gyroscope for precise workout measurements.
Miscellaneous
The Mi band 5 supports tracking of up to 11 different sports modes including yoga, swimming and jogging.
Since this smart band is certified to be water-resistant up to 5atm, you can use it outdoors in the rains without the fear of getting damaged.
The smart notifications including messages and calls from the smartphone work in real-time, without any delay.
This smart band can also be doubled up as a remote shutter button and media controller.
Battery Life
Mi bands are usually well known for their stellar battery life. The Mi band 5 with all its improved sensors will last you up to 14 days on a single charge.
One important thing to note here is that you no longer need to separate the band body from the strap to charge it.
Mi band 5 introduces a magnetic clip on a cradle charger which is significantly more convenient to charge than the previous versions of the Mi band.
Verdict
The Mi band 5 is one of the best budget fitness bands that you can get your hands on under Rs.3,000.
The gorgeous OLED screen, snappy performance and accurate sensor data make this fitness band one of the best in the business.
Specifications
| | |
| --- | --- |
| Display | 1.1-inch AMOLED |
| Battery Life | Up to 14 Days |
| Water Resistance | Yes, up to 5atm |
| Heart Rate Sensor | Yes |
| Strap | TPU |
0.95-inch OLED colour display
Up to 14 days of battery life
Accurate sleep tracking
BUY FROM AMAZON
Pros
Up to 50m water resistance
Multiple watch faces
Easy to use Huawei health app
Cons
Remote shutter works with Honor devices only
The Honor Band 5 is a minor update to its predecessor the popular Honor band 4.
Priced under Rs.3,000, this is one of the feature-rich smart fitness trackers available in India with one of the best sleep tracking algorithms.
Design and Build Quality
The Honor band 5 looks and feels much more premium than the Mi band 4 honestly.
The rectangle-shaped dial is very practical and the extra width of the same helps ineffective use of screen real estate.
The textured silicone trap is thick enough to withstand rough usage without fail. The belt lock mechanism ensures a tight fit around the wrist as well.
Even though the charging is via the pogo pins, the special cradle charger doesn't require you to remove the tracker module from the strap-like in the case of Mi band 4.
The Honor band 5 is water-resistant up to 5atm, making it suitable for outdoor usage even in adverse weather conditions.
Display
The Honor Band 5 features a 0.95-inch OLED colour touchscreen display with a pixel density of 282ppi.
This display is bright enough for effortless outdoor usage. The colours look vivid and punch and the contrast levels are excellent.
Thanks to the sensitive touch screen panel, menu navigation is very intuitive. There is a capacitive button at the bottom of the display to go back to the main screen from within any menu item on a single tap.
Honor has included multiple watch faces which can be swapped according to your preference.
Sensors
The Honor band comes with a dynamic heart rate sensor and SpO2 monitor onboard.
This heart rate sensor can be turned on for real-time tracking if you wish to have that but at the expense of battery life.
The data from these sensors are reasonably accurate for non-medical use cases.
Sleep tracking is one area where the Honor band excels. The Huawei Trusleep algorithm tracks sleep much better and accurate than almost all other fitness trackers in this price segment.
Miscellaneous
The Huawei Health app is thoughtfully designed to show you the summary of aggregated data from the tracker in a very intuitive manner.
The Honor band 5 features smart music and media controls that will let you control your smartphone music player, right from the tracker itself.
You can see incoming call and message notifications directly on this band, thanks to the smart notifications feature.
Battery Life
Honor claims this smartband to last for up to 14 days on a single full charge.
But in a realistic use case scenario, expect to get anywhere between 8-10 days of moderate usage.
The Honor band 5 can be charged using the supplied charging dock in a jiffy.
Verdict
Honor band 5 is a budget smart fitness band with the decent build quality and good sensor accuracy.
This fitness tracker is the best out there in terms of sleep tracking under a budget of Rs.3,000.
Specifications
| | |
| --- | --- |
| Display | 0.95″ POLED display |
| Battery Life | Up to 14 Days |
| Water Resistance | Yes, up to 50m |
| Heart Rate Sensor | Yes |
| Strap | Silicone |
Pros
Comfortable TPU band
Lightweight form factor
Intuitive OnePlus health app
Cons
Average sleep tracking performance
OnePlus is the latest brand to foray into the fitness band market in India. The OnePlus Band is the rebranded Oppo Band that was released recently in China.
Priced at just Rs.2,499, the OnePlus Band is pitted against the Mi Band 5 from Xiaomi and the Honor Band 5 from Huawei.
Design and Build Quality
The design of the OnePlus Band is similar to most other budget fitness trackers available in the market at present.
The dual colour silicone rubber strap with a lined pattern makes the OnePlus band look a bit distinct from other smart bands in the segment.
The pill form factor dial is housed inside the strap as a separate component and can be taken out if you need to change the strap or charge the device.
The fit and finish of the OnePlus band are satisfactory for the asking price and this fitness band as a whole feels well built and durable.
Display
The OnePlus Band features a 1.1-inch AMOLED touch screen display with a resolution of 126 x 294 pixels.
This gorgeous OLED display can be termed as the best display on a fitness band that is available in the sub. Rs.3,000 price bracket.
The inky deep blacks and the vivid colours that pop out from the display makes the whole UI experience very pleasing and intuitive.
The display brightness can be manually adjusted, which at 100% performs fairly decent under direct sunlight.
Sensors
The OnePlus Band comes packed with all the necessary sensors onboard such as the accelerometer, dynamic heart rate sensor, SPo2 sensor and Gyroscope.
The optical sensors on this smart fitness tracker from OnePlus returns accurate data about the heart rate and blood oxygen saturation levels.
One metric that is inaccurate with this smart band is sleep tracking. Maybe with a couple of software updates, this will be fixed in the future.
There are multiple sport modes supported by this fitness band for accurate tracking of exercise data.
The OnePlus health app, once again with an uncanny resemblance to the Oppo health app displays these metrics in an easy to understand, intuitive manner.
Miscellaneous
The OnePlus Band is IP68 dust and water resistance certified. This makes this band ideal for use in tropical conditions in the Indian subcontinent.
This device supports functions such as remote control, shutter remote and phone finder, which are desirable features for a budget smart fitness tracker to have.
Battery Life
The OnePlus Band is powered by a 100mAh Li-Po rechargeable battery rated to last for 14 days on a single charge.
Depending on the use of sensors and the display brightness level, you can expect this number to vary significantly.
One drawback of the OnePlus Band is that the dial has to be separated from the strap and inserted inside the pogo pin charger to juice it up, which is quite a hassle.
Verdict
The OnePlus Band is an ideal alternative to the Mi Band 5 and Honor Band 5 in terms of sensor accuracy and display quality.
Knowing the brand OnePlus, the continued software support and feature additions will make this band a good investment for sure.
Specifications
| | |
| --- | --- |
| Display | 1.1-inch AMOLED |
| Battery Life | Up to 14 days |
| Water Resistance | IP68 |
| Heart Rate Sensor | Yes |
| Strap | TPU |
Pros
Brand reliability
Robust build quality
Vibration feedback
Cons
Not a full-fledged touch display
Samsung Galaxy e Fit is the cheapest wearable device from Samsung released recently in the Indian market.
This fitness band from Samsung offers excellent value for money features at such an affordable price tag.
Design and Build Quality
The Samsung Galaxy e Fit has a similar active fitness tracker design which resembles most other devices in its price range.
The removable strap is made from PU and is very lightweight and comfortable to wear.
The whole tracker weighs just 15g and one won't even notice this device on his/her wrist.
The fit and finish, being a Samsung product is right on point and couldn't have been better.
Display
The Samsung Galaxy e Fit comes with a 0.74-inch POLED display with a resolution of 128 x 64 pixels.
This black and white display offers decent brightness and being an OLED display, has excellent contrast levels with deep blacks and popping whites.
This is not a touch screen but you can tap on the screen to cycle between the screens.
Sensors
Samsung has included a heart rate sensor and an accelerometer in this budget fitness band.
The heart rate monitor is decently accurate for causal fitness purposes. The built-in accelerometer detects your movements and track steps as well as aid in features such as raise to wake.
Don't always depend on the heart rate sensor for medical purposes. Please visit a certified doctor for accurate analysis.
Miscellaneous
The Samsung Galaxy e Fit is controlled via the Samsung Health app on your smartphone.
Available in both the play store and iOS store, this feature-rich app lets you control the tracker right from your smartphone without much hassle.
This entry-level smart fitness band from Samsung features vibration feedback for alarms and notifications.
Battery Life
The Samsung Galaxy e Fit has a 70mAh battery inside to power the display and the sensors.
This battery will last for about 6 days on a single charge and takes about 2 hours to charge from empty to a hundred per cent.
Verdict
Samsung Galaxy e Fit is a feature-rich, yet affordable fitness band priced competently under Rs.2000.
With the robust build quality and decent battery life, this OLED display tracker will prove to be a worthy companion in your fitness exercises.
Specifications
| | |
| --- | --- |
| Display | 0.74″ POLED |
| Battery Life | 6 days |
| Water Resistance | Up to 50m |
| Heart Rate Sensor | Yes |
| Strap | Silicone |
Subscription-Based Fitness Tracker
OLED display with good readability
Fairly accurate sensor results
Body temperature detection sensor
BUY FROM AMAZON
Pros
Smart notification alerts
Accurate blood pressure monitor
Personal coaching assistance
Cons
Might feel a bit bulky for those with thin wrists
GOQii is a popular fitness technology company that provides fitness-based personalized coaching along with their fitness tracking devices on a subscription-based model.
The company has some of the most affordable fitness trackers in the market that comes with a lot of sensors that aids in providing a complete health report via the app.
Design and Build Quality
The GOQii Vital 3.0 fitness band is designed in California and looks similar to the low budget fitness tracker sibling, the original GOQii band which is a fitness tracker that costs less than Rs.2000.
The strap of this fitness band is made of soft rubber and is very comfortable to wear on your wrist. The clip mechanism on this strap is similar to the one found on smartwatches.
The fitness tracker module sits flush with the band and can be removed by pushing it out of the centre cradle by applying a little bit of pressure.
Be sure to be careful while doing this as severe pushing might harm the strap of the display of the tracker.
Display
The GOQii vital 3.0 comes equipped with a 0.8-inch OLED colour display that has a vertical orientation.
The display is bright and sharp with excellent colour reproduction. The texts appear sharp and look nice on the pitch-black background.
The coloured icons feel much more intuitive than the black and white ones and offer a great immersive experience interacting with the device.
Sensors
GOQii devices always come with a lot of health-related fitness sensors no matter what the budget is.
The GOQii Vital 3.0 comes with an advanced dynamic heart rate sensor and a blood pressure monitor.
The measurements from these sensors are synced with the GOQii app on your smartphone and the app provides a detailed report on your health conditions based on the reading from those sensors.
This device comes loaded with an exercise mode, which tracks metrics such as steps taken, calories burnt and distance covered.
This feature helps you set a target in advance and keep track of your progress.
Additionally, this smart band features a body temperature detection sensor that will be very useful in these Covid pandemic times.
Miscellaneous
GOQii Vital 3.0 isn't just a fitness tracker. The GOQii app comes with a lot of in-house services such as a personalized fitness coach who will review the data from the sensors and suggest ways to improve your fitness and health. However, this service comes under a subscription fee which you're free to opt-in or opt-out of.
If you're serious to have dedicated professional advice for your workouts, then paying for the subscription is well worth it.
Similar to other smart bands, the GOQii vital 3.0 can display notifications from your smartphones such as calls and texts.
Third-party applications such as Whatsapp can be configured to send alerts to the tracker as well.
This device comes bundled with a three months free subscription to personal coaching to your workout exercises.
Battery Life
With all the sensors stuffed in and the colourful OLED screen, the battery life isn't a let down on the lower side with this device.
On a single charge, the GOQii Vital will last up to 7 days with the sync turned on all the time.
The tracker module comes with a USB port built-in. This makes the device easy to charge directly from a power source such as a power bank or a laptop without requiring a separate charger.
Verdict
The GOQii Vital 3.0 is one of the full-fledged fitness trackers available in the market.
Loaded with sensors such as a dynamic heart rate monitor and blood pressure sensor, this device comes at the top of our list due to its feature-rich app which provides a detailed report on your health condition.
Option to interact with a live specialist for your doubts and suggestions is also a great value add-on even if it costs a couple of hundred rupees extra.
Specifications
| | |
| --- | --- |
| Display | 0.8″ OLED colour display |
| Battery Life | up to 7 days |
| Water Resistance | Yes |
| Heart Rate Sensor | Yes |
| Strap | Soft rubber |
Dynamic heart rate monitoring
Excellent sleep tracking
Up to 7 days of battery life
BUY FROM FLIPKART
Pros
Responsive touch screen
Full-fledged Huawei companion app
Direct plug and charge feature
Cons
Low-resolution display
The Honor Band 5i is the younger sibling of the Honor Band 5, which competes with the Mi Band 5 neck to neck.
Priced at just Rs.2,149, the Honor Band 5i has cut some corners in terms of hardware concerning Honor Band 5 but has all the necessary sensors on board.
Design and Build Quality
The Honor Band 5i looks and feels almost identical to the bigger brother Honor Band 5.
Apart from the slight design change of the TPU strap and the screen technology, nothing much seems different with this smart band.
Honor touts the plug and charge feature of the Honor Band 5i which is nothing but just a built-in USB port on the dial.
This will let you charge the device by removing one end of the strap and directly plugging in the band to any USB type-A port – be it on your laptop or a power bank.
Display
This is one area where Honor has cut the price of the Band 5i with regards to the original Honor Band 5.
The entry-level Honor Band 5i features a 0.96-inch TFT LCD touchscreen with a resolution of 160 x 80 pixels.
There is also a capacitive button beneath the display to return to the main screen from any sub-menus.
While the touch response and the colours of this display are decent, the lower resolution makes the visuals and text a little choppy and pixelated.
The brightness levels are decent to say the best, legible enough in direct sunlight.
Sensors
Honor hasn't skimped on any sensors with this budget smart fitness band priced around Rs.2,000.
There are the regular heart rate monitor, Sp02 sensor and five-axis accelerator sensor to track steps and motion.
The heart rate sensor can be set to always track the metabolism rate or used once in a while when required.
There is also an option to alert the user when her/his heart rate count exceeds the normal count for 10 minutes.
The famed Huawei TruSleep algorithm is present and accounted for in this fitness band, which works flawlessly as expected.
Miscellaneous
This budget fitness tracker is compatible with both iOS and Android devices. You can set smart notifications for messaging apps such as Whatsapp and Telegram. Incoming calls are alerted with vibration feedback as well.
The Honor Band 5i, though doesn't boast about any IP ratings, is water-resistant up to 50m.
Battery life
The 91mAh rechargeable battery inside will last you for 7 days on a single charge.
This battery gets juiced up from zero to a hundred per cent within 1.5 hours from a 5V/1.5A charging adapter.
Verdict
The Honor Band 5i is a feature-packed budget smart fitness band, rich with useful sensors that give out accurate readings.
The solid build quality and the ease of use makes this fitness tracker one of the best around the Rs.2,000 budget.
Specifications
| | |
| --- | --- |
| Display | 0.96″ LCD |
| Battery Life | 7 days |
| Water Resistance | up to 50m |
| Heart Rate Sensor | Yes |
| Strap | TPU |
This is it! Our hunt for the six best fitness trackers in the Indian market priced under Rs.3000 comes to an end here.
If you didn't find the one that will satiate the fitness nerd in you, do remember to check out our Best fitness trackers priced under Rs.2,000 for much more affordable pickings.
Let us know your thoughts in the comment section below and feel free to voice your concerns and criticisms. As always, thanks for your time and have a great day ahead!