The Xbox One console launched way back in 2013 and it had quite a rocky start for a new console. Over the years, Xbox has had significant improvements and became one of the most loved gaming consoles in the history of gaming.
Now after seven years of the launch of the next-gen Xbox Series X/S consoles, it is a good time to look back at some of the best games in the Xbox One library.
If you own an Xbox Series X/S, then you can enjoy all the Xbox One games as they are backwards compatible.
So without further ado, let's look at the ten best gaming titles that you can play on your Xbox One at present!
Note: The price shown are the once when we reviewed the products. However, as the promotional offers changes on the given E-commerce sites, the price may vary. Bettershark is supported by it's readers and when you buy through links on our site, we may earn an affiliate commission.
Pros
Fun gameplay
Easy to master game mechanics
Compatible with Xbox Series X/S
Cons
Some areas feel repetitive
Gears 5 is the fifth main instalment in the Gears of War Series, the sequel to Gears 4 which is developed by The Coalition, a first-party Xbox developer.
They have also developed Gears of War Ultimate Edition, Gears 4, and Gears Tactics. This game is exclusive to the Xbox One and Series X/S consoles.
Gameplay
The core gameplay mechanics of Gears 5 has been carried forward from Gears 4 game.
In Gears 5, gamers play as Kait Diaz which is a familiar face for a majority of the hardcore gamers while you also get to play as some other characters throughout the story.
Gears 5 is a third-person action shooter that follows the cover mechanics similar to that of previous games.
This is a hardcore action game where players fight enemies with a large arsenal of weapons. The default weapon in the game is the Lancer which is an assault rifle that also features a chain saw for close combat.
You also have other guns like shotguns, pistols, snipers, etc. Grenades also play an important role in Gears 5.
The gameplay is linear for most of the part but this game does feature certain sections that give the player freedom to move around and explore the world.
Movement in the game is done mainly on foot but you also get certain areas where you can travel via other modes such as a skiff.
Multiplayer combat is also a big part of this game. You can play with up to 3 players locally in split-screen mode or play co-op online. Multiplayer mode is available for the campaign and other modes as well.
Synopsis
The game takes place months after the events of Gears 4 and tells the story of Kait Diaz, a descendant of Myrrah the Queen of the locusts.
The player as Kait has to discover the truth behind the origins of the locust army and her past.
Kait along with her friends JD, Del, and Marcus has been reassigned as the new Delta Squad and it is up to them to fight against hordes of enemies and protect what is left of the world.
Verdict
If you are a fan of games that have a lot of action in them, then you would definitely like Gears 5. This game is fun to play with and features beautiful graphics. If you have played any of the previous games in the Gears series, then you will love this game as well.
The Gears 5 has also been patched to run on the latest Xbox Series X/S consoles as well.
Pros
More than 400 unlockable cars
Online multiplayer
Dynamic weather system
Cons
No split-screen multiplayer
Forza Horizon 4 is the eleventh instalment in the Forza series and the fourth game in the Horizon series.
This game is developed by Playground Games Limited which is a video game development company based in Britain. They have also developed the previous instalments in the Horizon series.
Gameplay
Forza Horizon 4 is a racing game that features an open world where you share the world with other players on the same server as you. There can be up to 72 players on each server and you can meet other players as you drive around the realistic game world.
Throughout the game, players can unlock new cars, in-game houses, and other perks.
The core gameplay of Forza Horizon 4 is simple. The player has to drive around the map and complete events. This game does not feature a particular story as such, the main goal of the game is to just complete events and participate in races to unlock new cars.
The driving mechanics of the game is amazing – each car has its distinct controls and features.
This game features a dynamic weather system that changes every week. The seasons include summer, spring, autumn, and winter. The seasons change for everyone at the same time and each season brings with it different events and certain locations that were not accessible earlier.
Forza Horizon 4 features an online multiplayer mode where you can race with your friends and other players.
This game includes cars from companies like Lamborghini, Porsche, Ford, etc. You can purchase certain cars separately as DLC as well.
Forza Horizon 4 runs on the Xbox One consoles and also features a next-generation upgrade on the Xbox Series X/S.
Synopsis
The Forza Horizon 4 does not feature the main storyline as such. Players can come across certain events that do provide a narrative experience. The main goal of the game is to unlock all the cars.
The annual Horizon even is taking place in Britain this time around and players have to participate in races and events to unlock more cars.
The game also features a dynamic weather system that truly changes the way you play.
Verdict
Forza Horizon 4 is widely regarded as one of the best car racing games. This racing simulator game has been critically acclaimed by reviewers thanks to its beautiful open world and endless content.
Pros
Fun open world
Gameplay variety
Fluid movement
Sunset Overdrive is an action-adventure game developed by Insomniac Games. This game is the only Xbox One exclusive title developed by Insomniac Games.
This game had received rave reviews at the time of its release and also released on PC in 2018.
Gameplay
Sunset Overdrive is an action-adventure game that is played from a third-person perspective featuring platform gaming elements.
At the beginning of the game, players get to customize their character. You can choose gender, body type, outfit, hairstyle, etc.
This game features a lush open world where you can traverse around the world using grind rails located all around, wall run, and bounce over vehicles to gain momentum to move around faster.
The characters in the game are self-aware and occasionally break the fourth wall.
Sunset Overdrive features a variety of weapons that can be used to combat the ODs.These are monsters that usually come in hoards to attack. There are various classes of monsters each with its unique abilities.
Some of the weapons in the game include an assault rifle and grenade launcher. Many other weapons can be used as well. You can also upgrade weapons to cause more damage.
This game features a style meter where there meter increases when the players kill enemies quickly while performing various acrobatic movements and grinding. As your style meter increases the damage caused also increases.
The story of this game progresses as you complete missions. You can also find collectables around the world and other side missions.
Synopsis
The game takes place in Sunset City in the year 2027. You play as a FizzCo employee who cleans up the mess that is caused by the launch of FizzCos new energy drink called Overcharge Delirium XT.
It turns out that all those who drink the new energy drink end up mutating into monsters called OD ( Overcharge Drinkers ).
It is now up to you, the player, to find a way out of Sunset City. On the way, you will meet new allies that will aid you on your journey.
Verdict
If you are looking for a game that takes itself lightly but gives you an enjoyable experience then you should check out Sunset Overdrive.
This game is quite underrated but is easily one of the best games available on the Xbox One.
4. Ori and the Will of the Wisps
Pros
Easy to play
Soothing background score
Beautiful art style
Cons
Some stability issues on Xbox One S
Ori and the Will of the Wisps is a game released in late 2020 on the Xbox consoles.
This game is a direct sequel to Ori and the Blind Forest. It received widespread critical acclaim for its gameplay and story.
Ori and the Will of the Wisps are developed by Moon Studios which is an indie game development studio.
Gameplay
Ori and the Will of the Wisps is a 2D Metroidvania platformer. This game is inspired by earlier games such as Rayman and the Metroid series.
In this game, you play as Ori who is a white guardian spirit. The overall concept of the game is very simple as with any other Metroidvania game.
Being a 2D game, players can either move left or right and perform actions like jumping or gliding. Ori can also attack enemies in the game.
The game involves a lot of backtracking to access certain areas that were previously inaccessible.
You can also upgrade Oris stats by collecting shards and spending them.
Throughout the game, you will come across other NPCs which will provide you with side missions, give you upgrades or guide you.
Synopsis
Ori and the Will of the Wisps take place right after the end of the first game. The story revolves around Ori on his search for Ku who is an owlet and gets separated from him.
It is now up to Ori to find and protect Ku from the dangers of the land and reunite with the family.
Throughout his journey, Ori will try and fix the land of Niwen and also discover his true identity.
Verdict
The overall gameplay of Ori and the Will of the Wisps is very simple and easy to understand.
The game has a beautiful storyline and is one of the best games of 2020. If you have played the previous game then the new instalment is a must-play.
5. Halo: The Master Chief Collection
Pros
Hours of content
Updated visuals
Includes Halo Reach
Halo: The Master Chief Collection is the complete Halo series from Halo: Combat Evolved to Halo 4. This collection does not include Halo 5.
The Master Chief Collection is developed by 343 industries with remastered versions of all the games released on the Xbox One.
Gameplay
The Halo: Master Chief Collection is a collection of Halo games that include Halo: Combat Evolved, Halo 2, Halo 3, Halo 4, and Halo Reach.
In all the games except Halo, Reach players play as the titular character Master Chief. In Halo Reach, players play as SPARTAN-B312 or Noble 6.
All these games are first-person shooters in which players mainly have to fight against a race of aliens called the Covenant. Some other enemies in this game include The Flood and The Prometheans.
This game involves a huge arsenal of weapons such as assault rifles, machine guns, rocket launchers, etc. You also have access to weapons used by aliens and throwable grenades.
Melee combat also plays an important role, you can use the Energy sword in close quarters.
Vehicular combat in the Halo series is done in third-person, players can drive vehicles like the war hog and banshee.
Multiplayer also plays a prominent role in the Halo series. Halo is well known for its robust multiplayer mode. You can play all the Halo series campaigns in split-screen multiplayer with your friends locally or online co-op. Multiplayer in Halo also features various other modes such as capture the flag, deathmatch, head hunter, etc.
Synopsis
The Halo Master Chief Collection includes the complete Halo saga up until Halo 4.
The game tells the story of Master Chief and his AI Cortana from Halo: Combat Evolved which is the first Halo game in the series.
Throughout the game, you will fight with various alien races such as the Covenant, Flood, and the Prometheans through various planets.
Verdict
If you have never experienced any of the Halo games, then with the Master Chief collection you get the chance to experience all the games in one bundle. With hours of content and online multiplayer that is addictive, you can never go wrong with Halo on the Xbox One.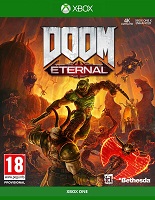 Fast-paced gameplay
Well detailed graphics
Next-generation console support
BUY FROM AMAZON
Pros
Great level design
Visually impressive
Unique soundtrack
Cons
Platforming can feel boring at times
Doom Eternal is the sequel to the critically acclaimed Doom video game released in 2016 which is a reboot of the 1996 hit game under the same name.
This game is developed by ID Software who also developed the previous game in the series, and is published by Bethesda Softworks. Doom Eternal received rave reviews for its fast-paced action, graphics, and campaign.
Gameplay
Doom Eternal is a first-person shooter where players assume the role of the Doom Slayer as he traverses through hell and battles demons. This game features some platforming elements as well.
Doom Eternal is a sequel to its 2016 predecessor. This game involves fast-paced shooting and platforming which encourages the player to head on aggressively to fight with demons with a loaded arsenal of weapons.
Weapons in the game include a shotgun, crucible blade, assault rifle, rocket launcher, chain saw, etc. Doom Eternal has also introduced a new grappling hook that can be used to traverse the landscape and also in combat.
Doom Eternal requires the player to devise tactics that lets you slay demons without taking up damage. It is necessary to think before you leap.
The gameplay of Doom Eternal is linear in design and features an amazing campaign mode that features a lot of action-packed moments.
Doom Eternal also features various multiplayer modes that can be played with your friends.
The game has been upgraded to support the new generation of consoles like the Xbox Series X/S as well.
Synopsis
Doom Eternal takes place 8 months after the events of the first game. The gates of hell have been opened once again. Earth has been overrun with demons and it is up to you the Demon Slayer to fight with hordes of demons and seal the gates of hell once and for all.
As the Demon Slayer, you go through the gates of hell and fight various demons with your arsenal of weapons and send those demons back from where they came.
Verdict
If you are a fan of fast-paced first-person shooters, then Doom Eternal is a must-play. It is considered as one of the best first-person shooting games of the generation featuring great visuals and addictive gameplay mechanics.
Pros
Good storyline
Replay value
A lot of in-game collectables
Resident Evil 2 is a survival horror game released in 1998 and it received widespread critical acclaim at its launch.
In 2019, Capcom has once again released a Resident Evil 2 remake which was made from scratch. Players can once again visit Racoon City during a zombie outbreak and fight hoards of zombies.
This game is developed and published by Capcom which is famous for its vintage gaming titles such as Street Fighter and Mega Man.
Gameplay
In this game, players can take control of either Leon S. Kennedy or Claire Redfield through the campaign as they move around the streets of Racoon City and the RCPD.
This game features an over-the-shoulder third-person camera angle, unlike the fixed camera angles in the original game.
Resident Evil 2 is a survival horror game that encourages the player to explore various areas of the game in search of useful items like herbs, gunpowder, and story items.
The player begins the game with a handgun and throughout the game, they find more powerful weapons like a shotgun, flamethrower, etc. This game features various difficulty levels with zombies getting stronger on harder difficulty levels and ammo being scarce.
Throughout the game, the player comes across a Tyrant called Mr X which follows you around RCPD and Racoon City.
This is not a game where you are supposed to go guns blazing. Resident Evil 2 requires you to take tactical decisions and choose what you want to carry. The player has limited storage and has to carefully strategize on what to take and leave.
Players can heal using first aid spray or herbs that are scattered around.
The game can be manually saved at locations called safe rooms where you can use typewriters to save the game.
Synopsis
The game takes place in 1998 in Racoon City, two months after the events of the first game.
New RCPD recruit Leon S Kennedy meets a college student Claire Redfield who is searching for her brother amid a virus outbreak.
All the people in Racoon City have been transformed into zombies and it is up to Leon and Claire to find out what is going on and escape Racoon City all the while being chased by a Tyrant called Mr X who has been tasked to eliminate any survivors.
8. Assassin's Creed Odyssey
Pros
Massive open world
Good naval combat
Fun side quests
Cons
Requires a lot of grinding
Assassin's Creed Odyssey is the 11th instalment in the main Assassin's Creed series and the sequel to Assassin's Creed Origins.
Every Assassin's Creed game takes place during a historical event or location. Assassin's Creed Odyssey takes place in Ancient Greece during the Peloponnesian war between Athens and Sparta.
The game is developed by Ubisoft Quebec which previously also developed Assassin's Creed Syndicate.
Gameplay
Assassin's Creed Odyssey is an Action RPG that follows the same core game mechanics as its predecessor Assassin's Creed Origins.
In the game, players can either choose between Alexios and Kassandra as their main characters.
This is the first Assassin's Creed game where players get to choose who they want to play as.
This game features a huge open world. Assassins Creed Odyssey features the biggest map in any Assassin's Creed to date. Players can move around the huge open-world on foot, horseback, or sail the waters with a ship.
Players can choose from a wide variety of weapons in the game. They can fight using swords, spears, and maces in close range or use a bow and arrow for long rage action.
Like every Assassin's Creed game, stealth plays a major role in Odyssey. Players can silently kill enemies that have a lower level than them or cause great damage to those which have a higher level. You can hide in bushes or trees to make sure that enemies don't spot you.
The player also can control Ikaros, an eagle to mark enemies and items so you can easily find them.
Being an RPG, Assassin's Creed features a levelling system where you have to complete
side quests and missions to gain experience to be able to complete certain quests. Once your character reaches a new level, then you get an ability point that can be spent to upgrade your character's abilities.
The game features a huge skill tree, you can spend your abilities according to your play style. For example, if you play long-range then you can spend your ability points on the hunter skill tree or if you are interested in close combat you can spend your ability points on the warrior skill tree.
Naval combat also makes a return in Assassin's Creed Odyssey. Players can fight against other ships and emerge as victors.
Crafting is an essential component of Assassin's Creed Odyssey. You can craft armour, weapons and also strengthen your ship. Crafting materials can be found scattered all around the world.
Synopsis
Assassins Creed Odyssey continues the story of Layla Hassan who is an Abstergo researcher turned into an Assassin.
This time Layla enters the Animus and finds herself in Ancient Greece during the Peloponnesian War at 431 BC, you can play as either Kassandra or Alexios.
Explore Ancient Greece and meet historical characters and battle mythological creatures as you journey through the world in search of a piece of Eden.
Verdict
Assassin's Creed games are known for their richly detailed world and storytelling during historical moments. If you want to experience one of the best action RPGs of the previous generation then you should try Assassin's Creed Odyssey.
9. Witcher 3 : The Wild Hunt
Pros
Rich and detailed gameplay world
A lot of side quests
Gwent is addictive
Cons
Long game and requires a lot of patience
Witcher 3: The Wild Hunt is an Action RPG game developed by the Polish studio CD Projekt RED. The Witcher game series is based on a series of fantasy novels of the same name written by Andrzej Sapkowski.
Witcher 3 has won numerous Game of The Year awards and is considered as one of the best RPG games to be ever created. Even today the Witcher 3 has an active player base, though the game first came out in 2015.
This is the third main instalment in the Witcher game series and the sequel to Witcher 2: Assassins of Kings.
Gameplay
In Witcher 3: The Wild Hunt players take control of Geralt of Rivia, a monster slayer who is a part of the Wolf School and one of the Witchers that still exist.
The players also occasionally get to play as Ciri, who is also a Witcher and a student of Geralt of Rivia.
The game environment is an open-world featuring a real-time day and night cycle that influences the gameplay. During the night, you can expect more frequent encounters with monsters that are more powerful than in the day time.
In the game, Geralt has an arsenal of weapons to choose from. You can have a silver sword that is meant to slay monsters and other supernatural creatures, a steel sword that is meant for non-monsters, crossbows, bombs, and various oils and potions that enhance your weapons or give you additional strength.
Geralt is a Witcher has access to magic with the help of signs. Five magic signs can be used namely Igni, Quen, Award, Axii, and Yrden, each with their distinct magical powers.
This game also features side quests apart from the main quest line that significantly affects the outcome of the main quests. The whole world of the Witcher 3 is deeply integrated for a realistic gaming experience where actions have consequences.
This game lets you travel by foot, horse, boat, and also fast travel through acquired check posts.
Players can craft new items like armours, swords, and crossbows by searching for their blueprints along with materials to craft it. This allows players to craft items more powerful than the ones they are already using.
Alchemy is also an important part of crafting, players can make potions that provide boosts and give you certain powers like the ability to see in the dark.
Witcher 3 has a level-up system where players have to finish quests and fight monsters to earn experience points. After every level players get an ability point that can be spent to earn a new ability.
Witcher 3 also features a card game called Gwent where players have to play with other NPCs to earn cards and fill their deck.
Synopsis
The Witcher 3 takes place some years after the second instalment of the series. Geralt of Rivia is in search of Yennefer who is his love interest and then he finds out that one of his students Ciri has been seen and you are given a contract by the Nilfgaardian empire to search for Ciri.
Throughout his journey, Geralt meets some old friends and foes and he has to find the whereabouts of Ciri after which he comes to know that he is not the only one who is looking for her.
The Wild Hunt is a mythical army that is behind Ciri because of her powers so they can harness it, Geralt must search for Ciri and also defeat the Wild Hunt before it is too late.
Verdict
Witcher 3: The Wild Hunt is a video game that is bound to indulge you into it. The game is an RPG that has a long quest line and can take hours to complete.
If you are looking for a graphically impressive game and one which will get you hooked onto then you should check out Witcher 3: The Wild Hunt.
10. Red Dead Redemption 2
Pros
Smooth gunplay
Rich and detailed open-world map
Advanced RAGE engine
Cons
Takes a long time to complete
Red Dead Redemption 2 is the third instalment in the Red Dead series and is a prequel to Red Dead Redemption which was released on the PS3 and Xbox 360.
The video game is developed by Rockstar Studios which is one of the most reputed studios in the video game industry. Rockstar Studios is known for its iconic GTA video game series.
Gameplay
Red Dead Redemption 2 follows the gameplay mechanics found in the previous Red Dead game and improves upon it.
The game runs on Rockstars RAGE engine which is their proprietary engine that they use to develop games.
In this game, the player takes control of the protagonist Arthur Morgan who is an outlaw and a member of the Van der Linde gang for a major portion of the game. Players also get to control the protagonist of the previous game John Marston in certain segments as well.
The gameplay of Red Dead Redemption 2 is similar to that of the GTA games where the player has to undertake a series of missions to progress forward through the story. The game is open world and the player is free to travel around the map.
While GTA takes place in a modern city, Red Dead Redemption 2 takes place in the Wild West during the year 1899 in a fictionalized United States.
Transportation in the game can be done by foot, horse, trains, or boats. The protagonist Arthur Morgan can also swim while John Marston cannot – this is a reference to the predecessor in which John Marston would die when in water.
In the game, players have a wide range of weapons to choose from such as revolvers, rifles, shotguns, bow, etc. The game features a cover and shoot mechanism for gunplay.
The Deadeye mechanism also makes a return in the game. The player can mark targets in this mode by slowing down time and execute a series of gunshots at the marked targets in a single go.
Visually the game has gone through a major overhaul. It is widely considered as one of the best looking open-world games in the generation.
Synopsis
The events of this game take place before the predecessor Red Dead Redemption, the game takes place in the year 1899.
Federal governments are taking over lawless territories and the Van der Linde gang plan one last heist that could make them a fortune and set them for life.
But the heist does not go according to plan and all hell breaks loose with members of the gang dying or running away.
You play as Arthur Morgan who is the lieutenant of Dutch the leader of the Van der Linde gang as your loyalty to the gang is put to its test.
Verdict
If you want to experience the Wild West at its finest with the most beautiful graphics, then you should check out Rockstars Red Dead Redemption 2 which is regarded as one of the best open-world games and a must-have on Xbox One.With this, we have reached the end of our list for the ten best Xbox One games.
Do keep in mind that this is a list of games that we consider to be the best and if you have any other games that you can recommend so that we can add to the list.
As always thank you for your time and have a great day ahead!